Opposites Attract: Designing Spaces That Appeal to Different Styles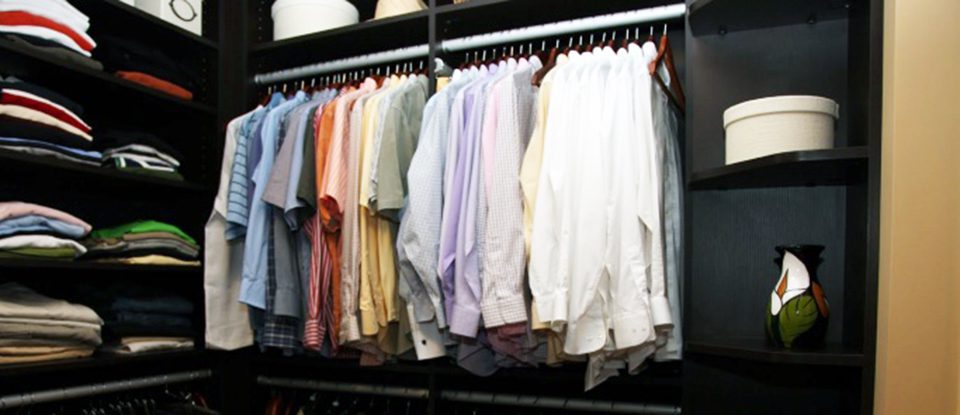 California Closets customers Abby and George are the kind of couple you imagine when you hear the phrase "opposites attract." While both are very organized, they couldn''t be more different. George is an engineer who loves precision and geometric designs and is very inquisitive, always ready with questions. Abby is a busy professional who loves bright colors and knows what exactly she wants from the outset.
The couple recently turned to design consultant Sue Knox in California Closets Vancouver for help with renovating their dining room and master bedroom with custom closet and storage solutions to make these areas more functional.
Here's how she transformed Abby and George's home with a design that suited both of their tastes.
The challenge: The Dining Room
In the dining room, Abby and George wanted to better utilize their empty alcove, which made the entire space look unfinished. It was a challenge to find furniture they liked that would fit, plus the painting that hung in the space looked a bit lonely and out of place. Given that this sociable couple loved having dinner parties, the room as it was didn't reflect their personalities. The troubles in their master bedroom began with the angled walls in the closet. The space was poorly designed and their storage consisted of a jumble of wire shelf organizers. This lack of
closet organization
meant that their clothing was overflowing into other cupboards and drawers. Abby and George are both very tidy people and grew to dread going into the closet, as it always seemed to be a mess.
The solution: Better Storage System
for With George and Abby's input, we created beautiful storage systems that would enhance the value of their home. In the dining room, adding storage wasn't just about providing function; it was also about creating a stunning focal point in their alcove. They chose a beautiful vibrant wall color to suit Abby's tastes and finished the unit in simple black and white for George. Glass shelving on top kept sight lines open while dark shelves under their existing painting grounded the entire system in the room. In the master bedroom, an organized closet hid all of the awkward angles and made the room look more symmetrical. A far cry from those wire shelves, every item received its own place. The couple loved the design so much that they decided to forgo closet doors. Filing drawers provided even more storage, and Abby now uses the display shelves included in the design to show off her special purses and boxes.California Closets customers Abby and George are the kind of couple you imagine when you hear the phrase "opposites attract."