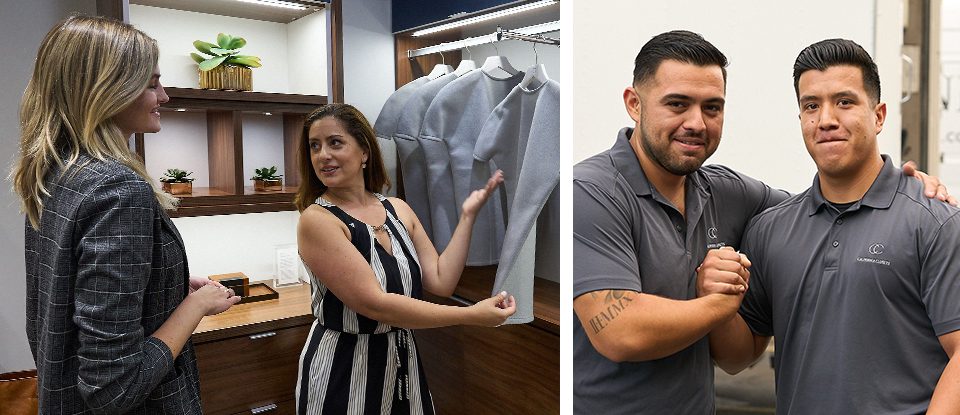 California Closets Changes People's Lives
FIND JOBS
The heart and soul of our company are our people. Installers, Production Teams, Sales Design Consultants, and positions throughout our company operations. We believe in you. We trust in you. We invest in you. Your growth and success is our growth and success.
At California Closets our people reflect different perspectives, life experiences and the world we all share. Diversity and inclusivity simply make us a better company and help us connect to each other and the customers we serve.
Differences make us stronger. Shared values make us family. Combine who you are with what you love to do. Find yourself a home at California Closets.
We're California Closets and we'd love you to join our family.
Production & Manufacturing
Technicians
These skilled professionals carefully craft each system and take our customers' custom designs from concept to reality.
---
Installation Technicians
They make the magic happen. They bring customers' dream spaces to life with a mix of craftsmanship, attention to detail, and pride in their work.
---
Sales & Design
Consultants
The keepers of our most important relationships and joy-makers who believe there is real purpose in helping others design beautiful solutions.
When you work at California Closets, you're building something bigger than yourself.
I feel a sense of pride and joy knowing I am dealing with a nice product.
I believe I am here for a life purpose…it is very personal…I am making a change in people's lives and I get tons of satisfaction in improving and making a difference in people's lives.
If we do not work together we are not getting anywhere. We are a team and family.
WE ARE PROUD TO BE AN EQUAL OPPORTUNITY EMPLOYER.
---
By using this site, you acknowledge that if you are offered employment, your sole and exclusive employer is the local franchised business that hired you, not California Closets Company, Inc. California Closets Company, Inc. does not participate in any local employment decisions or practices within its franchised businesses. Each California Closets franchise is independently owned and operated.