6 Common Questions About Murphy Beds Answered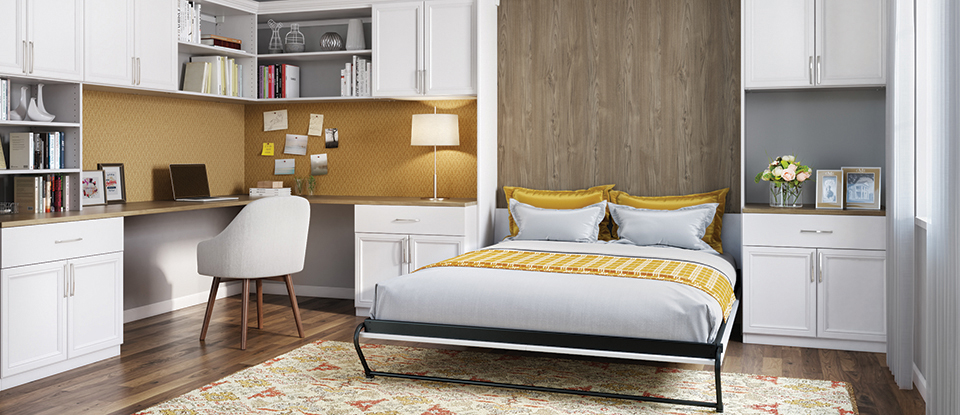 If you've never used or seen a Murphy bed, you may wonder how it actually functions within a home. Configured for a small studio apartment or home office that doubles as a guest room, a Murphy bed is a clever, space-saving solution that offers instant flexibility. Our Murphy wall beds are thoughtfully designed to seamlessly integrate into our custom systems, proving that you don't have to compromise style where space is limited.
Here are six common questions — and answers — about Murphy beds.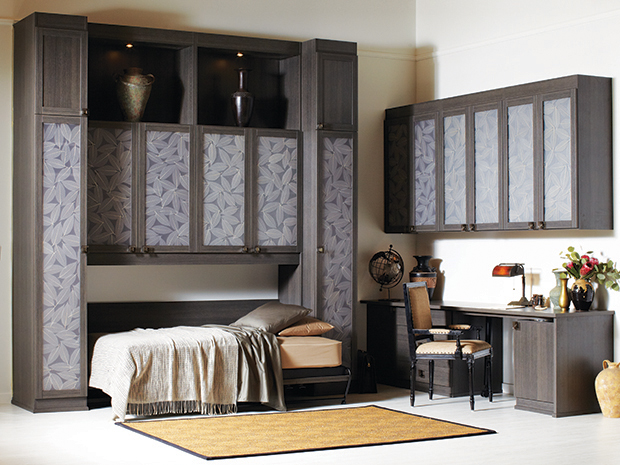 What is a Murphy bed?
A Murphy bed is a hinged bed that can be stored vertically or horizontally along a wall. It can provide a bed for guests or when you need an extra spot to sleep; when not in use, it simply folds up against the wall creating space. A Murphy bed allows you to take full advantage of every inch of floor space in your spare bedroom, office or any other room. Other common names for the Murphy bed include: wall bed, pull-down bed or fold-down bed.
Why is it called a Murphy bed?
Murphy beds get their name from their inventor,  William L. Murphy. In the late 19th century, Murphy lived in a one-room apartment in San Francisco. According to Smithsonian.com, he wanted to court a young opera singer, but customs at the time wouldn't allow a lady to enter a gentleman's bedroom. Instead of losing his chance at love, he created the Murphy bed, allowing him to stow his bed in his closet, turning his tiny bedroom apartment into a parlor instead.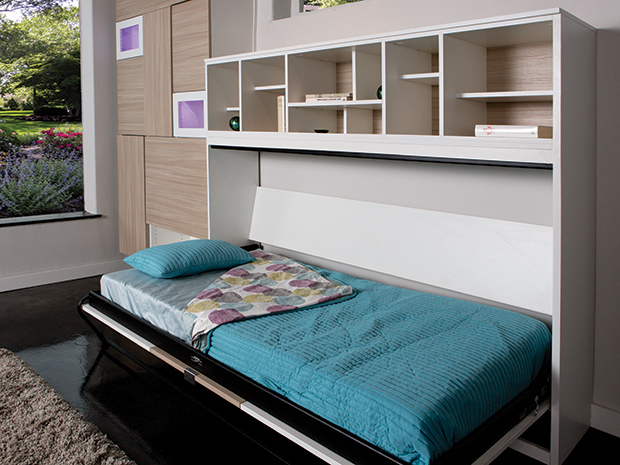 How comfortable are Murphy beds?
They're very comfortable, especially because you can select your own mattress.  Depending on the length of the legs you choose and the bed size (twin, full, or queen), you can choose a mattress that's up to 12" depending on the model.  This allows you to tailor the bed to your specific comfort needs.
Is the bed easy to raise and lower?
Yes. California Closets wall bed's spring-loaded aluminum frame and tubular steel legs are designed to make the process of accessing and putting the bed away absolutely effortless. The bed's legs have also been designed to angle inward, ensuring you won't stub your toes while walking around the unit once it's set on the ground.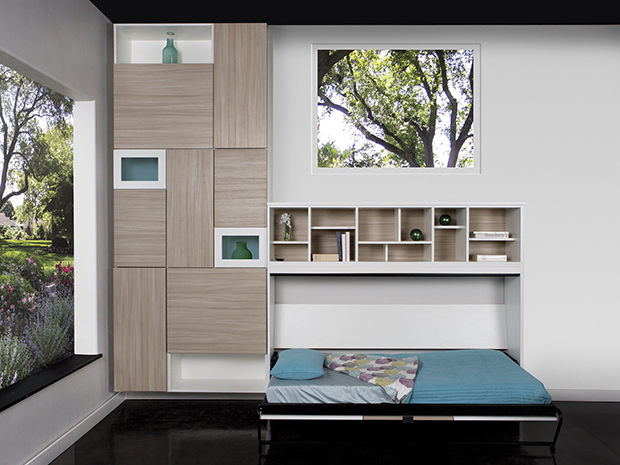 Where can I put a Murphy bed?
It depends on the size or layout of your space and your individual needs. If you live in a small apartment or condo, you may want to put a Murphy bed in your living room. However, if you live in a single-family home with multiple bedrooms, you may decide to put a Murphy bed in a room that you also use as an office or craft room. California Closets offers a full range of Murphy bed sizes to accommodate a variety of needs and spaces.
Should I choose standard or side-tilt Murphy bed?
This also depends on the size of your space and your needs, as well as where you'd ideally like to place the bed. A side-tilt option optimizes limited space similar to a daybed, while the standard option extends perpendicular to the wall giving the room a more traditional bedroom look. Our trained designers can discuss options during a scheduled showroom or in-home consultation.