Part Work and Part Play: Design Idea for Home Office & Entertainment Center in One Space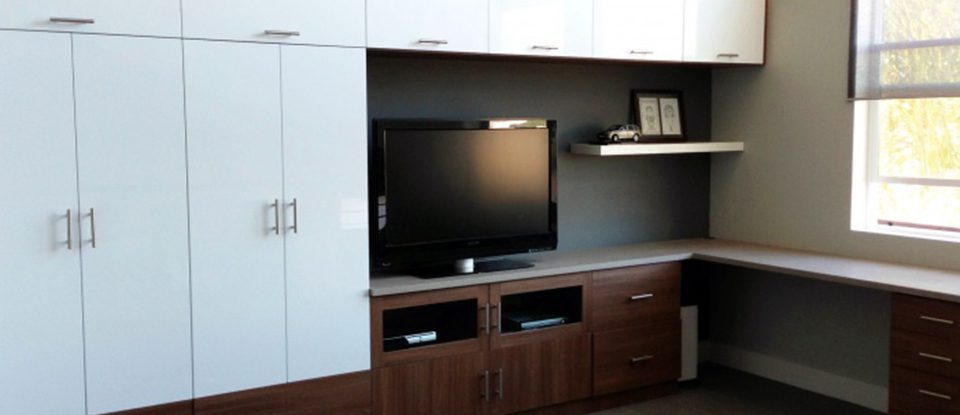 Designing double-duty spaces in your home can make any room more functional. Working with design consultant Laura Ochoa of California Closets San Diego, a recent client wanted to combine an entertainment center and a home office that she and her husband could share.
However, the space presented some challenges. Despite the fact that the room was tall with a slanted ceiling, the client preferred a more horizontal design. She also loves design, art, and contemporary style, so she wanted something beautiful but very functional home office cabinets.
Below, Ochoa shares how she met this design challenge head-on and created a multifunctional system to meet her client's unique needs.
Create a focal point
I took advantage of the space's two main walls and designed the system so that the media center would be the first thing people saw when they went upstairs. With that building block in place, I could position the home office abutting the wall with the two tall windows. I felt this would take advantage of the nice views and natural light.
Choose finishes that complement the look of the home
Now that I had the structure in place, I needed to choose finishes that would also work with the space. Working with the client, we chose Roman Walnuts for the main structure to give it weight. As a contrast, we decided on glossy white door and drawer fronts. The desktop in Corsican Weave blended the dark and light together.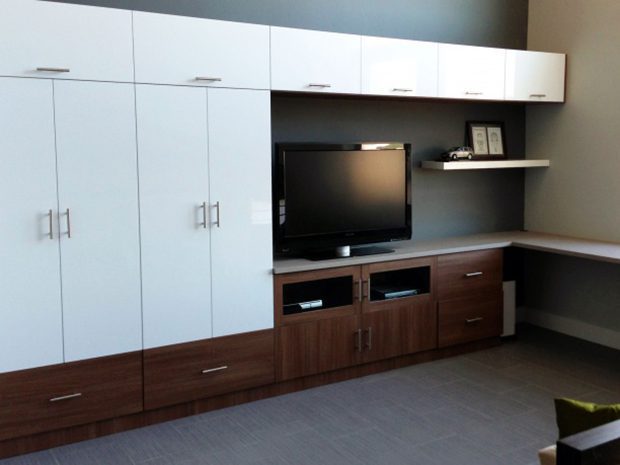 Use color and design features to create a stylized look
I played with the colors and shapes in the overall design in order to achieve the horizontal and cozy feeling my client wanted. The wide lower drawers and the long countertop worked very well to create a very contemporary look with the entertainment cabinet.
Make it functional
With so much closed storage space, the client is able to keep the visible areas tidy. All the wires and cables for the electronic components are hidden from view and all the office supplies live behind closed doors.