A Story for Every Space: Importance of Quality, Commitment and the Customer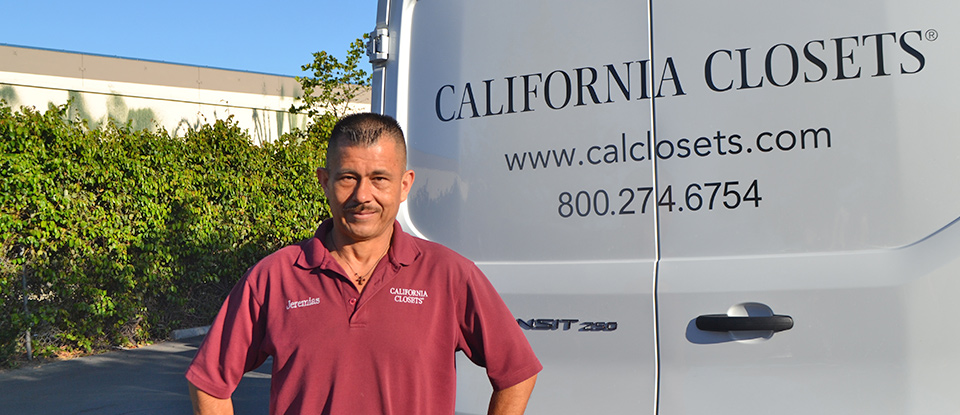 Between the time a custom system is designed and then beautifully completed and revealed, there is an integral part of the process that deserves more spotlight—the installation. An exceptional client experience is paramount at California Closets and San Francisco installers Derrick Cole, Marvin Taylor and Jeremias Recinos take this responsibility very seriously. Always on the front lines of quality control, design integrity and customer service with every installation, they address the complexity each job can present and what motivates them to deliver the best results possible every time.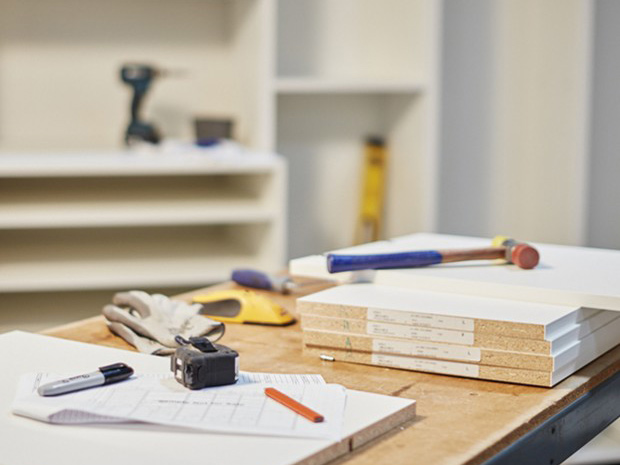 What is it about your job that you love?
Derrick: For me, it's the instant gratification to be able to build something that people are going to use for decades and being able to teach other installers in the process. We are all a team at California Closets and I think we set each other up for success.
Marvin: When we show up, sometimes clients have been living out of boxes or in an uncomfortable temporary situation. After the installation, I like that they feel like they can finally move in, put their things away and really feel settled.
Jeremias: I love everything about my job, but just keeping the customer happy and having everything go according to plan and to the customer's satisfaction is most important to me.
What challenges do you face during your job and how do you resolve them?
Derrick: There are challenges that can happen daily but it's our job as installers to be prepared and anticipate challenges even before we leave for a job. I'll read all of the information the design consultant has provided about the space and the design. Even if a measurement is off when I get to the job, I'm going to find a way to fix it and make sure the client gets the best result.
Marvin: I think one of the big challenges that we face when we go into space is that most houses are never plumb and the floors are never flat, and there might be variances with electrical panels and outlets. But, every install has a learning experience and we take that to the next job. Assessing the space and finding a way to make the system work perfectly—that's our opportunity to shine as installers.
Jeremias: I always try to be as prepared as possible with all the information and the right tools on site because I'm a guy who hates to go back. I want the job to be right the first time.
What is something that you think people don't know about what you do on a day-to-day basis?
Jeremias: For me, it's how important the reports are from the customer about our work and service.
Marvin: Maybe one thing people don't realize is that sometimes there are 77 steps to space! We're carrying 96-inch tall partitions, 1-inch thick, 24-inches deep up those stairs and we might make 35 trips up and down. There's a lot of hands that touch a project before it comes to us. Ideally, the product is ready to go on the cart for us, but sometimes there are issues and we have to catch them. We have to be quality control. Also, this isn't a 9:00 to 5:00 job. We work until the project is done and until the client is happy.
Derrick: I have a high level of respect for my coworkers and even though we can all make mistakes, I truly believe that there's not a person on the design team or production team or pre-production team that doesn't want a job to be successful.
How do you keep up with all of the new products and design trends?
Marvin: We learn by doing. Once you've got the system down, it's really about different configurations of the system added to different challenges of space irregularities. I have to give our design consultants a lot of credit for what they do—it's amazing how they render 3-D designs. It's an amazing thing when it all comes together. The customer experience is critical and it's how we get our repeat business and great word-of-mouth referrals. Everywhere I go where I wear this California Closets shirt, people talk to me and they say, "Oh, California Closets!"
Derrick: We also have opportunities to work on the new systems for the ad campaigns. It's always a good feeling when we see something we installed in magazines—it really feels like an accomplishment
Talk about a time when you had to go above and beyond for a customer.
Derrick: For one client I had to wipe down every piece of material before we brought into the house because her son had extreme peanut allergies. We knew about the situation before arriving at the job and having children, I can't even imagine having a child suffering with those kind of extreme allergies so I was willing to make sure that we did everything we could to be sensitive and respectful.
Marvin: Every day it's something different. We're in five houses a week sometimes and every customer has a preference you have to work around. That's something you can't schedule!
Jeremias: One time I did a whole project on my own without a helper. I do whatever I need to do to please the customer.
Marvin: Most times it's like putting a puzzle together, but that's the uniform. It's our job is to deal with variables and get the job done right.
Read more stories about how our installers transform spaces!