The Final Phase of Virginia Tech's FutureHAUS Revealed at KBIS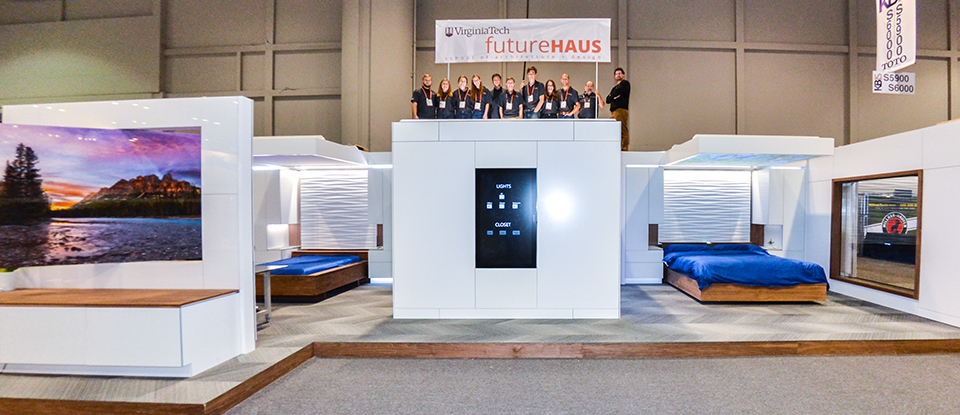 It's not everyday that California Closets has the opportunity to showcase its expert design capabilities for a revolutionary prototype for the home of the future!
We were excited and honored to support Virginia Tech's student-faculty research team with the fascinating and final phase of its FutureHAUS project, which debuted at the world's largest kitchen and bath industry expo, KBIS, Jan. 10- 12 in Orlando, Florida.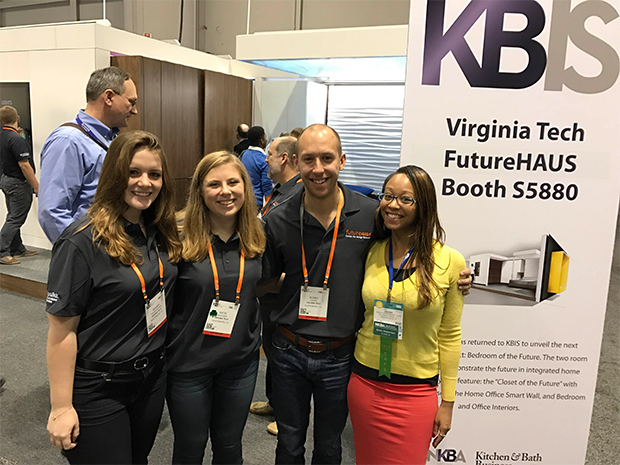 Showcasing how digital technologies, cutting-edge products, and smart building design will unite to make bedrooms, wardrobes, and home offices more responsive to a future way of living, this FutureHAUS phase followed three previous prototypes for the kitchen, bath, and living room.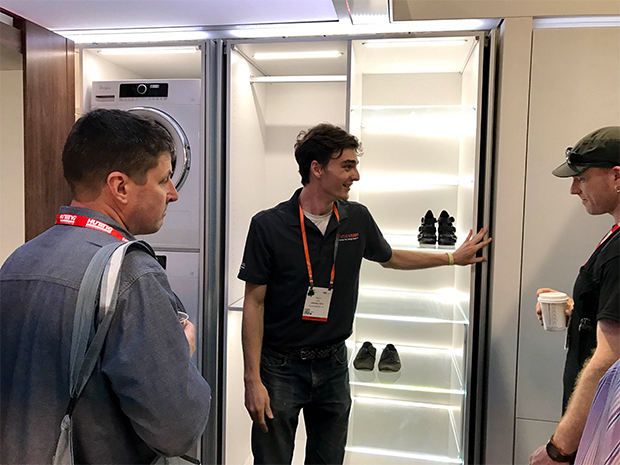 The team selected California Closets for its custom design expertise to maximize function and aesthetics for the Smart Closet and Wardrobe. Highlights in these spaces included a smart mirror touchscreen enabling users to quickly find and select items in their wardrobe to be delivered on demand. The dressing room wardrobe featured self-opening drawers and an automated closet clothing carousel. Tiny RFID (radio frequency identification) tags in the clothes enable the smart closet and wardrobe to scan and locate items – ensuring one would never lose a sock again. Need to know what's in the laundry? Simply call it up on the smart mirror screen.
"It's a pleasure to partner with an industry leader like California Closets to help us push the envelope in cutting-edge design and smart organization for the ideal home of the future, " said Joseph Wheeler, professor of architecture and co-director of the Center for Design Research at Virginia Tech.
This exciting opportunity gave California Closets a unique platform to illustrate its impact on smarter building—and living—for the future. It was an honor to be part of a project that has already earned international media acclaim and industry awards for its research to make homes more technologically advanced, user-friendly, accessible, adaptable, affordable, energy-efficient, and sustainable.
"This project was a collaborative experience for all of us to learn and evolve as we progress into the future. The final result was a perfect marriage of advanced technology and beautiful, intelligent design, " noted Erin Hardy, California Closets' National Manager of Design.
Following KBIS, Virginia Tech's FutureHAUS team plans to erect a four-story FutureHAUS prototype at the university's Corporate Research Center to serve as a teaching, learning, and demonstration model for the future of smart, sustainable, cartridge-built housing.