Down to the Details: Mastering A Custom Closet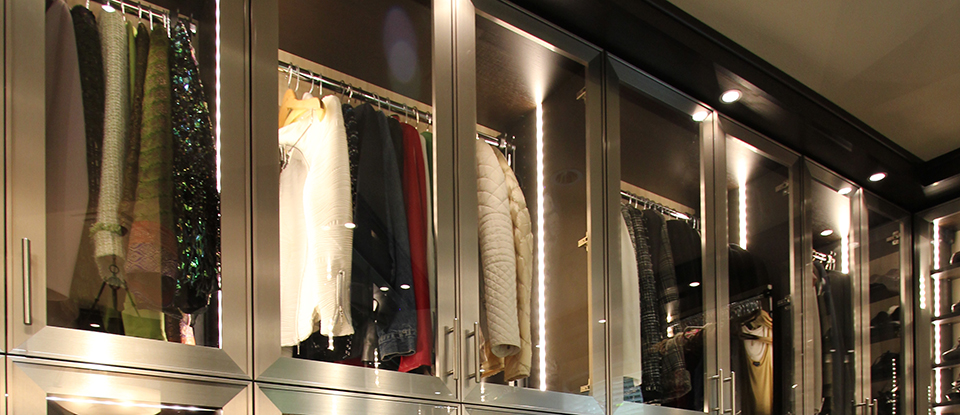 For California Closets Houston Design Consultant Shay Costin, a successful space is one that marries style with exceptional functionality. For her recent project, Shay worked closely with Production Manager, James Snider on the final installation to ensure that California Closets could achieve her client's desired vision. The result is a beautiful, custom walk-in closet that is as striking as it is exacting to her client's needs.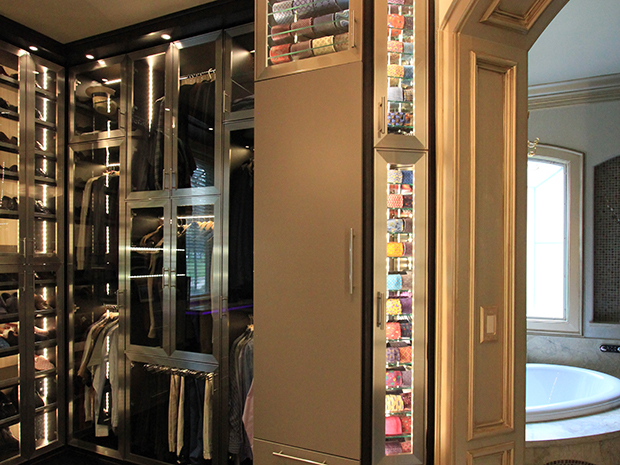 When you first meet with a client, how do you develop an understanding of what they're looking for when it comes to design, storage and organization?
Shay: I take my cues from their existing space and design elements they had collected over time. You can take a lot away from a client's personal environment. Once I get a feel for their style it is very important to take a detailed inventory of their belongings to ensure the final design will provide the needed storage for the space.
The client and designer need to have an open dialogue and the client needs to feel at ease during the design process. Photos of prior installs help to hone in on details that the client reacts positively to and in turn we can use these elements in their own personal design.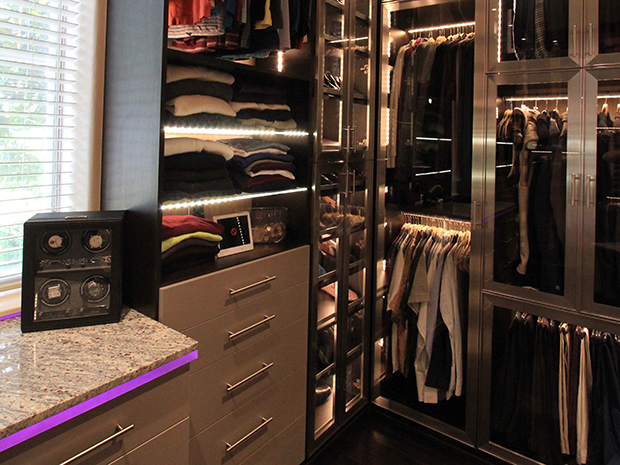 This particular closet showcases a breadth of California Closets custom design capabilities. Can you describe some of the standout features and details you incorporated?
James: There are so many standout features in this closet, but they include the complex, angled sections when entering the closet, LED lighting, remote controlled automated wardrobe lifts and the hidden electronic locks on the vanity doors. There were challenges to get the precise degree on the angles, but I knew this is something we could achieve.
For the automated wardrobe lifts, this was as easy as putting up our standard pull downs, except for adding the box to hide the mechanism to create a much cleaner look. LED lighting was extremely important to the customer. In fact, every section, hanging pole and Chroma countertop was lit to perfection and wires were hidden for a seamless look. The locking vanity doors had to be perfectly inline, square and plumb and I think the result turned out very well.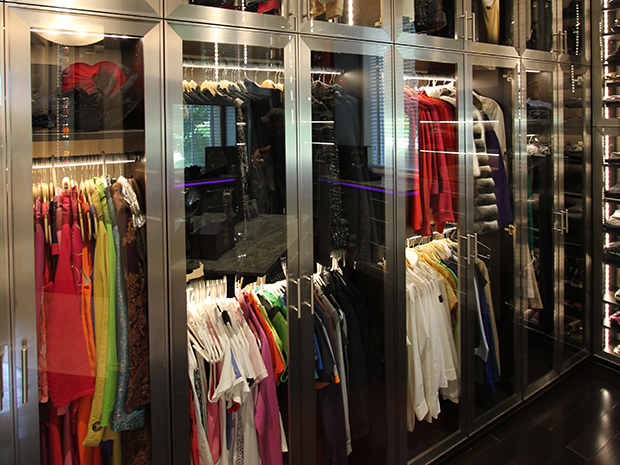 How did you use lighting to enhance the look and functionality of the space?
James: LED ribbon lighting and puck lighting were used in every section in the closet. We also incorporated angled molding in the front corner with a light cove so that we could highlight the ties from the front, yet still keep the lighting and wires hidden. The clients had custom lighting in their entire home to display items from all over the country, so we wanted to make sure our lighting in the closet was incorporated as well to highlight everything.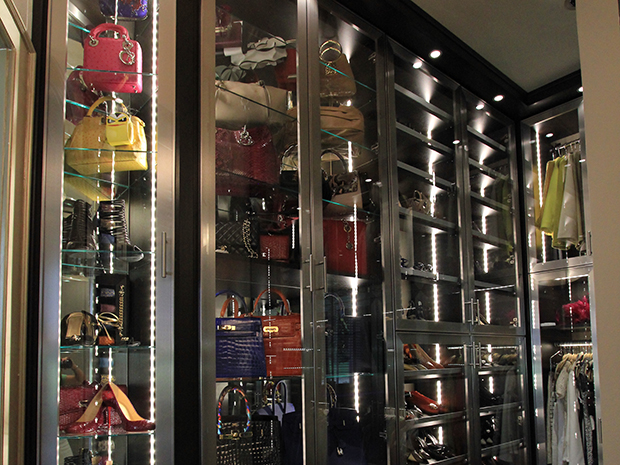 Can clients working with a small area also achieve a beautiful custom space?
Shay: Smaller closets are actually my favorite to work with because we see the greatest impact of a well-designed space. The designer must be resourceful and having a smaller space offers the perfect opportunity to showcase unique design elements such as high gloss drawer faces or some really funky hardware. I think of it as a puzzle that needs solving with the end result being a highly functional and beautiful space.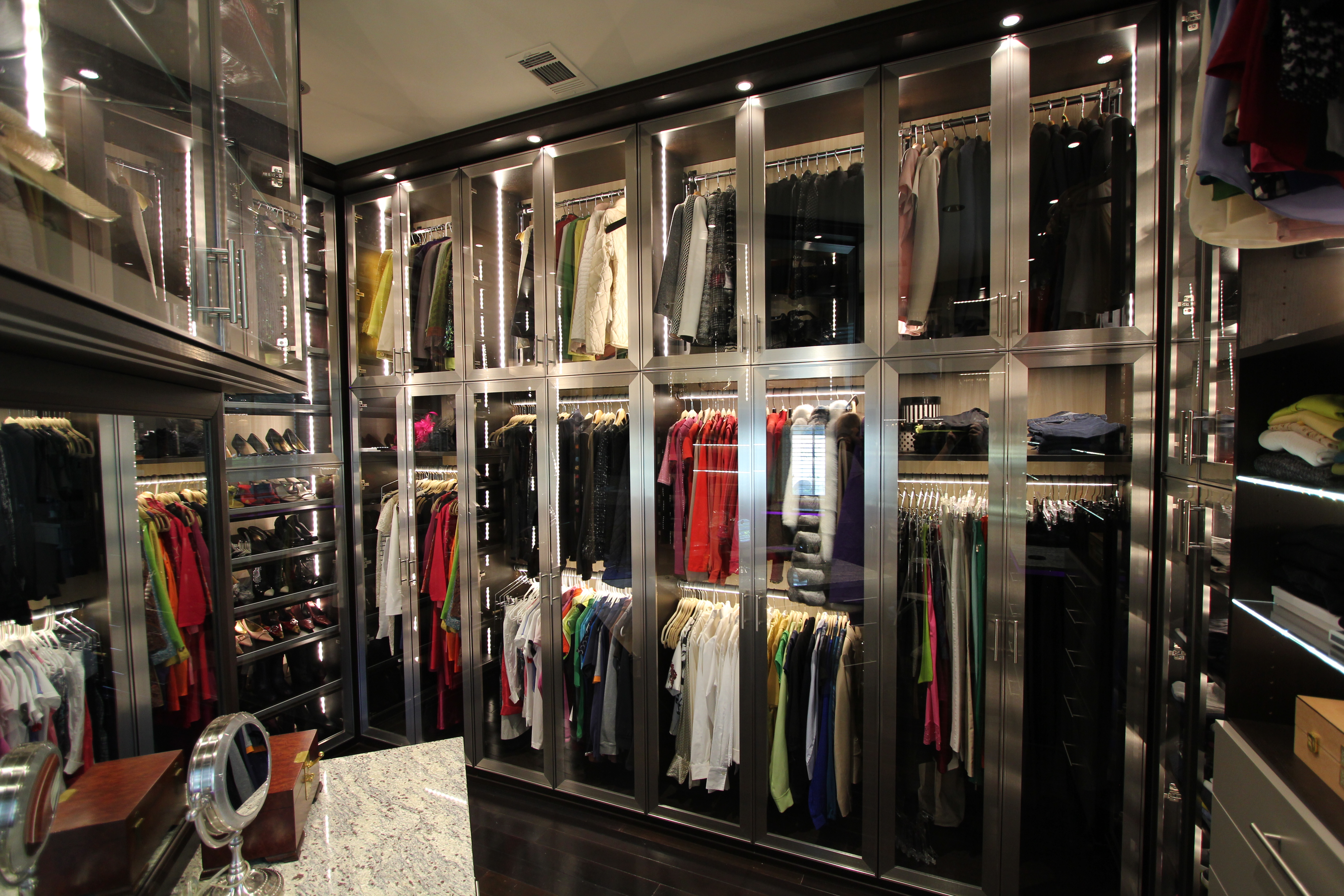 Are there any impressive custom trends you are noticing currently?
Shay: Layering of finishes is a fun trend we are seeing currently. We're doing a lot of blending of materials with pops of color. Our deep textured door fronts are very popular and look amazing partnered with our classic Cashmere finish or alongside our stainless steel finish framed glass doors. Very custom!
To schedule a complementary consultation for your dream custom closet visit www.californiaclosets.com