Designing Better Lives with Dress for Success & California Closets Las Vegas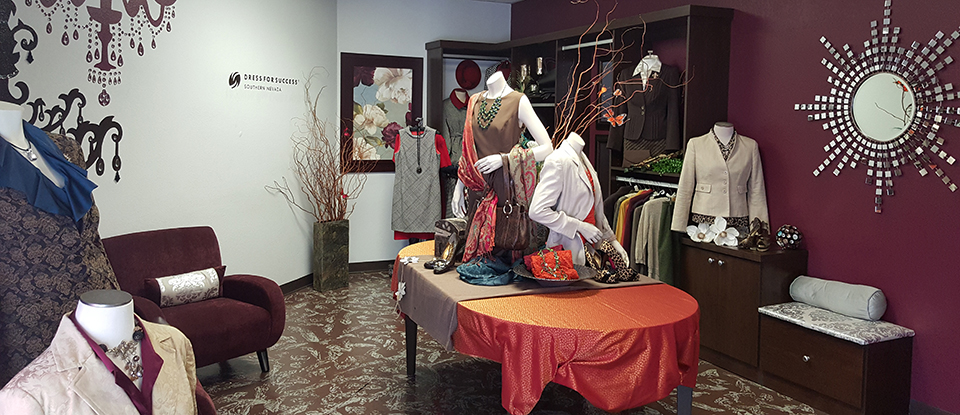 Larry and Megan Huegel and the Las Vegas California Closets team have been supporters of Dress For Success since the launch of the organization's local affiliate in 2009. In addition to the impressive boutique build-out the Huegels championed, the couple has future plans to create additional storage systems to address the growth that Dress for Success continues to generate. We caught up with the Huegels about their involvement and commitment to this great cause.
You and Megan have been active supporters of Dress for Success since 2009! What does this organization mean to you both?
For Megan and I, when we talk about giving back to our community and consider what organizations we can have the most impact with, Dress For Success Southern Nevada (DFSSN) is at the top of our list. Simply put, this organization has an immediate impact in changing people's lives for the better. DFSSN's mission is to empower women in the Las Vegas valley to achieve economic independence by providing professional attire, a network of support and career development tools to help them thrive in work and in life.
How has your continued support evolved over time?
Our first contact with DFSSN began in 2009 with the build-out of their boutique and back storage room by fabricating and installing California Closets storage systems.
In 2015 our franchise participated in a pilot program that was an initiative of our California Closets franchise system to collectively support Dress For Success on a national level. After meeting with the Executive Director of the local affiliate of Dress For Success, Paula Lawrence, we soon discovered that what they needed most were additional storage solutions to help organize the donated clothing and dress shoes so that their stylists could more efficiently locate appropriate sizes when suiting a client.
Within one week of that meeting, we had a team of our installers there completing that installation. Every year our franchise also participates in a shoe drive where our customers have an opportunity to partner up with California Closets in a collaborative effort to collect and donate gently used dress shoes. We collect and distribute the shoes to the DFSSN warehouse.
In addition, Megan participates in their "Mentoring to Achieve Professional Success" program, which fosters one-on-one relationships to guide with career development.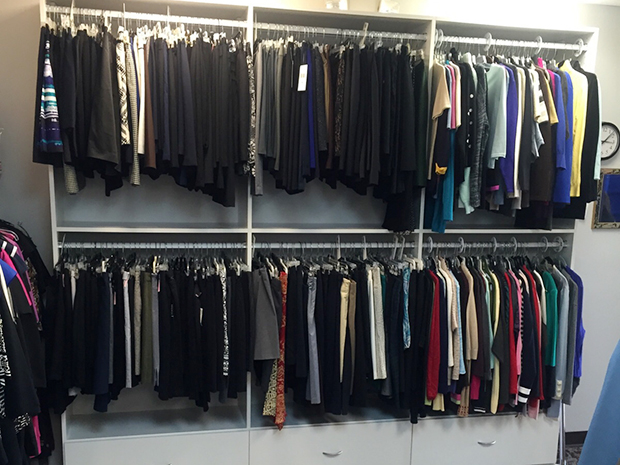 Are there personal stories about how the boutiques have enhanced the Dress for Success experience?
The boutiques are so important to the process of greeting these women as they reach out to this organization for help. The boutique provides a comforting place where a counselor will meet the potential client and assess what their needs are and therefore it is a room designed to give one hope and aspiration to a new future.
What insight can you share with others about getting involved with a local Dress for Success affiliate?
In 2015,  DFSSN had a record-breaking 715 women suited, and since its inception as an affiliate in 2009, has served over 3, 500 women by helping them advance back into the workforce through their various programs. The support and confidence Dress For Success provides to women is ongoing and it takes the aid and enthusiasm from volunteers and businesses like ours to continue to make a difference.
Are there future Dress for Success initiatives your team is already considering?
DFSSN has recently acquired an additional warehouse space and California Closets of Las Vegas will once again provide the needed organizational systems for more effective and accessible storage. In addition to clothing, DFSSN also provides accessory items such as jewelry, hats, belts and scarfs, and we plan to reimagine these spaces with California Closets solutions. We will also continue to participate in the local "Shoe Drive" campaign and will remain a conduit for collecting clothing donations from our customers.