Five part shaker doors with clear glass inserts make this space luxurious and elegant without being over the top. Lighting helps to showcase every design detail throughout.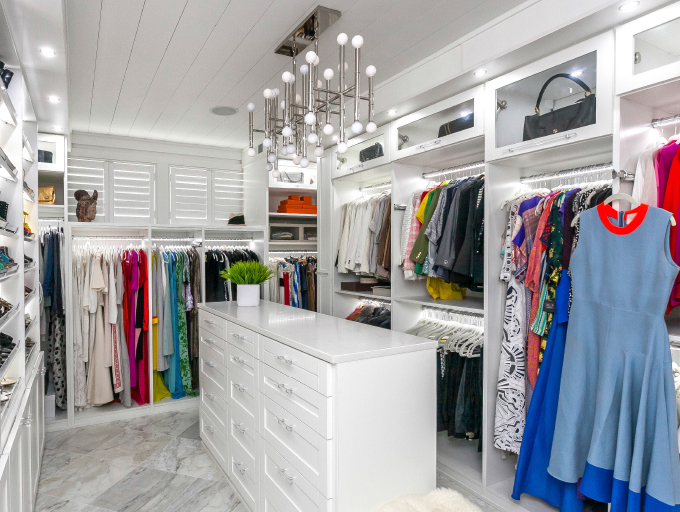 Design Consultant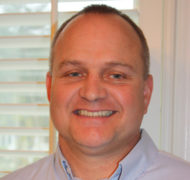 Steve Rogers
Steve joined California Closets in 1997 when he and his brother bought the territory. The business offered them an ideal split of responsibilities: Tom handled the production while Steve did the designs. "Very quickly I learned that it wasn't just a business, it was an opportunity to improve peoples' lives. You see a customer's smile when they turn the corner into the newly transformed closet, their follow up letters after they have lived with it and then their loyalty as they become not just repeat customers, but part of the California Closets family."
Teaching high school French and then working for an international freight forwarding company may not be the normal precursors to becoming a closet designer, but they are the foundation of Steve's approach: provide knowledge where needed, offer individualized solutions, deliver customer service beyond the installation of the job. "I often drop off garment racks prior to the installation so my customers can begin to organize their clothes while removing them. Then I will pick them up a few days after so we can review and tweak the closet together if needed." Steve believes that we don't sell shelves and poles, but rather solutions and customer service.
"With the advent of Houzz and Pinterest, my customers provide me with inspiring ideas and the California Closets product team amazingly always has their thumb on that pulse with things like boot drawers, shoe cabinets with door-activated interior lighting and toe kick lighting that pops on as they walk into the closet!" Steve embraces the emphasis on design providing his customers with swatch palettes that include products ranging from leather to back painted glass, from contemporary slab style to traditional mitered trim accents.
[...]
testing
Read More >
Read Less >
Who is the client and what is the style of their home? The homeowners own a high-end luxury car dealership and are well known for their involvement in local charities. Their home is a beautiful waterfront estate filled with modest yet sophisticated décor.
Tell us more about the project. I worked primarily with an organizer who worked closely with the homeowner on many projects.
How did you collaborate to create the best possible outcome? How did you involve the client in the process? The homeowners were entertaining other options but weren't "wowed" with what they saw because they didn't change the feel of the room. I knew I needed to present them with something special. My idea to cover a wall of windows was exactly what they realized they needed.
How did you use your creativity and passion for design to meet the client's needs? I took cues from their home with an understanding that this needed to include all the bells and whistles; however, a tasteful elegance was the feeling we needed to accomplish. There were challenges to the space, especially because covering a window is above and beyond our normal installation techniques.
Lighting made the difference in such an elegant closet. The custom drawer inserts helped tailor the closet to suit her specific needs.

– Steve Rogers, Designer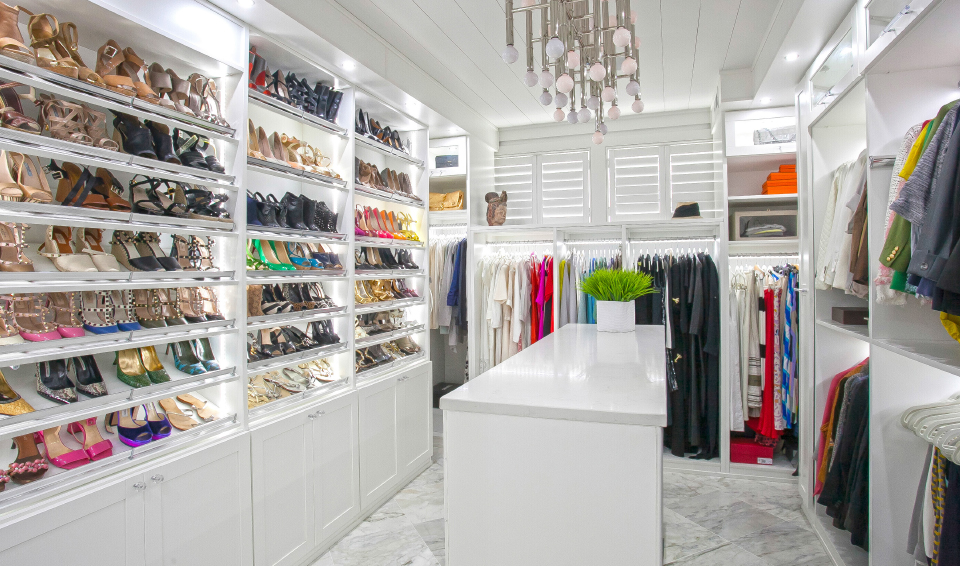 In what way did you design a better life for this client? As one of the last rooms completed in their home, this client had a dream of this room feeling like a boutique. We were able to accomplish this and more making her feel a sense of order and satisfaction.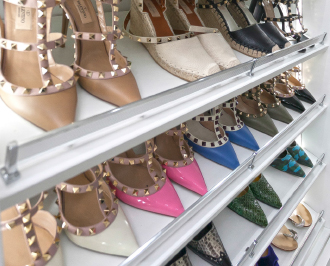 Your new closet starts with a
— complimentary design consultation —