A stylish, functional space so well designed, you wonder if the stairs came after. Thoughtful storage and elegant aesthetics come together in one well-appointed space.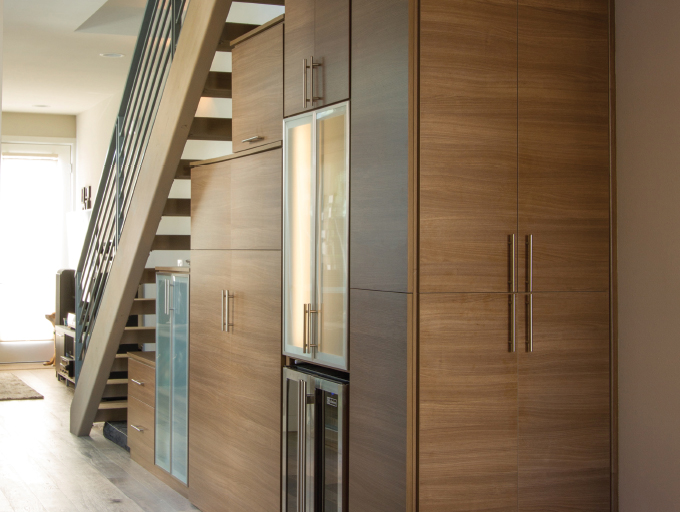 Design Consultant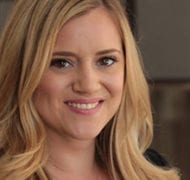 Michelle Gion
Growing up with her father's home improvement company, Michelle has a lifetime of experience in the home design industry. Her background encompasses a wide range of exterior home improvements, kitchen, and bathroom renovations, but her passion for organization and design has made California Closets a perfect fit.
[...]
more-less
Read More
Read Less
Who is the client and what is the style of their home? The client recently moved from Austin, Texas to Seattle. The home is a townhouse in a trendy neighborhood that lacked adequate storage for their growing family.
Tell us more about the project. The main floor storage was minimal, but there was a giant space under the open staircase that I saw as an opportunity. The space had to function as a landing area for many things - pantry, stroller, wine, coats, and sports equipment. Because of the location in the house, aesthetics were important to the clients.
How did you collaborate to create the best possible outcome? How did you involve the client in the process? The unique space left the client without a vision of what the possibilities were. She was sure she wanted this to tie in seamlessly with her kitchen and had a list of items she knew she wanted to store. I spent a lot of time measuring and we went through a lot of possibilities before coming to the final result.
She was completely blown away! This design transformed the level of the home by taking away the clutter. She now has more time to cook and entertain.

– Michelle Gion , Designer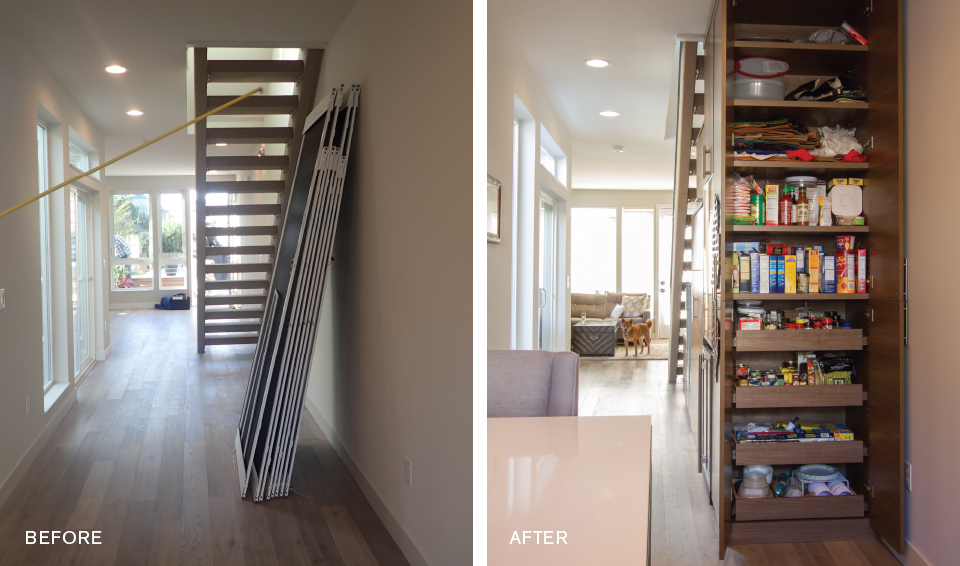 How did you use your creativity and passion for design to meet the client's needs? I did a lot of research for under the stairs storage ideas. Even though the unit was large, we wanted it to feel airy, and that's how we landed on the stair-stepped look. A lot of consideration was taken into the balance of glass and wood.
How did you use our product – design and materials – to offer value to your client? I was able to offer special design details like aluminum and glass doors, hooks, and wine racks. Even something as simple as changing the grain direction made a big difference.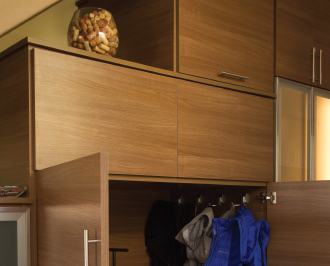 Your new closet starts with a
— complimentary design consultation —