A walk-in closet must be functional, but that doesn't mean it should be boring. This design exemplifies the way our systems can be used to create a high-end, sumptuous sanctuary that feels more like a dressing room than a storage space.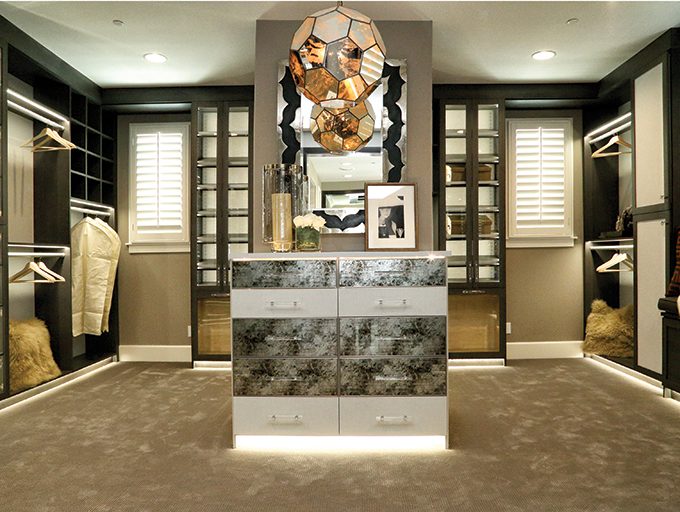 Design Consultant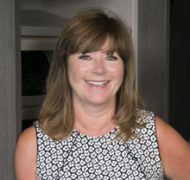 Lynn Esola
Years ago while acting as owner-builder with my husband on our complete home remodel I was introduced to California Closets by our architect. From that day forward I was hooked.
For the past six years I have been an award winning designer with California Closets and look forward to turning spaces in your home, which may seem like chaos–into a serene and beautiful space. Yes it is possible!
My focus is to make you feel comfortable and to answer all questions that you have about your specific situations. My goal is to simplify your life. I will spend time to ensure superior designs, client services, and excellence. What may appear to be a daunting project for you, will be shifted to me and the California Closets team.
The joy and excitement in my customer's voice after their installation is complete, is very rewarding. When they refer their friends and family, then I know that I have really made a difference in their lives.
This is the California Closets experience.
[...]
testing
Read More >
Read Less >
Tell us a little bit about your client and the design needs. For this project, I collaborated with Toll Brothers, a builder for model homes, and an interior designer with CDC Designs. The goal was to turn this closet into an extravagant showcase. I wanted it to be very glamorous, like a retreat or a boutique.
What was the home like? The theme of this home was glamour and luxury.A new construction model home, it had a grand staircase and other exquisite details, such as decorative moldings and high-end furnishings.
What are some of the key features of the design you created? I wanted to make the design as well-appointed and stylish as possible by using high-end products. The space included a large island, a vanity, a window seat with storage underneath and lighted display cases for showcasing special items. A three-way mirror was also incorporated along with LED lighting in the toe-kicks and closet poles.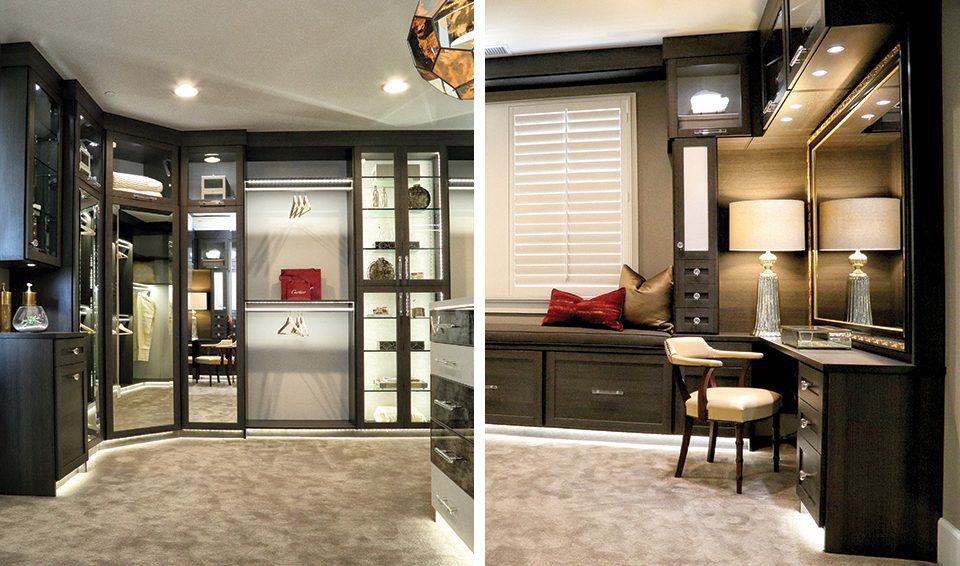 What materials were used in the design? The base material is our Lago Milano Grey finish with Tesoro Linen backing. Some of the drawer fronts have stainless steel frames with inserts in old Silver. Hide leather was used as an accent in both the door frames and pole covers. Fabric board was also used as backing in certain areas with a custom nail head detailing.
How was the palette decided? Toll Brothers informed me that a neutral palette with warm wood tones would be used around the house, and I created the walk-in color scheme from there. I chose Tesoro Cappuccino because it brought the warmth of the home through to the closet. Linen was a natural addition to tie in some of the fine-textured furnishing used in the décor of the home.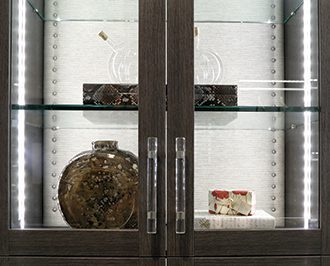 Your new closet starts with a
— complimentary design consultation —