Blending contemporary, streamlined design with superior functionality, this trendsetting walk-in has the sophisticated atmosphere of a high-end clothing store.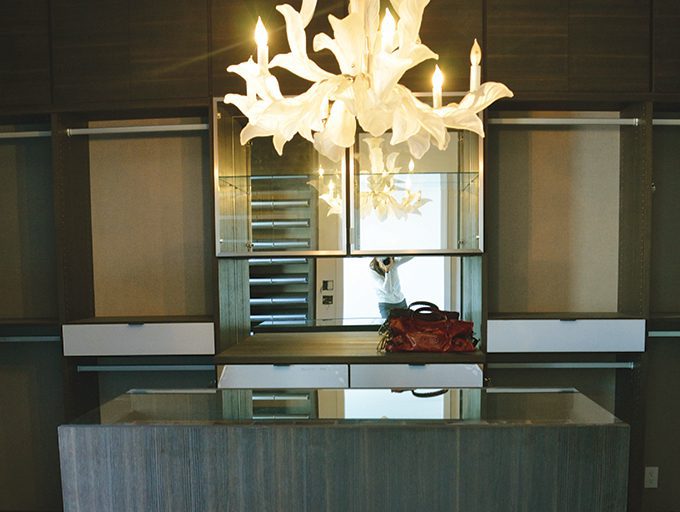 Design Consultant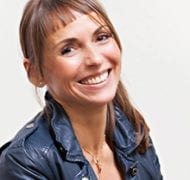 Monika Kerstens
With my European background and having lived in London, New York, Chicago and San Francisco over the past ten years, there is one thing I can say – I really had to learn how to organize the available space and squeeze every inch out of it in the most efficient way, within aesthetic constraints.
After having obtained a Masters degree in Law, I decided to pursue my true passion and enter the design world. In 2000 I designed my first furniture, which reflected very contemporary streamlined European design trends.
I obtained my Interior Design degree and certificates from colleges in London and Chicago. As an Interior Designer, in 2007 I won a design competition for a restaurant in Chicago. In 2008 one of my projects was published in the November issue of Home Improvement Magazine Chicago.
My first interaction with California Closets was through projects for my Interior Design clients in Chicago. After moving to San Francisco, I discovered that I share a similar professional philosophy as California Closets – passion for very good product quality and excellent customer service…. and so, I decided to join the San Francisco team.
I am thrilled to have been given the opportunity to help people define their needs and provide them with the optimal solution. As a European I am particularly excited about the Lago product and the new Virtuoso line, as this beautifully represents the clean contemporary style that I favor. I truly believe in my motto that accompany me all the years on my design carrier –
"…to Change and Idea into Concept and Execution….Your Space"
[...]
testing
Read More >
Read Less >
Tell us a little bit about your clients and their design needs. My client was a married couple in their fifties. They wanted a boutique-style closet, created with high-end materials that would match their home's aesthetic within a reasonable budget.
What was their home like? The home was a 1920s house that was completely renovated. Their overall style is very contemporary and eclectic.
What are some of the key features of the design you created? I incorporated dovetail drawer boxes in the island, which had a bench and a clear glass top so my clients could easily see the accessory drawers inside. I maximized the space with double hanging sections to suit their wardrobe needs and opened up the design with elegant glass doors and mirrored backing. The design features ample slanted shoe shelves with Aluminum accent fences.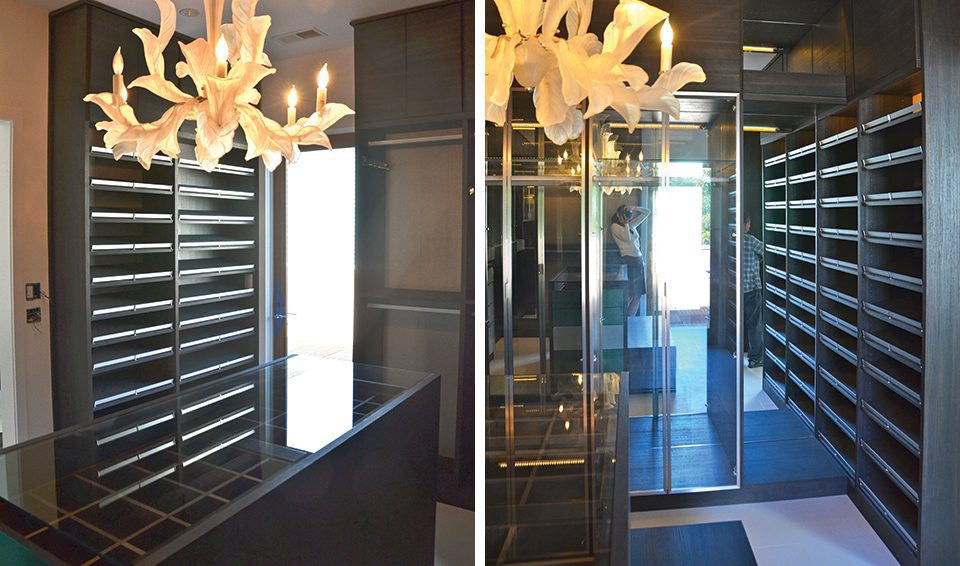 What materials were used in the design? I used our Tesoro Cappuccino finish as the main material and Tesoro Corsican Weave as the backing. The drawer faces are high-gloss Parapan inserts in white in oil-rubbed Bronze frames with finger pulls. The doors are Stainless Steel with clear glass inserts.
How was the palette decided? We mixed and matched the finishes in the palette until we came up with the desired look and a comfortable price range. More than anything, my clients wanted a boutique look. Mirrored panels were used consistently throughout the design, particularly in the long and short hanging section, to achieve that.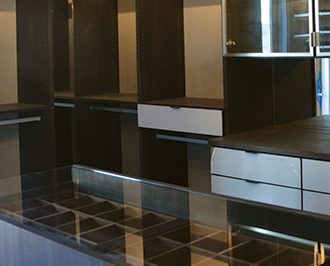 Your new closet starts with a
— complimentary design consultation —