A Beach Chic Transformation for The Hampton Designer Showcase
client: The Hampton Designer Showhouse
location: Sag Harbor, NY
design consultant: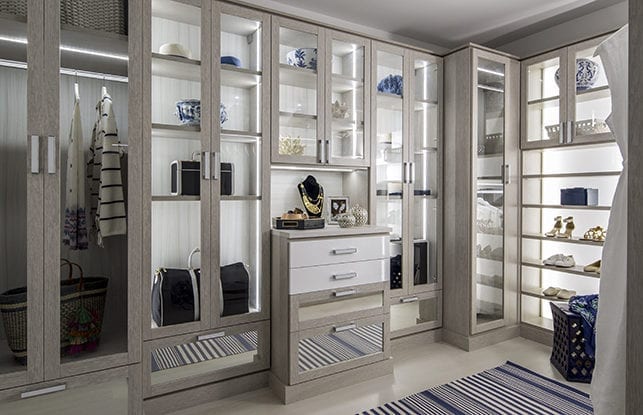 The Hampton Designer Showhouse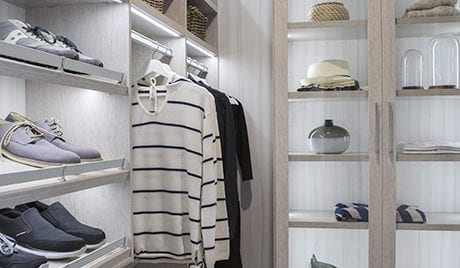 What They Wanted
---
For the the 2016 Hampton Designer Showhouse presented by Traditional Home, California Closets designer Theresa Caccavale created stunning, hers and his walk-in closets off the property's master suite.
Taking cues from the home's contemporary-meets-classic sensibility, Theresa wanted to showcase the dramatic design potential of both spaces. Starting with creating impact and increasing visual depth, Theresa decided to integrate a combination of finishes, mirrors and seamless accent lighting.
"There is a wow factor in the simple elegance of great design and to echo the home's style and add a little character, I wanted to present cohesive spaces that each had its own flavor."– Theresa Caccavale, design consultant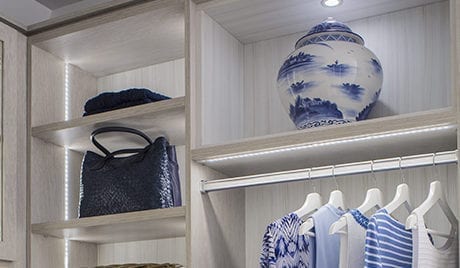 How we did it
---
After meeting with the builder, Theresa's vision for both spaces included clean lines and simple shaker fronts with modern glass and mirror touches.
In the larger 'her' closet, she chose multi-tone finishes in a grey scale that blended beautifully with the color of the wood stained floor. Select highlights also included white gloss fronts, matching polished chrome and white gloss handles, and glass and mirrored fronts, while the smaller 'his' closet featured darker grey gloss front accents.
Thoughtful LED lighting brought dimension to the glass door cabinets in both closets, while a standout, illuminated back panel shoe wall in 'her' closet was a focal design element, generating an ambient glow and showcasing treasured pieces.
final result
---
Impeccably lit and styled, both final closets embraced a timeless and luxurious feel that was perfect for this Hamptons home.
---
Design Details
Finish
Lago® Adriatic Mist with Tesoro™ Tuscan Moon backing
Hardware & Accessories
Brushed Aluminum Fluted poles with Tuscan Moon accent
Polished Chrome and white glass handles (hers)
Matte Chrome handles (his)
Slanted shelves with Brushed Aluminum shoe fences
Morning Fog MicroSuede Accessory and Jewelry drawer inserts
Slate pull-out deep divided fabric basket
Accents
Shaker doors with clear glass inserts
Shaker drawer fronts with mirror inserts
White High Gloss slab drawer fronts (hers)
Mineral High Gloss slab drawer fronts (his)
LED Lighting
LED Lit Back Panel
Decorative stacked top treatment
*Note: Product availability may vary by location
---
Meet the team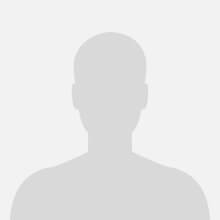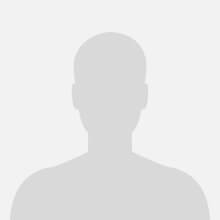 Michael Franzese
Installer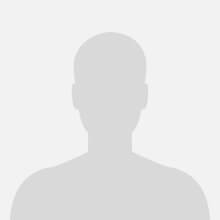 Robert Thompson
Shop Manager
---
Why Wait?
Book a free consultation today – and ask about virtual consultations.