A Single Space with Serious Function for Fashion Vlogger Shea Whitney
client: Shea Whitney
location: Pittsburgh, PA
design consultant: Angel McCleaster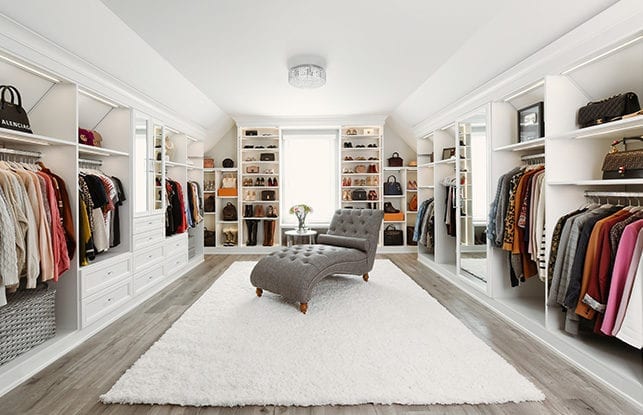 Shea Whitney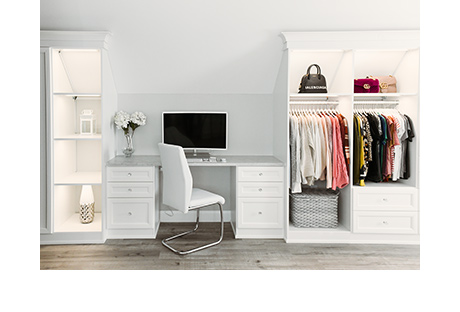 What She Wanted
---
Fashion and lifestyle vlogger Shea Whitney is used to a life in front of the camera. Not only did she need a space to shoot videos and pictures for her YouTube channel and Instagram, but one to house her impressive wardrobe. Furthermore, the busy mom of two wished for her own private escape where she could work quietly and get ready for the day. Trying to figure out how to tackle each of these necessities in one single space, she called California Closets Pittsburgh to help her dream up a custom solution.
Shea needed a full studio layout that not only provided a productive place to work, but to relax and get ready in as well. Now she has a safe haven—a place to call her own.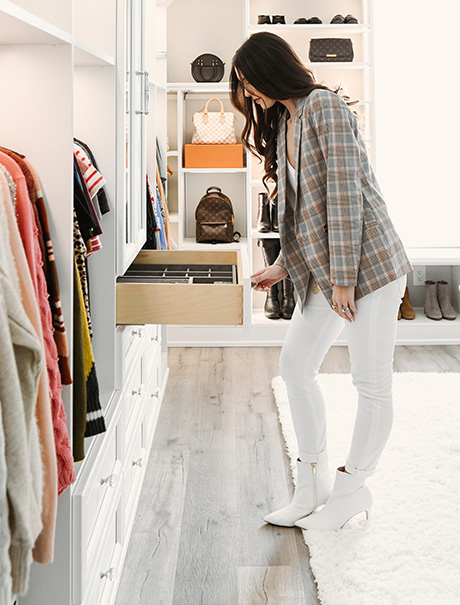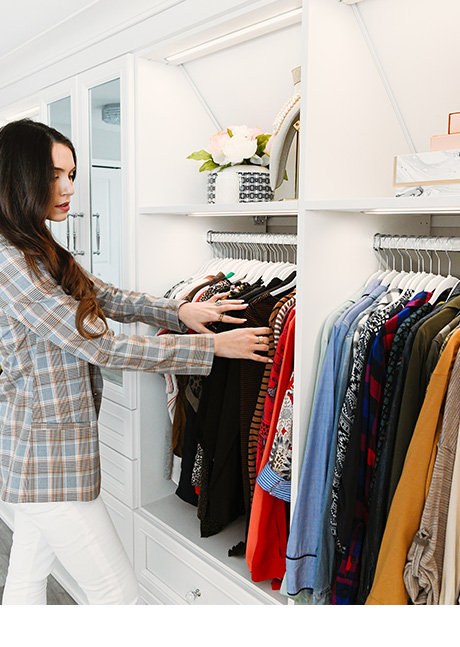 How we did it
---
Design consultant Angel McCleaster knew immediately this was not your average closet project, and began by listening intently to Shea's list of must-haves to design a space that fit every need. First, she created a careful mix of open and closed storage to balance ample hanging and display space for Shea's beautiful wardrobe with drawers and cabinets to organize everyday items. Lighting along the shelves further spotlighted the collection, enhancing visibility and adding a touch of glamour. To solve for working and getting ready, Angel designed a designated desk space and separate vanity, each finished with durable quartz countertops for lasting quality. Angel and Shea decided to forego an island in favor of a chaise—this allowed Shea an extra spot to work while leaving plenty of room for fashion shoots.
Extra details, like lighting throughout, took this from a great closet to a fabulous, amazing, next-level dream closet!
final result
---
A multifunctional, gorgeous space that crossed off every item on Shea's list. Not only does it neatly store her entire wardrobe from clothing to shoes to handbags, but it doubles as a productive escape for Shea to work, prep for the day, and shoot content. Plus, small accents with big impact like valet rods and belt organizers maximize utility for a sophisticated space with an answer for everything.
---
Design Details
Hardware & Accessories:
Traditional Colonial Handles in Polished Chrome
Fire Crystal Knobs with Chrome Base
Accents:
Classic Miter Drawers
Classic Miter Doors with Mirror Inserts
Morning Fog Microsuede Jewelry Inserts
Polished Chrome Valet Rods
Shelf and Partition Ribbon Lighting
Fascia with Contemporary Crown Molding
*Note: product may vary by location
---
---
Why Wait?
Book your free consultation today.
Schedule My Free
Design Consultation