A Glamorous Black and White Dressing Room
client: Michael and Diane Kovak
location: Indianapolis, IN
design consultant: Michelle McElderry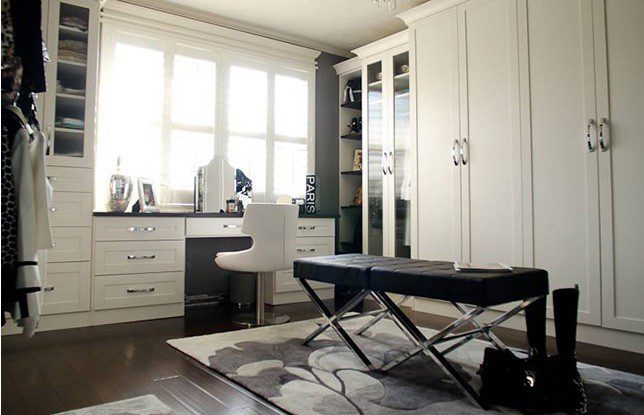 Michael and Diane Kovak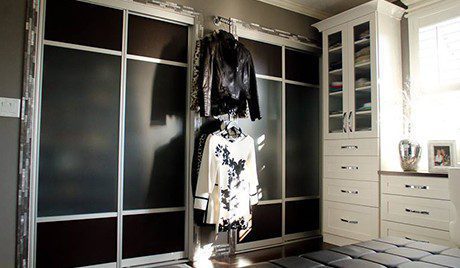 What They Wanted
---
Clients Michael and Diane Kovak married later in life after their kids had grown. When they decided to combine their homes, they realized that they each needed their own space. Diane, in particular, wanted a dressing room and closet all her own.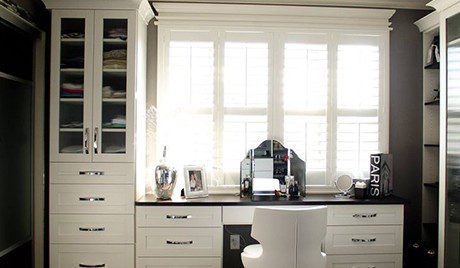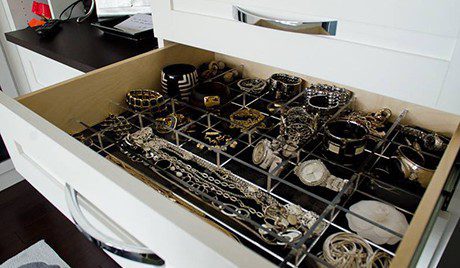 How we did it
---
Working with a spare room, McElderry designed a glamorous dressing room to include a makeup table, plenty of storage for Kovak's wardrobe and some extra closet space for accessories. She swapped out the existing bi-fold doors for sleek sliding doors to add some style and designed a desk space that could also be used as a vanity to create a multi-functional zone.
The client now has a personalized, gorgeous space to call her own.
final result
---
With specialized wardrobe sections tailored to fit her belongings, Kovak now has a personalized, gorgeous space to call her own — complete with the exact storage she needs.
---
Design Details
Finishes
Lago® Bellissima White
Lago® Venetian Wenge (vanity countertop)
Tesoro™ Corsican Weave backing
Hardware & Accessories
Polished Chrome decorative hardware
Slanted shoe shelves with fences
Acrylic jewelry drawer inserts
Valet rods
Accents
Doors with reeded glass inserts
Aluminum sliding doors with frosted glass inserts
Contemporary crown molding
*Note: Product availability may vary by location
---
---
Why Wait?
Book your free consultation today.