Style Meets Storage for Fashion & Lifestyle Brand Man Repeller
client: Man Repeller
location: New York, NY
design consultant: Megan Garcia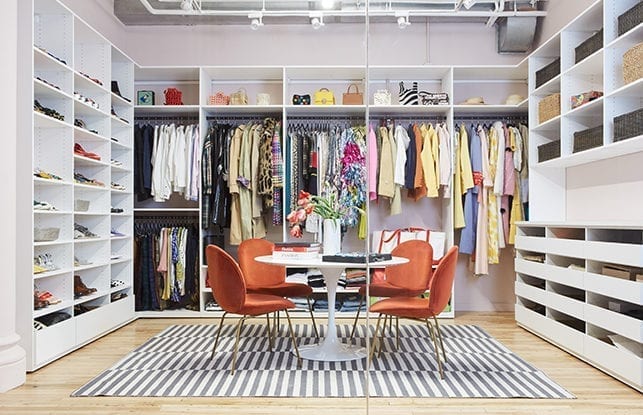 Man Repeller
What They Wanted
---
Moving into a shiny new office after outgrowing their original, the team at the beloved fashion and lifestyle brand Man Repeller dreamed of a reimagined workspace loaded with style and storage. A cultural empire founded by fashion blogger and author Leandra Medine Cohen in 2010, Man Repeller amasses tons of clothing, shoes, and accessories on the regular—not to mention an impressive volume of daily mail— and organizing it all intentionally became necessary to help the team keep its pulse on fashion's finest. Decorist's Chloe Redmond Warner had a master plan for the space's overall design, but a proper storage strategy was a must. On the hunt for solutions, the Man Repeller team contacted California Closets New York City.
The Man Repeller team was a joy—they really understood the style of their space, and exactly what they needed for it to function. It made for a wonderful collaboration.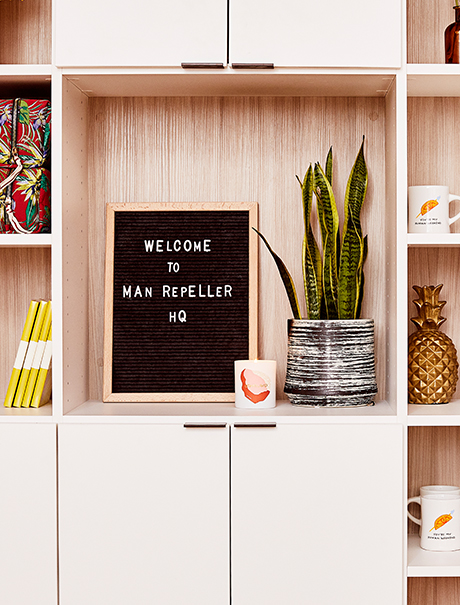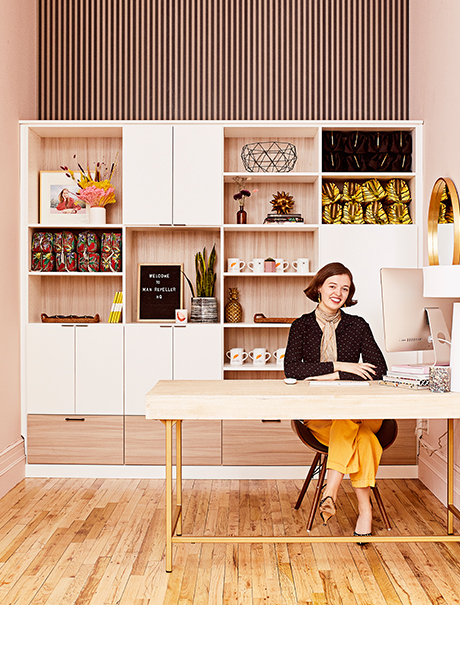 How we did it
---
Design consultant Megan Garcia identified the two immediate storage needs: one to organize the fashion closet's ample clothes and samples to ensure accessibility for fittings and meetings, and a second to organize daily office supplies and mail at reception. Focusing on function, Megan designed a custom fashion closet that dialed in on easy access and efficiency for the busy office. Open hanging and shelving kept a swoon-worthy sea of clothes, shoes, and accessories on display and within arm's reach, while drawers set slightly apart allowed their contents to be seen without opening. In the reception area, a mix of open and closed cabinetry worked double duty as styled display shelves and hidden storage for mail and files.
final result
---
California Closets was such a collaborative and thoughtful partner to work with in designing storage solutions for our new office space. The process was straightforward, exciting and f-u-n, and the CC team truly felt like partners in devising a closet that hit all the right notes. We had no shortage of asks in terms of functionality, and the team did such a phenomenal job of incorporating our needs into a beautiful and incredibly practical space.
Two optimized storage solutions that serve a full and fast-paced office beautifully. Featuring a minimalist, streamlined aesthetic, the fashion closet is now the office's showcase where the clothes take center stage. In reception, the chic unit creates much-needed order to welcome new visitors in Man Repeller's signature style.
---
Design Details
Finish:
LuxeMatte™ Dove
Cassini Beach Backing
Hardware & Accessories:
Oil-rubbed bronze hardware
Slab drawers with finger pulls and handles
Accents:
Drawers with black micro suede liners
Note: product availability may vary by location
---
Meet the team
Megan Garcia
Design Consultant
---
Why Wait?
Book your free consultation today.