A Modern Farmhouse Laundry Room for Eva Shockey
client: Eva Shockey
location: Raleigh, NC
design consultant: Amanda Welch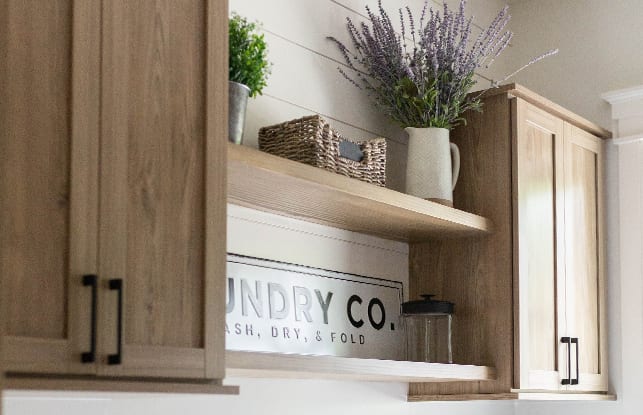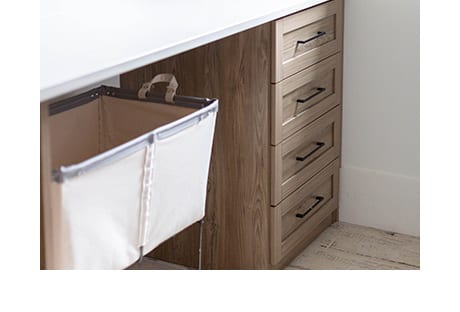 What She Wanted
---
Eva Shockey is an author, TV host, and outdoorswoman. She's also a wife and mother of two young children, so when it came time to focus on the laundry room of her new custom, "forever" home, she knew exactly what she wanted.
High countertops to make folding clothing easy and avoid a lot of bending over, a large sink for baby baths, and a special space for industrial rolling bins to carry laundry from one part of the house to another were all on her wish list.
The overall goal [of the laundry room] was: make. it. work. I [also] wanted our laundry room to be a place I genuinely enjoy being in.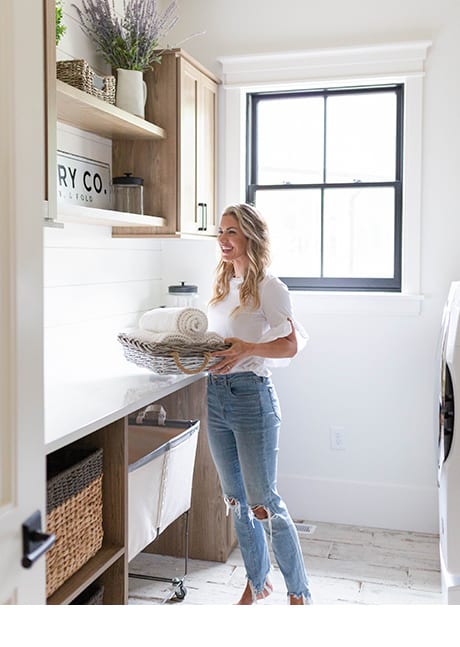 How we did it
---
Eva worked with California Closets Raleigh design consultants Amanda Welch and Ariel Chenworth to create a modern-farmhouse inspired laundry room that hit all her must-haves.
The team designed a two wall system that incorporated the farm sink Eva had selected and under-counter space for her to easily roll the laundry bins in and out of. A mix of closed and open storage serve as a home for baskets, supplies, extra linens, and personal touches. And, the combination of the systems' woodgrain finishes and black hardware, paired with the room's shiplap walls, and rustic floor, achieved the perfect farmhouse look throughout Eva's home.
final result
---
Is it okay to be this happy in a laundry room?! Even though doing the laundry is one of my LEAST favorite chores, I still look forward to coming to this room!
From the dedicated space for the washer and dryer with storage above to a pull-out ironing board that's hidden within the system to the high countertops and ample shelving, the space is exactly what Eva needed with an aesthetic she desired. Now, the beautiful, very organized room makes her least favorite chore much more enjoyable.
---
Design Details
Metal:
Standard Elite hardware in Oil Rubbed Bronze
Additional Accessories:
5-piece Shaker door and drawer fronts
Top and bottom cap trim
White Quartz Countertop Supplied by customer
*Note: product availability may vary by location
---
---
Why Wait?
Book a free consultation today – and ask about virtual consultations.