A Reimagined Dining Room for Lonny magazine's Editorial Director Angela Tafoya
client: Angela Tafoya
location: San Francisco, CA
design consultant: Nick Graham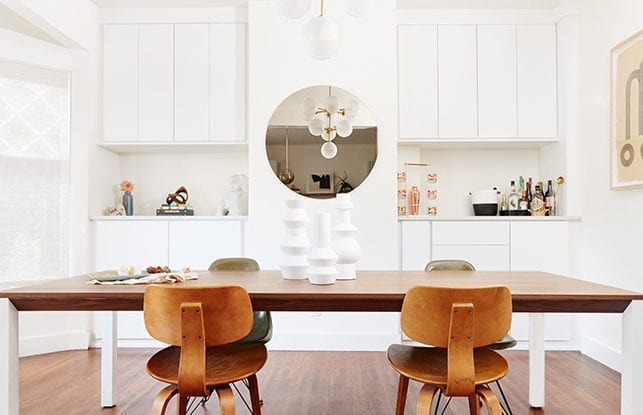 Angela Tafoya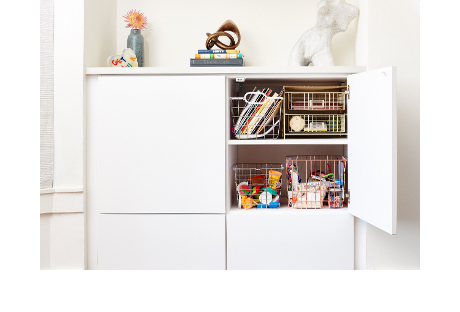 What She Wanted
---
Lonny magazine's Editorial Director Angela Tafoya had a dining room dream: an open entertaining space that displayed beautiful decor while efficiently (and elegantly) storing all the necessities. In reality, the dining room in her 19th-century San Francisco brownstone—an inherited family home she and her husband, Eric, have been busy restoring—featured floor-to-ceiling cabinets without efficient shelving, leading to major disorganization behind closed doors. Plus, with a three-year-old in tow, Angela needed to sneak in extra storage wherever possible to corral a growing collection of crafts, books, and toys. To reimagine the space in a way that fit her dream, family, and historic home, Angela called California Closets San Francisco.
The home has been in the family for generations. I loved the passion that Angela & Eric had for honoring that history but adding their own chapter to the story.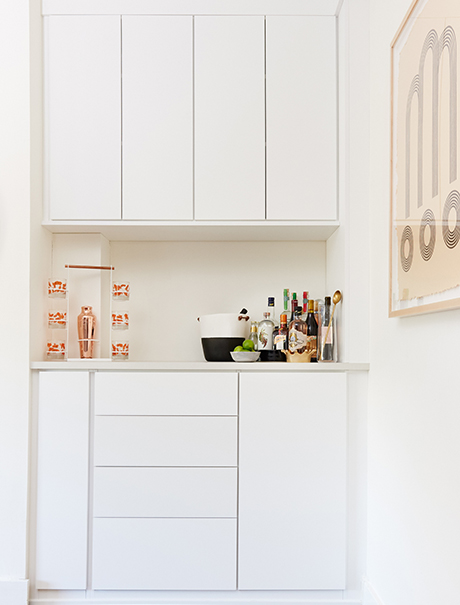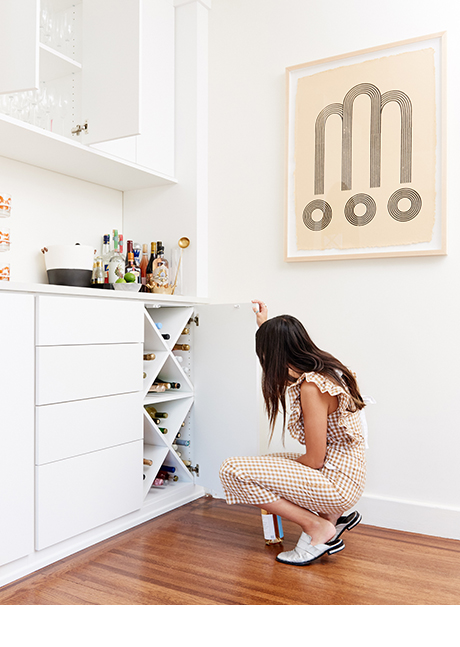 How we did it
---
After meeting Angela and seeing the space, California Closets design consultant Nick Graham understood his immediate challenge: creating a design that preserved the home's history while executing Angela's clear vision. The tougher challenge came next: structural problems, spatial issues, and pipes resulted in a complex design. Collaborating closely with both Angela and the California Closets production team, Nick created a sophisticated system that fit the complicated space while effortlessly marrying function and style. Classic white cabinetry beautifully organizes glassware and dishes; open shelving displays cookbooks and decor; and an entertaining corner hosts barware and wine storage. Plus, a bottom cabinet hides her daughter's craft supplies, making them easily accessible for a toddler.
final result
---
With the guidance of Nick, we were able to finesse and create the prettiest shelving system we could have dreamed of and a dining room that has brought so much organization and beauty.
Angela loves her striking, transitional dining room system that's both classic in design and modern in function. By mixing beauty and organization, the thoughtful solution honors the home's historic quality while outfitting the space with hard-working efficiency—for the entire family.
---
Design Details
Hardware & Accessories:
Slab Drawer Fronts
Accents:
Tesoro™ Linen Countertop
*Note: product availability may vary by location
---
---
Why Wait?
Book your free consultation today.
Schedule My Free
Design Consultation