Storage solved for Brit + Co Founding Partner and Chief Creative Officer Anjelika Temple
client: Anjelika Temple
location: Marin, CA
design consultant: Corinne Cronin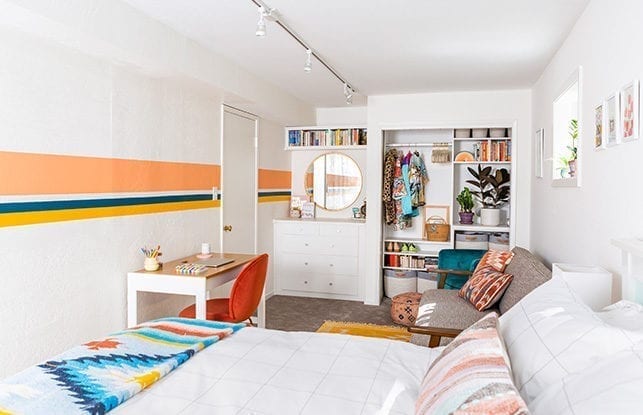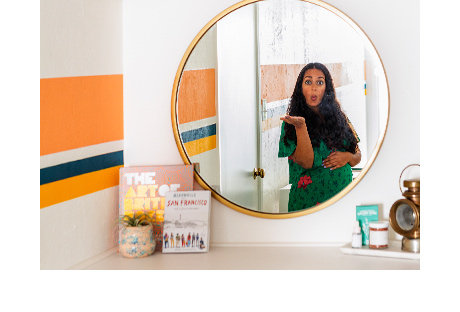 What She Wanted
---
Inspiring readers with colorful tips and ingenious ideas is something Brit & Co's Founding Partner and Chief Creative Officer, Anjelika Temple, does daily.
After moving into her new home, Anjelika had a design challenge of her own on her hands: transforming a long, awkward space into a multi-functional guest room. Often playing host to visiting family to friends, Anjelika needed the space to serve primarily as a guest room, but she also envisioned how it might transition into a den and workspace with ample storage areas, too. To help her optimize the potential of the space, Anjelika contacted California Closets San Francisco for some professional guidance.
Working with Anjelika was wonderful. She had a clear picture of what she needed and a defined personal style, so we worked together to figure out how to meet her storage needs while also designing to her aesthetic.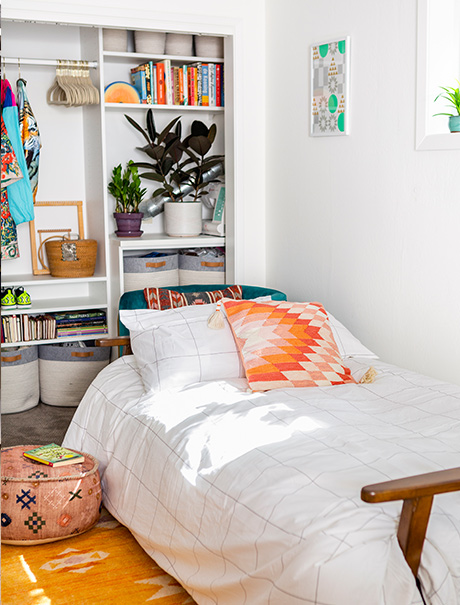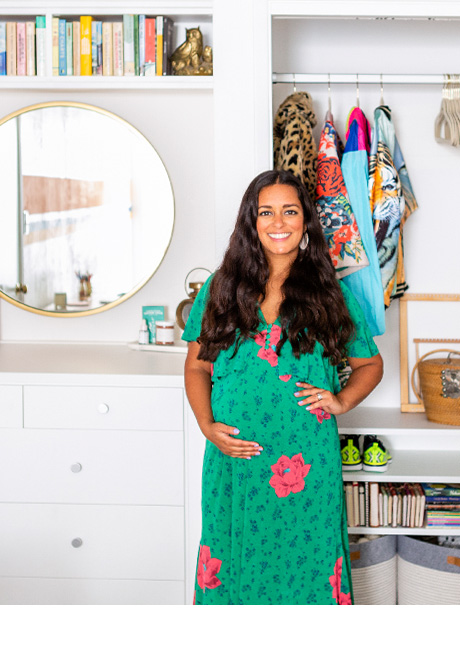 How we did it
---
Design consultant Corinne Cronin teamed up with Anjelika to reimagine the room's underutilized closet and awkward adjoining nook. Corinne understood the room's primary function as guest room, so she created custom shelving for the closet that could accommodate both Anjelika's craft supplies, as well as space for guests to unpack. For the nook, Corinne designed a custom dresser and vanity combination with five drawers to tuck away camping gear and toys—a solution that served Anjelika's needs now yet could easily evolve if she decided to turn the space into a bedroom for her growing family. To support the room's use as a den when Anjelika wants to relax, Corinne added a shelf above the dresser to store her books.
final result
---
Who knew that installing a space-saving closet could actually open up the entire space? It was the room's biggest transformation—the dresser and closet were an instant upgrade.
Now Anjelika has a beautiful and thoughtful solution that's custom-designed to support the room's many functions. By carefully designing to the small area, Corinne maximized storage without compromising style or crowding the space, leaving plenty of room for a bed, reading area, and desk. Plus, Anjelika's fun decorating touches—a circular mirror above the dresser and greenery in the closet shelves—make the entire room feel warm and inviting, the ideal vibe for every use.
Photo Credits:
Brittany Griffin for Brit + Co
---
Design Details
Hardware & Accessories:
Standard Elite round knobs in Matte Aluminum
Accents:
Matte Aluminum Fluted hanging poles with LuxeMatte™ Dove accents
Slab drawers with double hardware
Birch-plywood dovetail undermount drawers
Top and bottom caps
*Note: product availability may vary by location
---
---
Why Wait?
Book a free consultation today – and ask about virtual consultations.