A Clean Custom Pantry for Interior Designer Sarah Sherman Samuel
client: Sarah Sherman Samuel
location: Grand Rapids, MI
design consultant: Leslie Conneely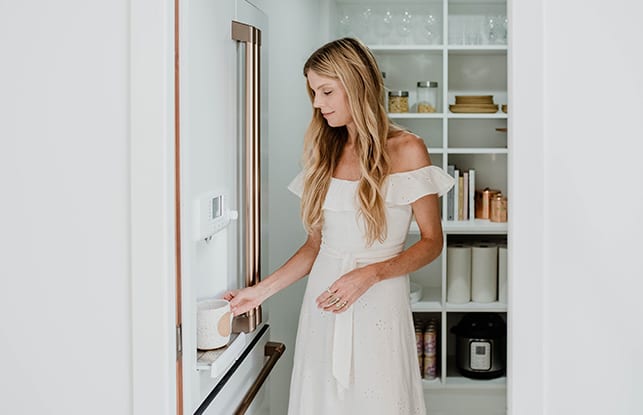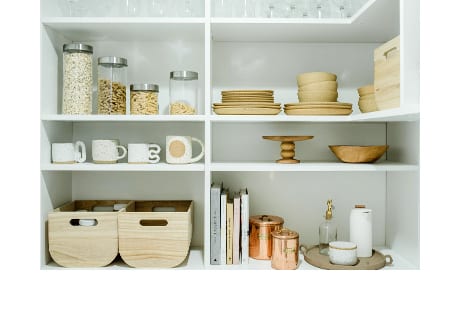 What She Wanted
---
After purchasing and then gutting her new home, celebrated interior designer Sarah Sherman Samuel had one major priority for the whole-home renovation: an organized, streamlined pantry. She wanted to avoid a kitchen cluttered with appliances; plus with two kids and a busy lifestyle, easy access to food was a must. After she and her husband tore apart an outdated bathroom off the kitchen, Sarah called California Closest Chicago to transform the space into a fully-functioning dream pantry.
I love the simplicity of this pantry, which we kept free of hardware and used monochromatic finishes. Working with Sarah reminded me that there is beauty in function and minimalism.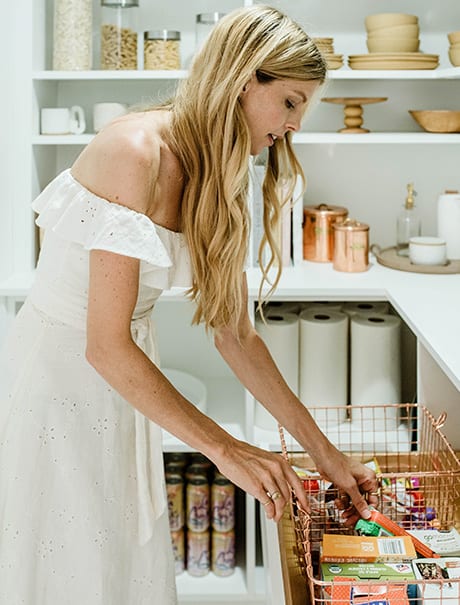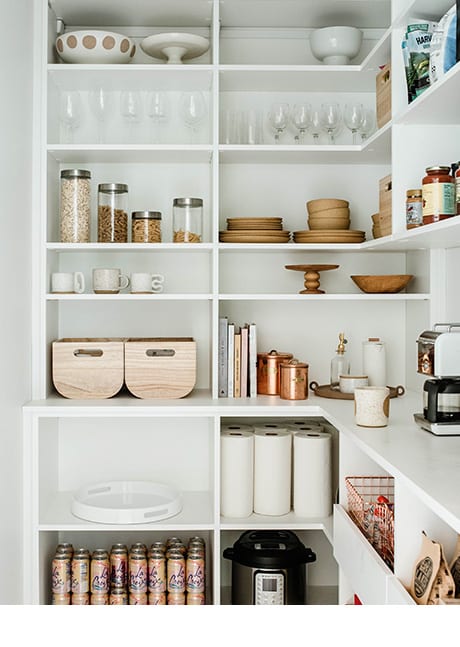 How we did it
---
Design consultant Leslie Conneely listened closely to Sarah's unique vision: she wanted the pantry to house all the food and appliances—including the refrigerator—to keep the kitchen truly clutter-free. After determining how best to utilize the space and measuring everything from Sarah's coffee cups to cereal boxes to dishware, Leslie designed a floor-to-ceiling unit comprised of shelves and drawers to fill the back and right walls, saving the left wall for the fridge. Open shelves allow Sarah to grab anything quickly, while deep drawers with short faces let her see exactly what each contains. Plus, an open countertop neatly houses her toaster, coffee machine, microwave, and tea kettle.
final result
---
The result is the most beautiful, functional pantry that makes my day, every day. The organization and functionality of this space is something I've never had in a house before and it has made a huge difference.
A bright and efficient pantry that's perfect for a family of four. Now Sarah can maintain a calm and clutter-free kitchen—exactly what she had in mind.
---
Design Details
Hardware & Accessories:
Soft-close, deep can drawers
Accents:
Recessed kickplate bottom
L- shaped corner shelves
plenty of open adjustable shelving, no backing
Deep base cabinets with counter and shallow shelving above
*Note: product availability may vary by location
---
Why Wait?
Book a free consultation today – and ask about virtual consultations.