All Cleaned Up for Designer Emily Henderson
client: Emily Henderson
location: Los Angeles, CA
design consultant: Chloe O'Keeffe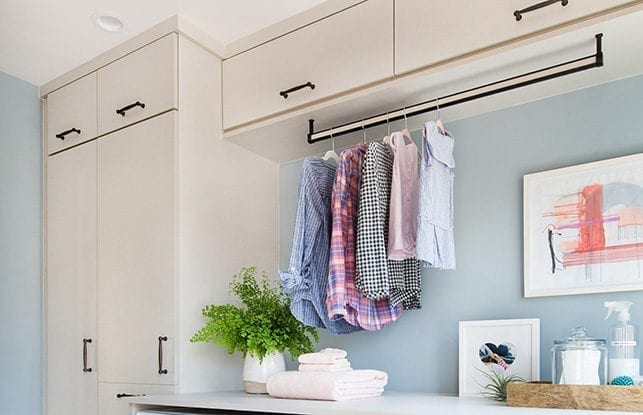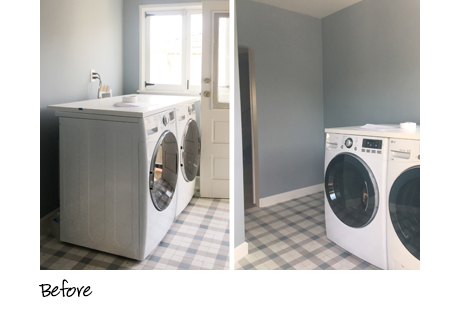 What She Wanted
---
Designer Emily Henderson shares her decorating ideas and sought-after style with her clients and blog followers everyday. During the process of renovating her own new home, Emily shared her personal tips and limitless inspiration from floor to ceiling, including the laundry room. She envisioned a hybrid of a mudroom and laundry area that was both practical and pretty, and turned to California Closets Los Angeles design consultant Chloe O'Keeffe to create a custom organizational system to make the entire space more efficient.
My favorite thing to do on the weekends is make the house beautiful and pulled together, but without a system, that just means stuff goes anywhere. Not anymore.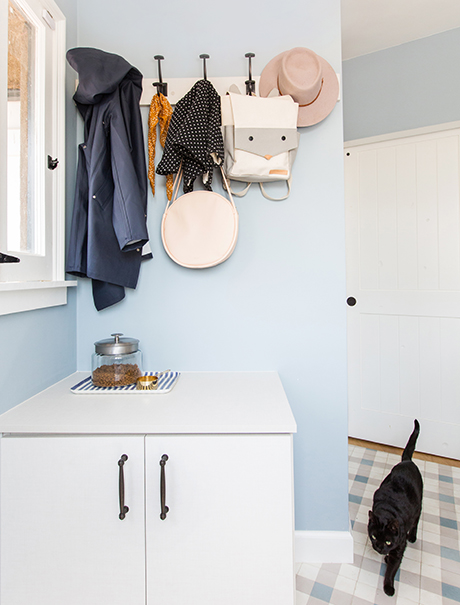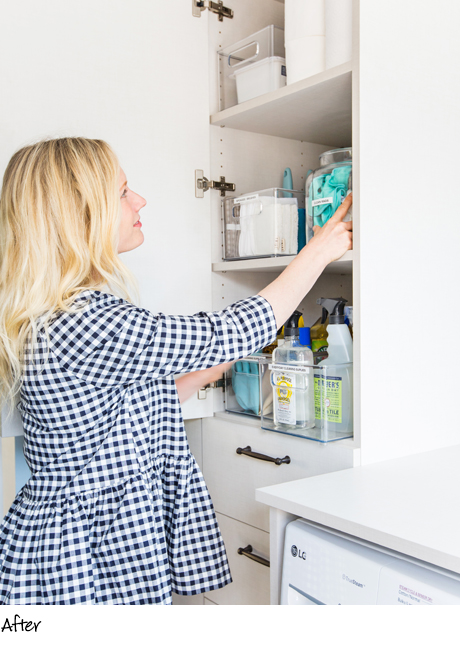 How we did it
---
The recently enlarged room had a complicated floor plan with its windows and angled walls. After taking very careful measurements, Chloe presented a design solution that would not only provide improved storage for supplies and tools, and conceal cords, but would also give Emily plenty of the hanging space that she wanted for coats, bags, and hats. Chloe added a rod above the washer and dryer where Emily could hang wet clothes to dry and keep dry cleaning before putting it away. She even took Emily's challenge of the cat's messy litter box to task by creating an enclosed cabinet that allowed the cats to come in and out from the side, getting the litter box off the floor and out of sight. Emily selected a linen finish that paired perfectly with pops of color she chose for the flooring and wall color, as well as her own hardware to match the look and feel of the rest of her home.
Working with Emily was so much fun! Between her business and having two young kids, Emily has a lot to juggle and I wanted to do everything I could to give her clever solutions that would make the room super functional and beautiful.
final result
---
All of the details of Emily's system make the laundry room a tidier and more productive space that will support her and her family's needs for years to come.
---
Design Details
Hardware & Accessories:
Oil-rubbed bronze decorative hardware
Fluted hanging pole with accent
Coat hooks on cleat
Accents:
Decorative fascia
Slab doors and drawer faces
*Note: product availability may vary by location
---
Why Wait?
Book a free consultation today – and ask about virtual consultations.