A Magnificent Dressing Room for Entrepreneur Marigay McKee
client: Marigay McKee
location: New York, NY
design consultant: Jennifer Lavoie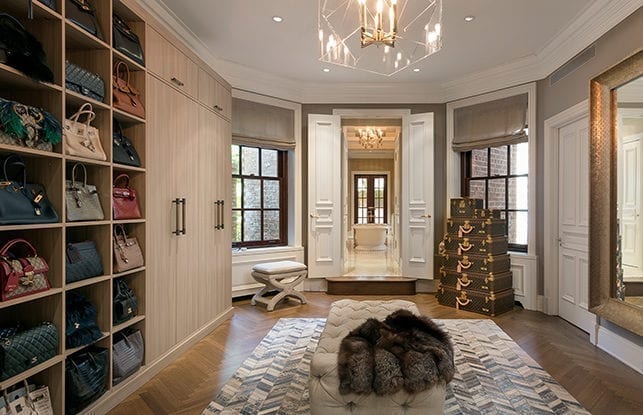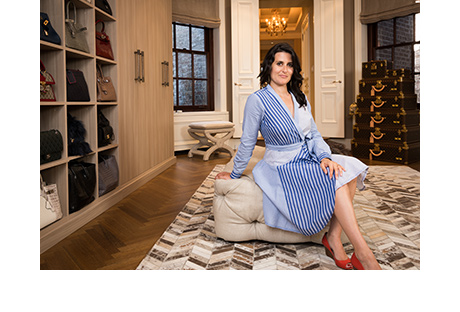 What She Wanted
---
With a celebrated career in luxury, fashion, and beauty retail, Marigay McKee knows impeccable design. From her successful tenure at Harrods in London as the Chief Merchant, to her role in reimagining the iconic Saks Fifth Avenue department store chain in New York as its President, Marigay has a proven record of making her mark and leading with her expertise.
Today, she runs a retail consulting firm in NYC and a small investment fund backing young tech and talent— a job and a team she loves. When she relocated from London to New York, she wanted to create a home for her family that felt both sophisticated and soothing amid a busy life, and enlisted the help of NYC interior designer Nicole Freezer Rubens to bring this vision to life.
For the master dressing room, Marigay and Nicole looked to California Closets New York to design a space that would offer exacting storage, with style as spectacular as the many collections and vintage treasures in Marigay's wardrobe.
This was a dream project for me. Working with such talented women, and seeing our combined vision come to life was a truly gratifying experience.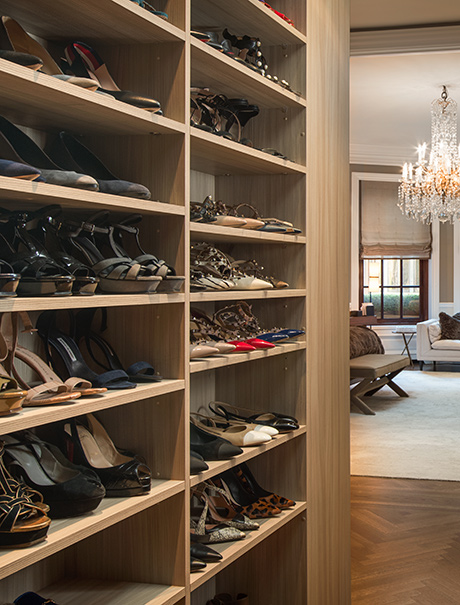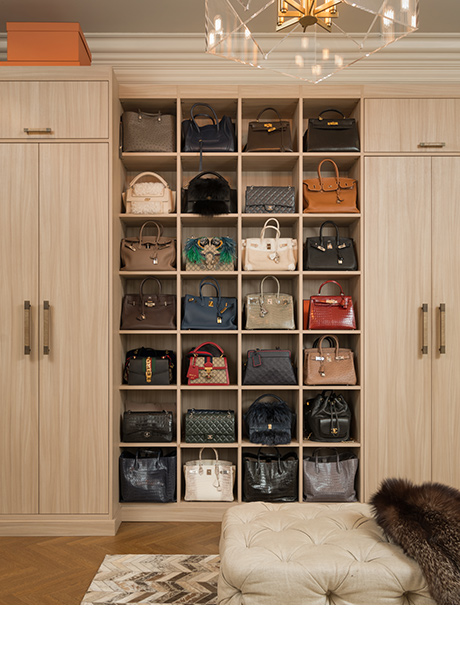 How we did it
---
California Closets' design consultant Jennifer Lavoie collaborated closely with Marigay and Nicole on every custom detail. The goal: to create a modern, boutique-like environment that would tastefully organize Marigay's clothing and accessories, while respecting the original architecture of the space and carving out a comfortable yet compact Gentleman's Closet within the space for her partner.
Jennifer designed the space around the room's windows to preserve the natural light and incorporated a thoughtful balance of closed cabinetry and dedicated open shelving to display Marigay's colorful collections of handbags and shoes. Nicole's finishing touches—including an exquisite glass pendant, oversized hammered brass mirror, tufted ottoman, and graphic hide rug—all helped to complete this truly remarkable space.
final result
---
From high to low, from red carpet to jeans—and with an overly large collection of costume jewelry, sunglasses, belts, scarves, and leather accessories to store garnered over the last three decades—the space has been designed to be seamless for my work and home life needs, with a spot for every piece in the right place. The chic functionality fused with a clean aesthetic, and room for day, evening, cocktail, and casual, makes it my favorite corner of the house. It's my secret hideaway and I love the fact there's a coat closet and luggage closet incorporated; it's my own "Cinderella Cave." Prince Charming has his own little closet too!
Timeless and functional, Marigay's dressing room suite accommodates her storage needs and evokes the beauty and calm she had hoped for—and can now appreciate—every day. The couple spends quality time in the space and adjacent master bathroom, taking time to truly enjoy the start and end of each day here.
---
Design Details
Finish:
Tesoro™ Cassini Beach
Hardware & Accessories:
Brass and leather hardware supplied by customer
Oil-rubbed bronze hanging poles and accessories
Inset door faces an molding create a built-in look
Accents:
*Note: product availability may vary by location
---
Why Wait?
Book a free consultation today – and ask about virtual consultations.