A Couple Expands from One Closet to Two
client: Kelly Natenshon
location: Mill Valley, CA
design consultant: Corinne Cronin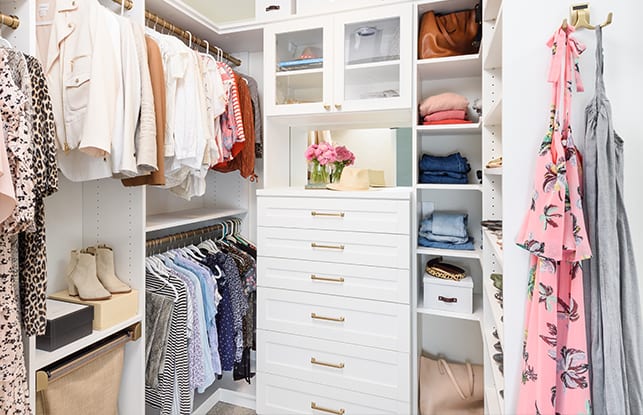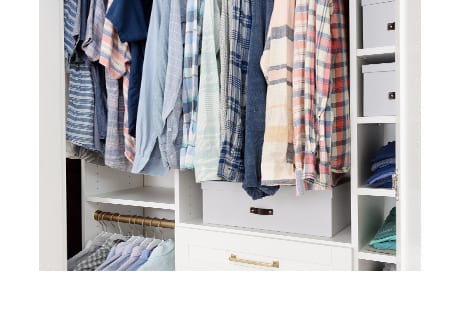 What They Wanted
---
Kelly Natenshon and her husband, Mike, were feeling crowded living out of a single shared master closet. Like Kelly, Mike, co-founder of the popular SF-based clothing brand Marine Layer, also wanted dedicated space for his wardrobe. So, they decided to split their wardrobes—Kelly would take the original walk-in, and Mike would move his items to a second reach-in closet—and update both spaces along the way. Desiring easy visibility for everything, quick access, and a design style consistent with the rest of their beautiful house, the couple worked with California Closets San Francisco to make the transition seamless.
We wanted the closets to be pleasant to look at, with easy access and visibility. The final result is light, bright, organized, clean, and functional.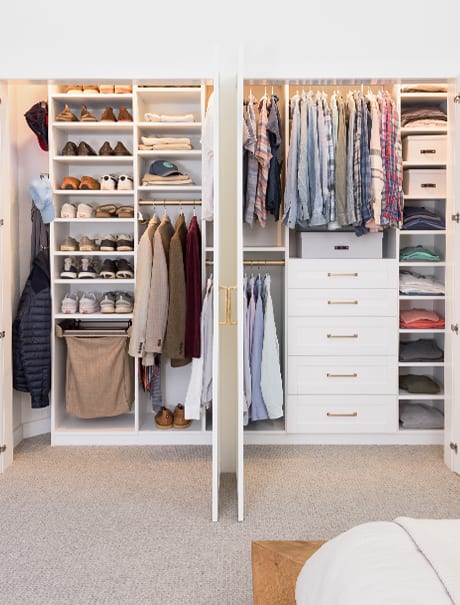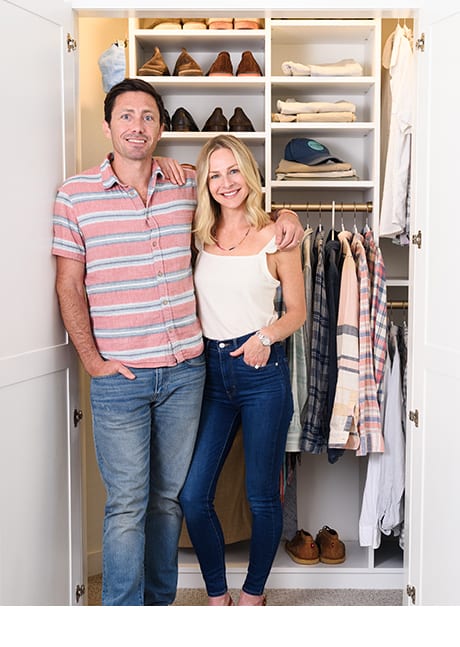 How we did it
---
Design consultant Corinne Cronin decided on a clean and bright aesthetic accessorized with gold hardware to help each closet feel cohesive to the home's overall look and feel. She outfitted each closet primarily with open shelves and hanging area to improve access and visibility, plus a drawer console for concealed storage. In Mike's closet, a row of hooks on the left side of the unit optimized a tricky wall angle by still making efficient use of the space. And in Kelly's closet, Corinne added an unexpected surprise: the third drawer opens to reveal a pull-out ironing board to make quick wrinkle fixes that much simpler.
final result
---
It's difficult to imagine how a closet will impact your daily life, but it does! My new allows me to be calmer and more collected in the morning since I can see, and have access to everything. No longer am I searching for a pair of shoes in some dusty corner!
Two classic, clean closets that give Kelly and Mike the room and storage they needed. The drawer fronts match ones they'd recently picked for their kitchen, establishing a streamlined style throughout the Natenshon's home.
---
Design Details
Finish:
LuxeMatte™ Dove with matching backing
Hardware & Accessories:
5-piece classic Shaker drawers
5-piece classic Shaker cabinets with glass inserts
Gold Menlo Park hardware
Accents:
Top cap with overhang
Toe kick, mirror back panel
Folding ironing board
Morning Fog jewelry insert
*Note: product availability may vary by location
---
---
Why Wait?
Book a free consultation today – and ask about virtual consultations.