Sitting Pretty in Indiana
client: Meagan C.
location: Indiana, USA
design consultant: Erin Moore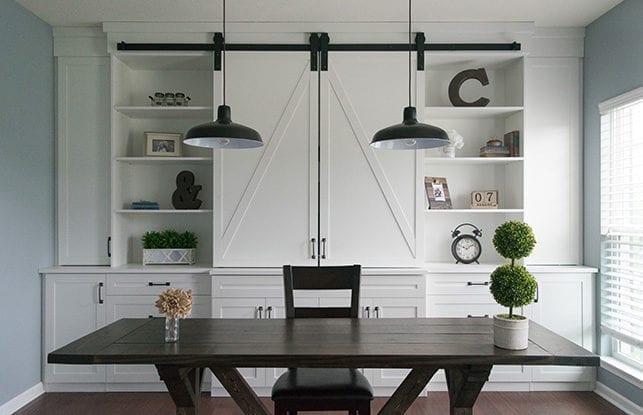 Meagan C.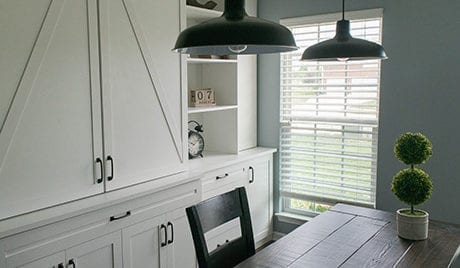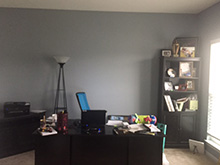 What She Wanted
---
Meagan C. dreamed of a home office with a beautiful and smart design. The room needed to feel calm and inviting, with enough storage to seamlessly transition from a busy work area to a serene, clutter-free space. Working with California Closets Indianapolis design consultant Erin Moore, Meagan began to realize her vision.
Meagan did a great deal of her own footwork researching various designs and inspiration. We had a great working relationship where we would casually send photos of ideas back and forth until we achieved the perfect design!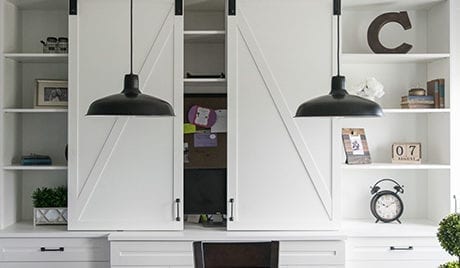 How we did it
---
With its defining barn-door cabinets, Erin's built-in design featured ample storage for Meagan to cleverly conceal work materials when not in use. Balanced open shelving also provided a place for Meagan to display decorative items and personalize her office. Adding her own hardware to accent her crisp white cabinetry, Meagan completed the room's overall appeal by adding new flooring, fresh paint, and classic light fixtures.
final result
---
The refreshed office is a true transformation. Simple yet refined, the custom wall system brings order and beauty to Meagan's work routine.
Photo Credits:Falls City Photograhy
---
Design Details
Finish:
Lago® Bellissima White
Hardware & Accessories:
Ancient Bronze handles
Locally sourced barn door hardware and track
Accents:
5-pc Shaker door and drawer fronts
Decorative fascia to the ceiling
Grommets for cable routing
*Note: product availability may vary by location
---
---
Why Wait?
Book your free consultation today.
Schedule My Free
Design Consultation