A Custom Closet Fit for Fashion Stylist Brad Goreski
client: Brad Goreski
location: Los Angeles, CA
design consultant: Chloe O'Keeffe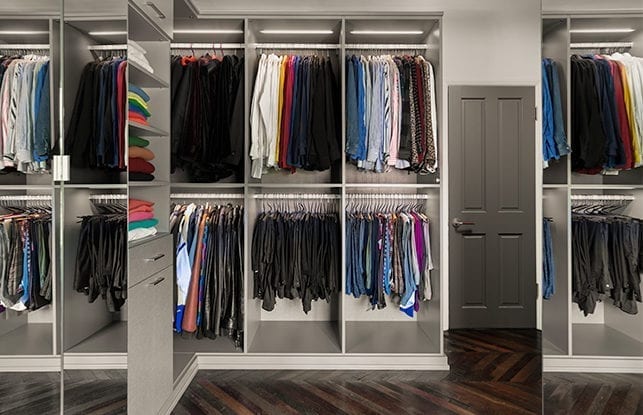 Brad Goreski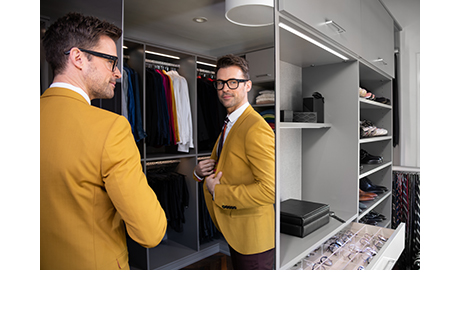 What He Wanted
---
Striking in architecture but short on closet space, fashion stylist Brad Goreski's 1931 home didn't live up to its storage potential—especially for a guy who works with clothes for a living. After renovating the home's upstairs floor plan to turn a spare bedroom into a closet, Brad called California Closets Los Angeles to transform the newly dedicated space into the master closet he'd been waiting for.
We had to be smart about this design to create enough storage for a stylist. The peninsula is a favorite—it holds so much and makes the space function for Brad!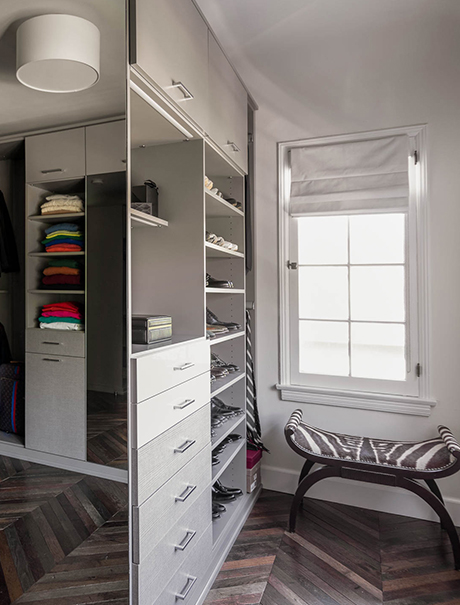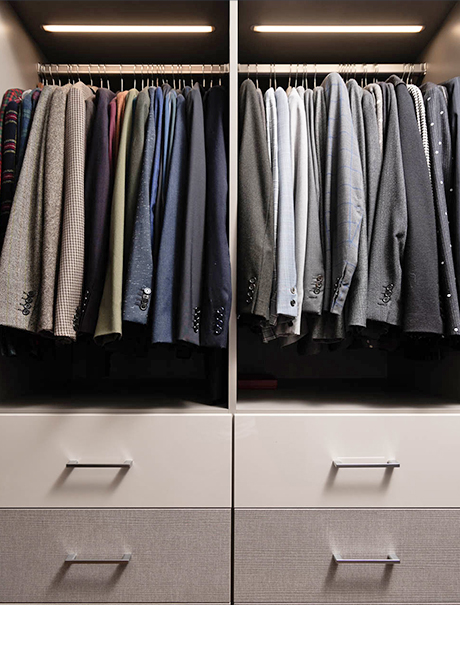 How we did it
---
Designer Chloe O'Keeffe knew exactly what Brad wanted: a sleek, modern, and masculine closet that organized everything from clothes to his vast collection of glasses. She was also aware of the space challenge: large windows and three doors severely cut into available wall room. To work around it, Chloe utilized floor space by designing a peninsula with hanging storage, drawers, shoe shelving, and an illuminated tie area. Where possible along the perimeter, she custom-fit additional hanging, luggage, and accessories storage, plus a central area for folded clothes behind a mirrored door. A beautiful neutral finish pairs with a textured weave for a refined look both clean and layered. Last but not least, three accessory drawers provide a protected, organized spot for Brad's many beloved glasses.
final result
---
I look forward to getting dressed in my closet every day. It looks so chic, but the real magic is all of the hidden storage I have so I can keep it clean at all times. It so easy to see everything and find what I need quickly. For someone who travels as much as I do it's a dream come true. I actually miss my closet when I am away! Chloe literally made the closet of my dreams.
Brad's transformed space utilizes every inch to store Brad's enviable wardrobe. A full length mirror at the end of the peninsula also faces a set of mirrored doors so Brad can easily 'style' his own looks from day to day.
---
Design Details
Finishes:
Classic Cashmere
Tesoro™ Corsican Weave
Hardware & Accessories:
Matte aluminum hardware
Slab doors
Accents:
Wardrobe lighting
Mirror inserts
2 tilt-out hampers with baskets
*Note: product availability may vary by location
---
---
Why Wait?
Book your free consultation today.
Schedule My Free
Design Consultation