Saying Goodbye to a Cramped Closet
client: Chad Pruett
location: Charlotte, NC
design consultant: Whitney Hahn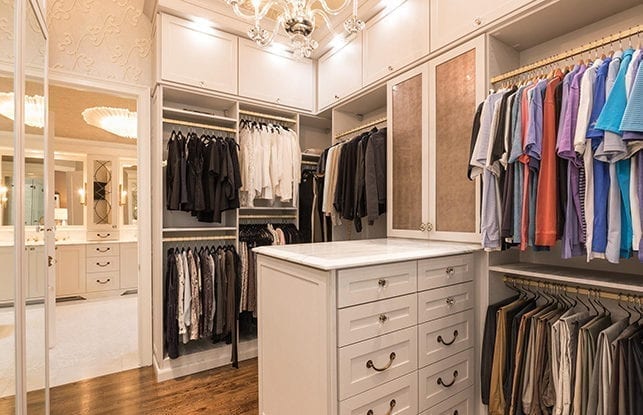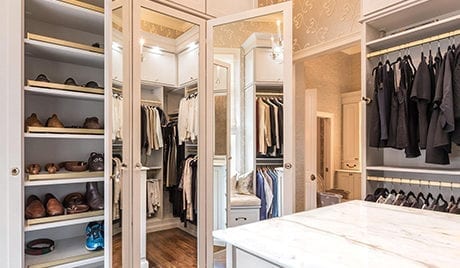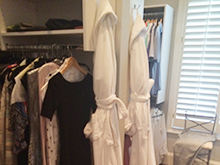 What They Wanted
---
When interior designer Chad Pruett reached out to California Closets Charlotte design consultant Whitney Hahn, he was eager to reimagine his clients' outdated master closet to give them more organized space. His vision for the closet also included a full-length three-way mirror, lighting in each drawer, and a place where the couple could comfortably sit and put on their shoes.
I wanted to create a beautiful space that would look more open, while keeping both sides separate and functional.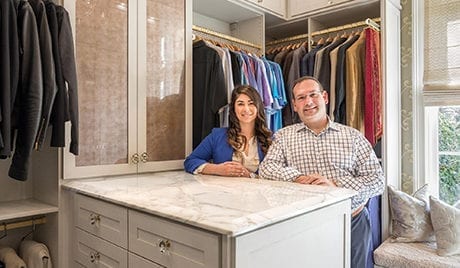 How we did it
---
The original closet had a protruding wall in the middle that split the space into two sides, making it feel cluttered and cramped. Whitney partnered with Chad on a plan to first remove the wall to increase storage capacity. Whitney proposed a custom design with a central peninsula to create a more fluid space, while still keeping each side of the closet separate and functional for the couple. She also designed a bench for seating and a three-way mirror. Finally, to brighten up the closet, Whitney integrated puck lights above the flip-up doors.
final result
---
Whitney and I clicked with each other's style to
bring my vision to fruition! The whole process was seamless
and exceeded not only my vision, but the clients' as well.
The reimagined space provides the couple with an attractive master closet they can now share more efficiently.
---
Design Details
Hardware & Accessories:
Brass Fluted hanging poles
Angled shelves with shoe fences
Pull-out belt rack, tie rack and valet rods
Tilt out hamper
Customer supplied decorative hardware
Accents:
5-piece doors and drawer faces with Tattoo D'Argento and mirrored glass inserts
LED puck and ribbon lighting
Lit top cap with fascia and crown molding
Base molding
Customer supplied stone counter
*Note: product availability may vary by location
---
Why Wait?
Book a free consultation today – and ask about virtual consultations.