A Boutique Style Dressing Room with a View
client: Jane Schafer
location:
design consultant: Julie Fellers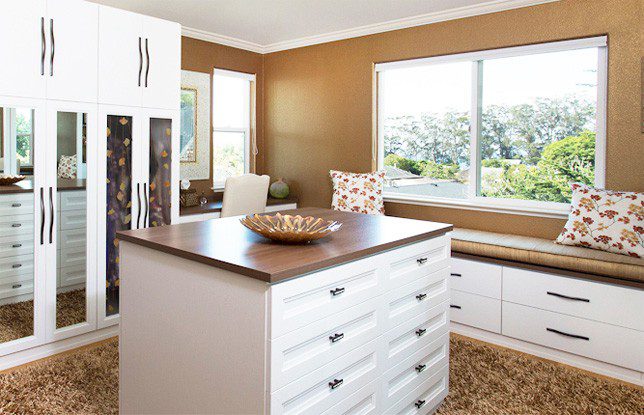 Jane Schafer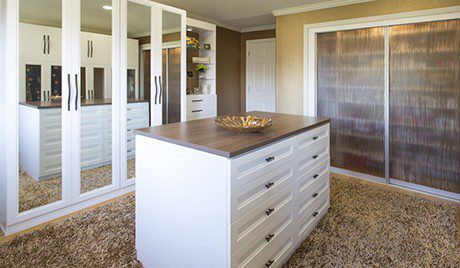 What She Wanted
---
Project manager Jane Schafer loves making order out of chaos. But when it came to creating a custom dressing room in her new Bay Area home, she wanted more than just an organized space—she wanted an oasis. Her glamorous vision of a personalized boutique included a closet that would showcase her clothing and her keepsakes.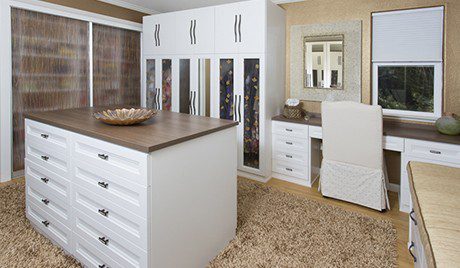 How we did it
---
Optimizing the dressing room's placement—and taking advantage of Schafer's magnificent ocean view—design consultant Julie Fellers created a vanity and a settee right near the window. An island with multiple jewelry drawers capped off the design, keeping all of Schafer's valuables organized, protected and at arm's reach.
final result
---
I really spoiled myself with the crystal handles on the island drawers.
Schafer's dressing room is more of a destination than simply a clever storage space, and she loves spending time in her new sanctuary.
---
Design Details
Finishes
Lago® Bellissima White
Lago® Roman Walnut (island countertop)
Hardware & Accessories
Oil-Rubbed Bronze pulls (cabinets and bench)
Oil-Rubbed Bronze pulls with crystals (island)
Microsuede jewelry drawer inserts
Accents
Cabinet doors with mirror inserts and Gingko Thatch Ecoresin inserts
Sliding doors with Thatch 50% Ecoresin inserts
Glass shelving
*Note: Product availability may vary by location
---
---
Your new closet starts with a
— complimentary design consultation —