An Executive's Well-Appointed Walk-In Closet
client: Jake Smith
location: Kansas City, KS
design consultant: Cindy Kelley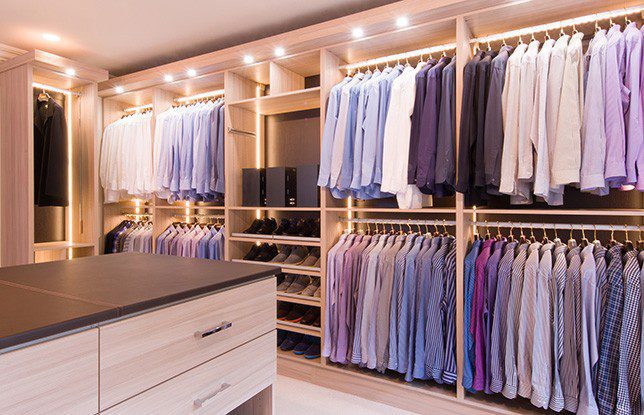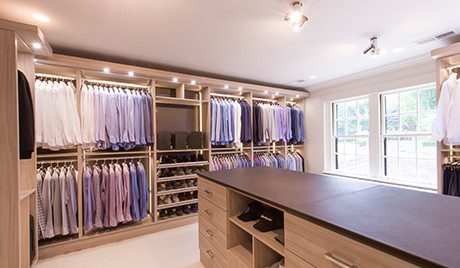 What He Wanted
---
As a working professional, Smith needed a closet that could handle his office wardrobe, as well as his personal one. He wanted a masculine space in which he'd be able to see everything by standing in one place and turning around in a circle. He also wanted to incorporate a wide range of lighting options so that everything in the closet would be discoverable and colors easily differentiated.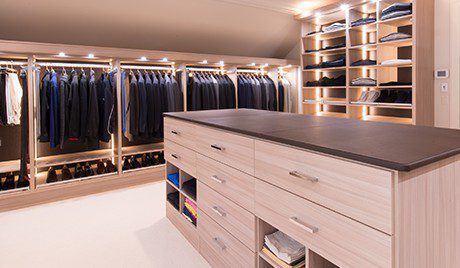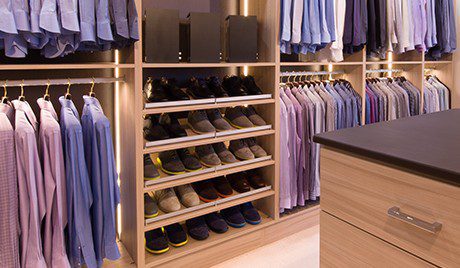 How we did it
---
While the space had sloped ceilings, Kelley made it feel as uniform as possible with the overall design. She used a lighter material, Lago® Cassini Beach, with Lago® Venetian Wenge backing and a leather counter top to create a masculine tone to the space. By adding a light box with puck lights, as well as strip lighting in every partition, the space was illuminated from every direction. She even created a special area for Smith's watch winders. Because he's on the taller side, the design was able to utilize vertical space without worrying about any accessibility issues, giving him all the space he needed for his wardrobe and more.
final result
---
This was a space just for my client so that he could stand and see all of his clothing and accessory options at once. It's like a high-end clothing store that he shops at on a daily basis.
The closet's overall design had that masculine vibe that Smith wanted and felt more like a men's luxury boutique than a personal closet — yet more efficient.
---
Design Details
Finishes
Tesoro™ Cassini Beach
Lago® Venetian Wenge backing
Hardware & Accessories
Polished Chrome handles
Matte Aluminum LED lit poles
Slanted shelves with polished Chrome shoe fences
Matte Aluminum pull-out belt and tie racks
Matte Aluminum valet rod
Accents
Leather countertop in Mink
*Note: Product availability may vary by location
---
Why Wait?
Book a free consultation today – and ask about virtual consultations.