A Vogue Showcase for a Fashion Enthusiast
client: Ryan Wharton
location: Atlanta, GA
design consultant: Elyse Strum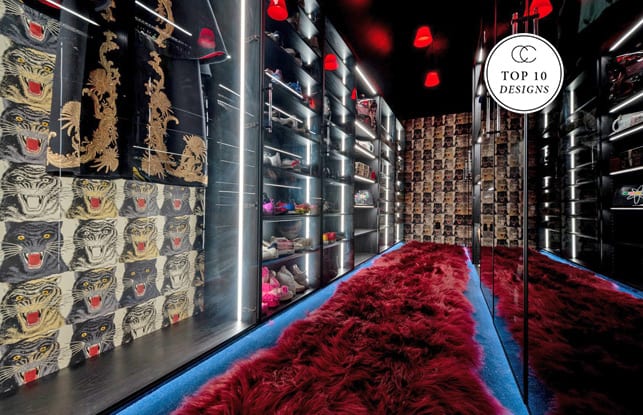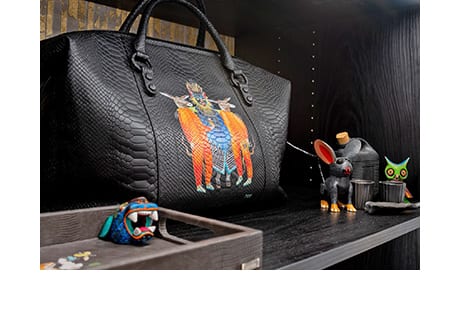 What He Wanted
---
Fashion enthusiast Ryan Wharton had a dream: a brand new closet that displayed his designer wear collection while reflecting his adventurous, cutting-edge style. After insulating and dry-walling his attic, Ryan was ready for the transformation—only to have other companies try to steer him away from his vision. Feeling discouraged but refusing to give up, he called California Closets Atlanta to see if they could step up where others couldn't.
Seeing how happy Ryan was to have his dream closet made me proud to be a California Closets designer— especially after multiple people tried to talk him out of his ideas. The final result was so rewarding.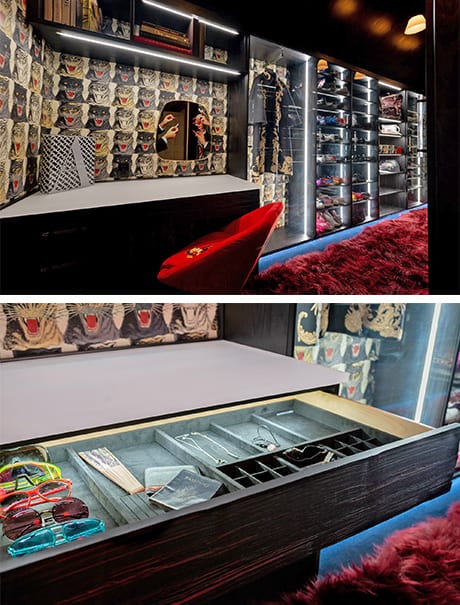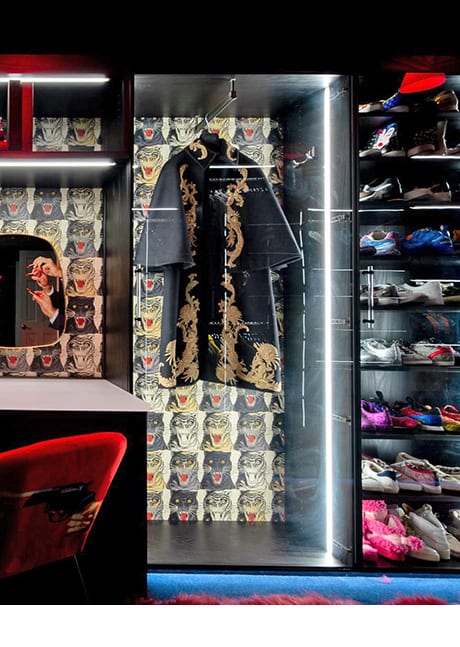 How we did it
---
Design consultant Elyse Strum listened to Ryan explain exactly what he envisioned: a "Gucci neo-Goth meets Prada store" theme that felt exclusively his, with plenty of display space to feature his favorite items. Elyse knew immediately that pairing unique solutions with bold materials would be the key to pulling this off. For Ryan's prized Alexander McQueen jacket, Elyse designed a single showcase with a glass door, vertical lighting, and a Virtuoso pole installed from front to back to exhibit the jacket. She added a series of spotlit shelves to display his impressive shoe, handbag, and accessories collection, placing his hats on stands for added emphasis. A black finish paired with textured materials and glint gold backing finished the standout design with statement-making drama.
final result
---
The design is not only completely functional, but it's the showpiece of my home. Whenever I show someone my closet for the first time, their jaw drops—and that's before they even get to the clothing!
A one-of-a-kind, show-stopping closet that only Ryan can claim. Overjoyed with the result, Ryan added Gucci wallpaper and a red fur rug down the center, placing his final stamp on the dream closet he could finally call his own.
---
Design Details
Finish:
Dakota™ Shadow Black
Hardware & Accessories:
Schaub Lumiere black acrylic pulls
Fluted graphite poles
Kitsilano Spalt black drawers
Ebony jewelry inserts
Chroma Whiteout countertops
Accent:
Bordeaux Parapan and Glint Gold Ecoresin backing
*Note: product availability may vary by location
---
---
Why Wait?
Book a free consultation today – and ask about virtual consultations.