An Office for Two in Indiana
client: Lyn Bradbury
location: Indianapolis, IN
design consultant: Susan Martin-Gibbons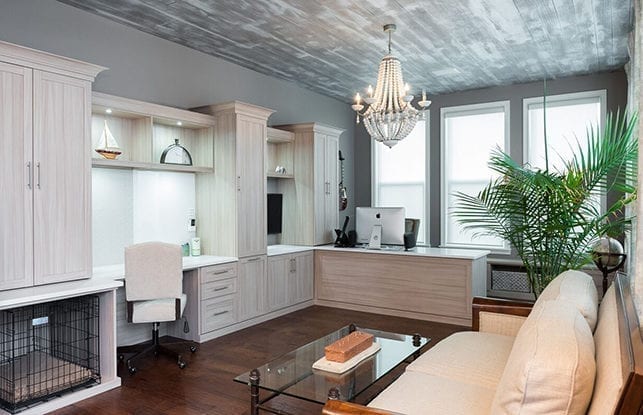 Lyn Bradbury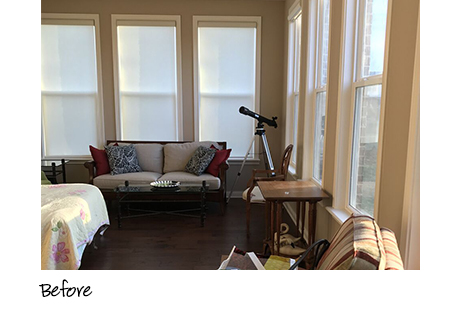 What They Wanted
---
Lyn Bradbury and her husband dreamed of turning their spacious and light-filled sunroom into an inviting home office where they could each have dedicated areas to work. Beyond exceptional function, the couple also wanted a sophisticated design plan to complement the rest of their beautiful home. With their vision in mind, they knew just who to call.
California Closets Indianapolis design consultant Susan Martin-Gibbons had worked with the couple previously and knew she could create the perfect custom solution for optimizing the room.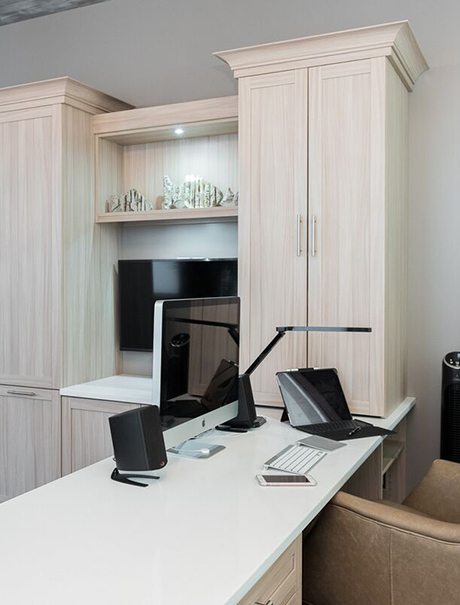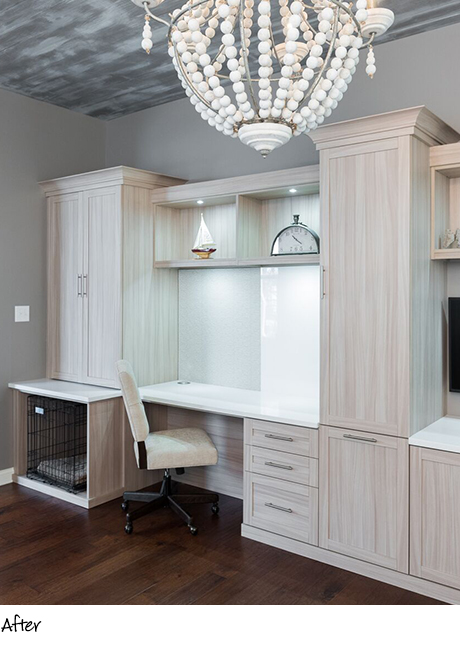 How we did it
---
After taking careful measurements, Susan created office systems for Lyn and her husband that supported their specific storage and usage needs. She thought of everything—lighting, cord control, cubbies for bills and work memos, a magnetic white marker board complete with accessories like erasers, a marker holder, and magnets, as well as a slide-out shelf for a printer. She even seamlessly added a dedicated area for their dog's crate.
final result
---
My mouth actually dropped open when I first saw the completed space.
Elegant and efficient, the completed space proves that a home office can certainly make a statement.
---
Design Details
Finish:
Tesoro™ Cassini Beach
Hardware & Accessories:
Matte Chrome decorative hardware
Accents:
Fascia and Contemporary crown moulding
LED Lighting
5-pc Shaker doors and drawer fronts
Fabric board
Customer- supplied quartz counters
*Note: product availability may vary by location
---
---
Your new closet starts with a
— complimentary design consultation —