The Sweetest Solution for Samantha Wennerstrom and Her Daughter Elin
client: Samantha Wennerstrom
location: Santa Barbara, CA
design consultant: Angela Beardon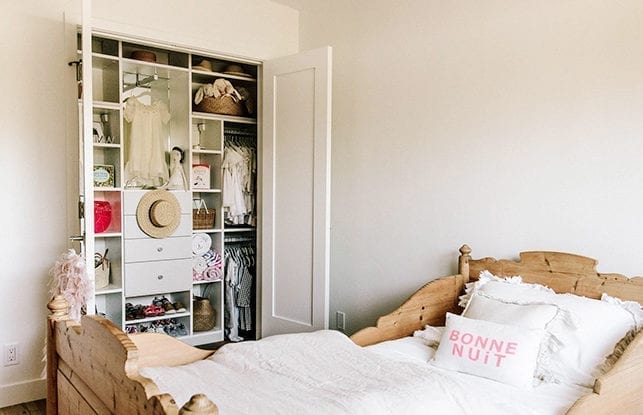 Samantha Wennerstrom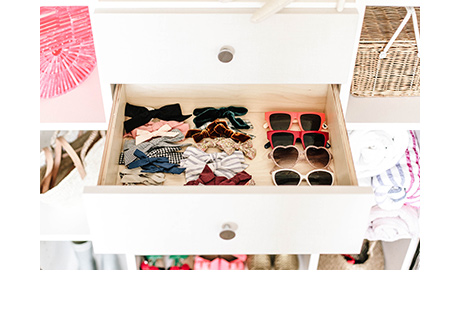 What She Wanted
---
For her beautiful blog, Could I Have That?, Samantha Wennerstrom curates inspiring ideas around fashion, home, and wellness with a sought-after style that feels authentic and effortless. When she and her family moved into their new home, Samantha decided that improved storage would be a story topic she would tackle for her followers, starting with the closets! First on the list was her daughter Elin's room which had become "a tornado of clothes, toys, and 'treasures' as [Elin] liked to call them."
I just love the mirrored niche above the drawers. The front-to-back hanging pole gives this design a boutique-like feel and the mirror catches the light in such a soft and playful way.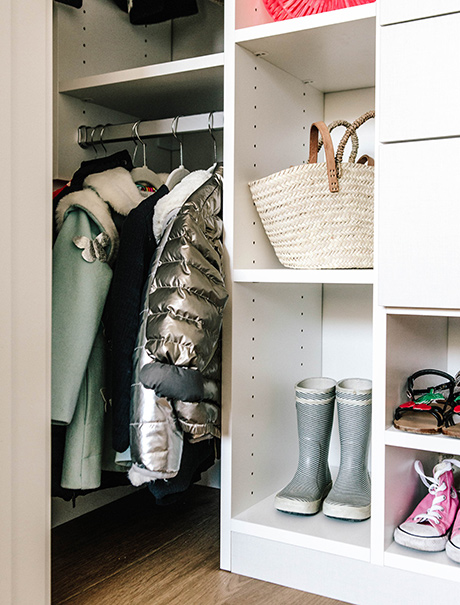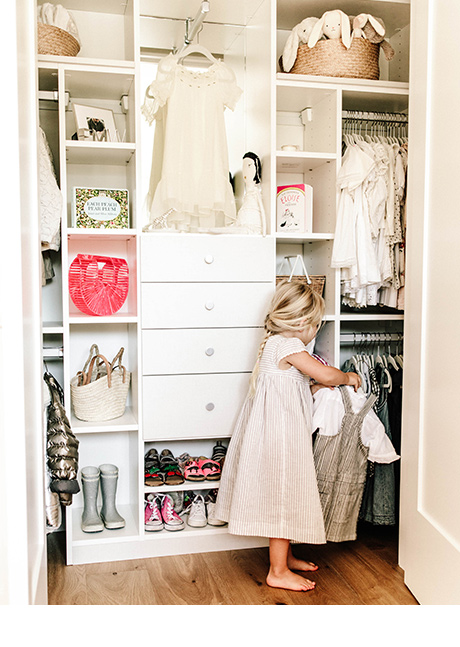 How we did it
---
Samantha called on California Closets Santa Barbara and worked with design consultant Angela Beardon to create a solution that would be functional and grow with Elin's needs over time. Drawers provided space for Elin's folded clothing and accessories, such as bows and sunglasses, and the surrounding deep cubbies offered easily accessible storage for her colorful shoes.
Above the drawers, Angela created a special mirror-backed area with a front-to-back pole so that Samantha could hang, display, and photograph her daughter's darling outfits for the blog. As Elin grew, this would become a lovely vanity. Angela also made sure to include ample hanging areas, as well as smaller open shelves for favorite family photos and keepsakes, and larger ones for oversized items like baskets.
Lastly, the timeless combination of classic white and linen finishes paired with matte aluminum hardware perfectly complemented the clean and bright aesthetic of Samantha's home.
final result
---
This to me was the perfect blend of what we wanted design-wise and budget-wise. It's made a world of a difference to how organized we are day-to-day.
Simple yet pretty, this versatile design can be adjusted to help Elin keep her room tidy for years to come.
---
Design Details
Finish:
Classic White with
Tesoro™ Linen
Hardware & Accessories:
Matte Aluminum fluted hanging poles and knobs
Accents:
Slab drawer fronts
Mirror back panel
*Note: product availability may vary by location
---
---
Why Wait?
Book your free consultation today.
Schedule My Free
Design Consultation