A Colorful & Stylish Craft Room with a Vintage Twist
client: Becky Kevoian
location: Indianapolis, IN
design consultant: Susan Martin-Gibbons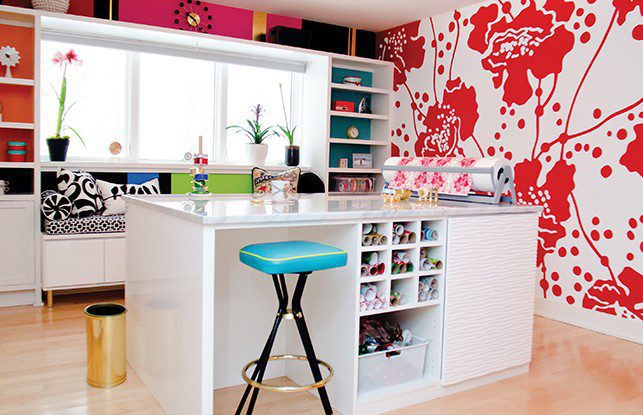 Becky Kevoian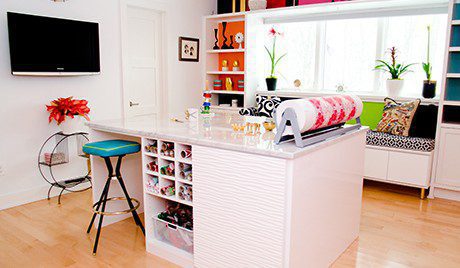 What She Wanted
---
Avid crafter Becky Kevoian, wife of Bob Kevoian (co-host of the nationally syndicated radio show Bob & Tom), wanted a creative place to call her own. Her vision included featuring some heirloom items, like an antique brass mirror, and lots of bold color, along with functional storage for all of her supplies.
My favorite part of the design was the Schenk White Wave fronts paired with glossy white end panels and fronts, and the way it all came together.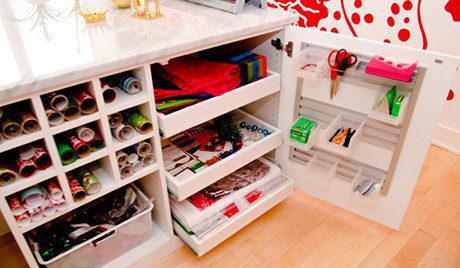 How we did it
---
Design consultant Susan Martin-Gibbons anchored the room with a classic white system and a marble workspace island, which offset the colorful hand-painted wall. The workspace was personalized with features tailored to Kevoian's needs, including cubby spaces that fit large four-foot rolls of craft and wrapping paper. In addition to including the vintage mirror, brass furniture legs were added to a built-in window seat bench to tie the look together.
final result
---
My favorite thing about my craft room is that I'm able to spread gifts out into designated hiding places for each recipient.
Kevoian now has a room in which she can entertain, craft and wrap gifts–three things she enjoys doing. She is beyond happy with this space and loves to show it off.
---
Design Details
Hardware & Accessories
Custom Brass legs (Storage Bench)
Slide-out cabinet shelves
Push-to-open door hardware
Aluminum slat wall and accessories
Accents
Custom White marble countertop (Island)
Deep textured White Wave door fronts (Island)
Bench with storage cabinets underneath
*Note: Product availability may vary by location
---
---
Why Wait?
Book your free consultation today.
Schedule My Free
Design Consultation