Styling Bliss for Author and Lifestyle Blogger Camille Styles
client: Camille S.
location:
design consultant: Shanna Davis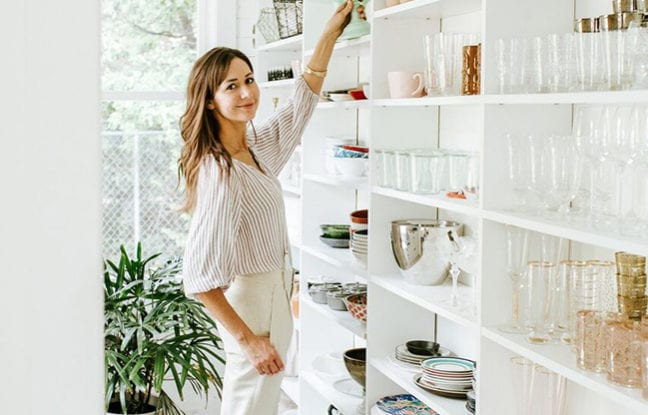 Camille S.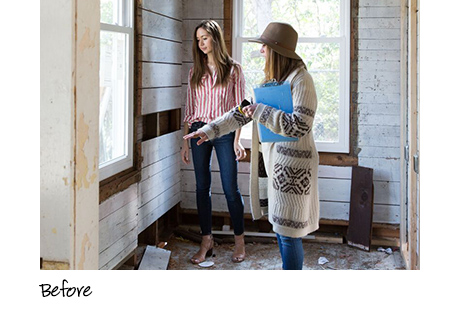 What She Wanted
---
Author, lifestyle blogger, and entertaining expert Camille Styles creates magical table settings year-round. When she and her team moved into a historic bungalow-turned-office space, Camille envisioned having a serene butler's pantry to keep all of her team's styling props impeccably organized. Varied collections of colorful vintage glassware, tableware, linens, and oversized serving pieces all needed a home, but also warranted an open storage solution where they could be beautifully displayed and accessible for the team's daily photoshoots. Camille instantly saw the room's potential with its appealing arched entry and natural light, and turned to California Closets Austin to help her reimagine the space into a pantry that would make any stylist swoon.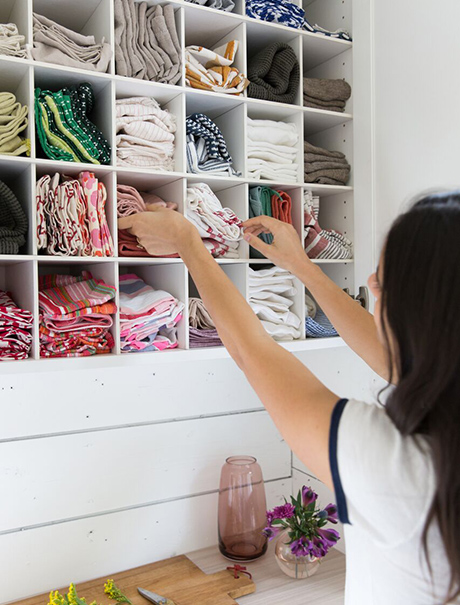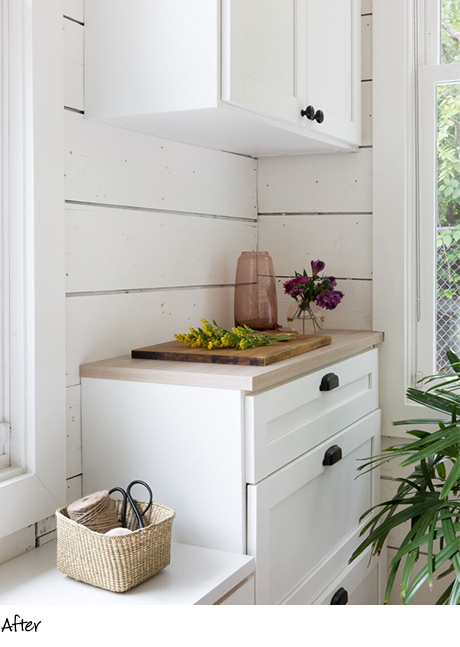 How we did it
---
Collaborating with California Closets' principal Jill Siegel and design consultant Shanna Davis, Camille explained her vision for a custom design that would provide order, beauty, and evoke a sense of calm.
To achieve this balance, Shanna's design dedicated an entire wall to adjustable shelving, streamlined to accommodate the team's assortment of props and styling needs. With everything in view and further enhanced by the pantry's warm natural light, props could be identified, used, and returned easily—even lesser-used items such as punch bowls, wicker baskets, and watering cans had a place.
Opposite the open-shelving wall, Shanna incorporated drawers for smaller props, a cabinet with countertop workspace, and also a lower counter area under the window that can double as seating.
Our needs are unique, that's for sure, but California Closets truly met every single one of them!
final result
---
Clean and orderly, the butler's pantry provides all the function Camille and her team need, but also offers a soothing design sensibility that complements the style and charm of the entire, freshly-reimagined bungalow that Camille and her team created.
---
Design Details
Finish:
Lago™ Bellisima White
Hardware & Accessories:
Clients own hardware
Accents:
5-pc Shaker door and drawer fronts
*Note: product availability may vary by location
---
---
Why Wait?
Book your free consultation today.
Schedule My Free
Design Consultation