A High-Rise on the Hudson Gets a Stunning Wardrobe
client: Evalyn Blane
location: Guttenberg, NJ
design consultant: Elizabeth Frey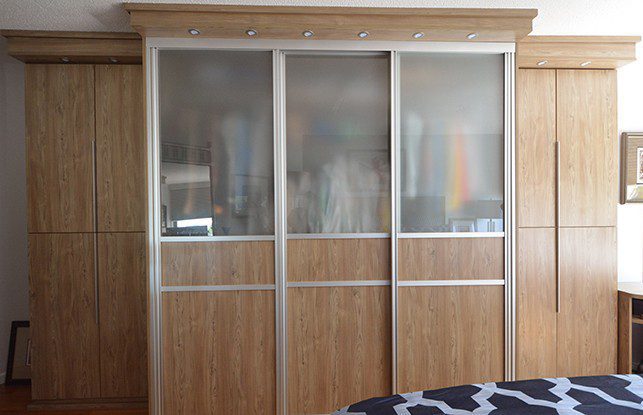 Evalyn Blane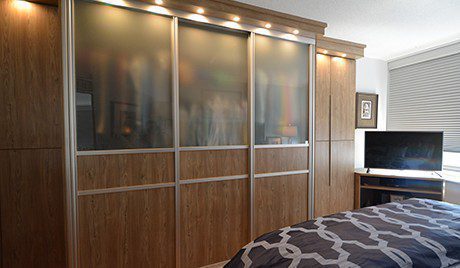 What She Wanted
---
Evalyn Blane, who lives in a high-rise on the Hudson River, was renovating with an interior designer. Her bedroom was the final room to be redone, and the space had a very limited closet, with no option for an addition. She needed a wardrobe that could sit on the wall facing the bed—positioned so she could still see her TV—and could be tied into her room's existing color scheme.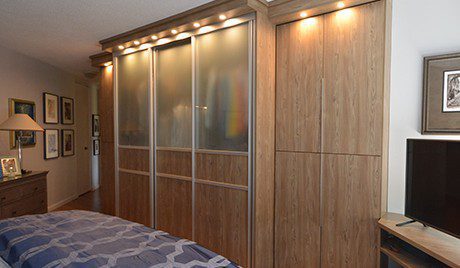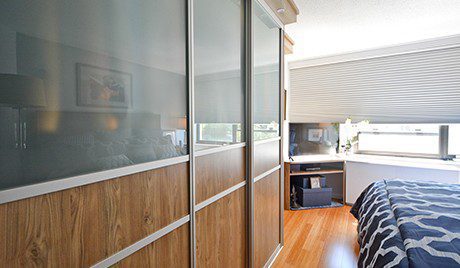 How we did it
---
Design consultant Elizabeth Frey-Davis listened to Blane's needs and designed a wardrobe with a 24-inch-deep hanging area in the center with sliding doors, instead of swinging doors, to maintain a walking area between the unit and the foot of the bed. On each side, she built shallow storage for folded clothes and shoes, with flat doors to maintain clean lines. She added exterior lighting in the top treatment and built a small vanity/desk area in the corner of the room to hold her TV.
Everything was first class, from my initial meeting with Elizabeth through to the installation with Ray.
final result
---
Blane is thrilled with the way the design turned out, saying that the final result isbetter than she had ever imagined. She loves the way the desk is finished with the slightly curved edges and appreciates the attention to detail every step of the way—from the design stage to the way the installer completed the job by polishing every shelf and door.
---
Design Details
Hardware & Accessories
Finger-pull decorative hardware
Accents
Sliding doors with frosted glass and Capri inserts
LED-lit decorative fascia top detail
*Note: Product availability may vary by location
---
---
Why Wait?
Book your free consultation today.