Serene, Streamlined Storage for Design Blogger and Author Anne Sage
client: Anne Sage
location: Los Angeles, CA
design consultant: Darlene Lillehaugen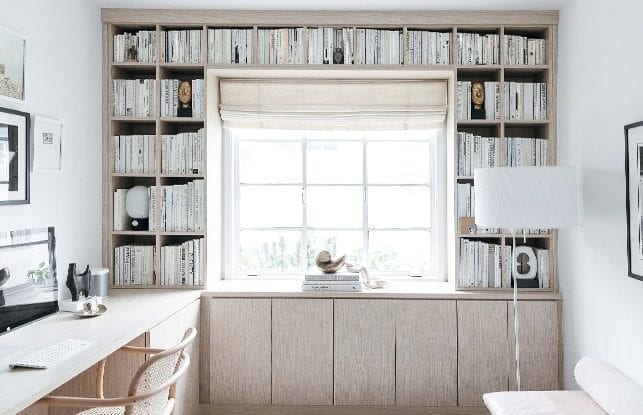 Anne Sage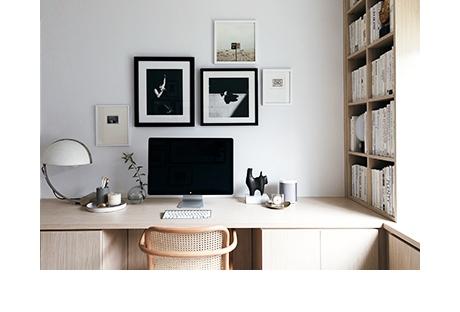 What She Wanted
---
Design blogger, Rue magazine co-founder, and Sage Living author Anne Sage is known for her smart and stylish approach to interiors. When the second bedroom her husband Ivan used as a remote home office became more disorganized than productive, she tapped her inherent expertise to reimagine a dedicated space where Ivan would thrive. She sketched concept drawings to capture her vision—serene, streamlined shelving and cabinetry to store everything from books to office supplies to Ivan's sneaker collection—then called California Closets Los Angeles to turn her idea into a real solution.
Anne was born to design and has a very special eye. I loved helping to make her vision come to life!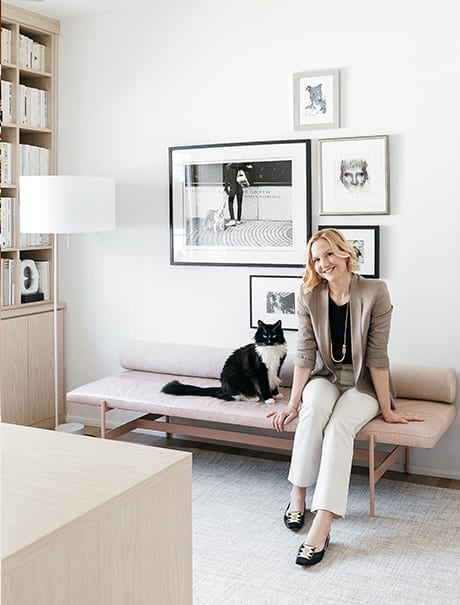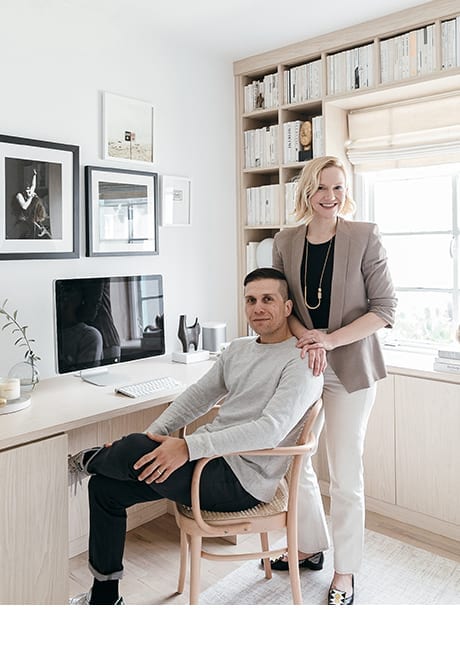 How we did it
---
Designer Darlene Lillehaugen reviewed Anne's drawings and translated her vision into 3-D renderings based on exact measurements of the space. The clean-lined design maximized the small 9'x11' room with a cohesive corner unit featuring ample shelving, cabinetry, and a custom desk. The design effectively married Anne's sharp style with optimal function: a wood-tone finish creates a calm, organic aesthetic; a slide-out shelf behind closed doors discretely houses the printer, a shallow, recessed cabinet hides cords, and grommeted cutouts in the desk's surface provide holes to run cables. Capping the design's seamless appearance, Darlene chose touch-release door fronts to avoid bulky hardware distracting the eye.
Our California Closets built-in unit is one of my favorite features in our home. Everyone who visits can't get over how elegant and ingenious it is. The entire process was a dream from start to finish.
final result
---
A modern and bright home office unit as efficient as it is inspiring for Ivan's daily work. Anne enhanced the unit's natural aesthetic by curating a wall of all-white books, adding clean contrast to layers of natural textures. Altogether, the final product blends form with function to create a well-organized workspace that's equally welcoming.
---
Design Details
Accents
Square fascia molding
Square basemolding
Backing behind upper shelves
Note: product availability may vary by location
---
---
Why Wait?
Book your free consultation today.