State-of-the-Art Storage for a Colorado Couple
client: Martin and Sue Solomon
location: Vail, CO
design consultant: Julianne Lattner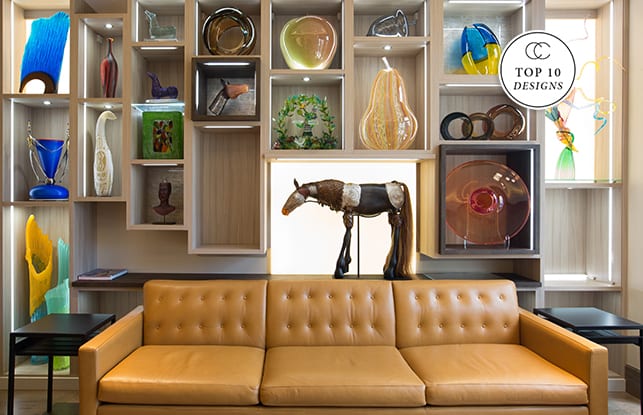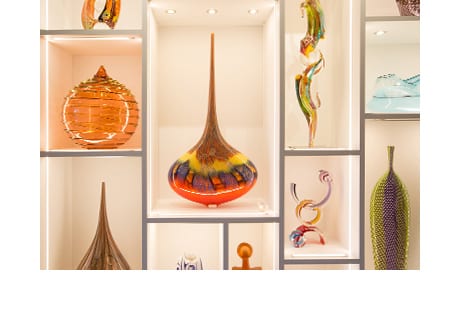 What They Wanted
---
After downsizing from their Vail vacation home, Martin and Sue Solomon needed a solution for displaying their generous art collection despite the minimal wall space in their new condo. Plus, the long and rectangular living room had little natural light, posing a challenge for properly illuminating their prized possessions. Yearning for a display that would highlight each piece without appearing cramped or cluttered, the Solomons called California Closets Denver.
This project was a walking Credo moment! Giving the Solomons the ultimate California Closets experience truly provided them 'a world where they were free to focus on what matters most.'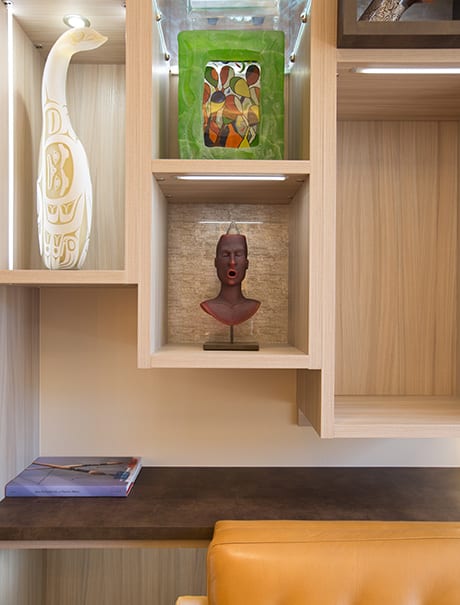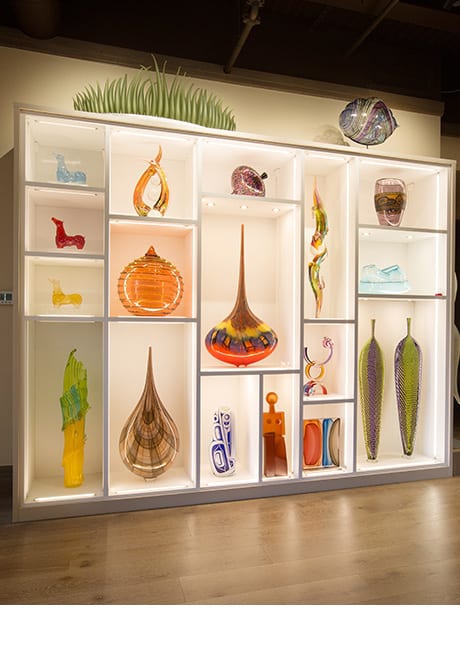 How we did it
---
Design consultant Julianne Lattner knew the Solomons saw their collection as more than art—it was to be a main design feature in their home, making light and balance a priority. Working with a collection that varied in size, color, and dimension, Julianne designed two wall units with a series of individual display boxes of different dimensions. The Solomon's larger, show-stopping pieces went into a wall unit finished in light neutrals so each item could pop, while the smaller ones went into the second unit finished in warm wood tones to pull in the mountain home. Lastly, Julianne maximized lighting throughout, spotlighting every individual display box with LED horizontal, vertical, and puck lights.
final result
---
Both California Closets and Julianne are way above average! Every project has been a terrific experience and the end result has been effective, attractive, and very functional.
Two beautifully balanced systems with every piece artfully illuminated. Featuring finishes that blend naturally into the couple's mountain home and elegant lighting, each custom design creates a memorable moment for a modern art collection.
---
Design Details
Finish:
LuxeMatte™ Dove
Tesoro™ Cassini Beach
Tesoro™ Stone
Hardware & Accessories:
LED glass-lit shelves
Accents:
Maya Bronze finishes
*Note: product availability may vary by location
---
---
Why Wait?
Book a free consultation today – and ask about virtual consultations.