A Practical, Pretty Playroom for Blogger Sydney Gerten
client: Sydney Gerten
location: Victoria, MN
design consultant: Anna Abrams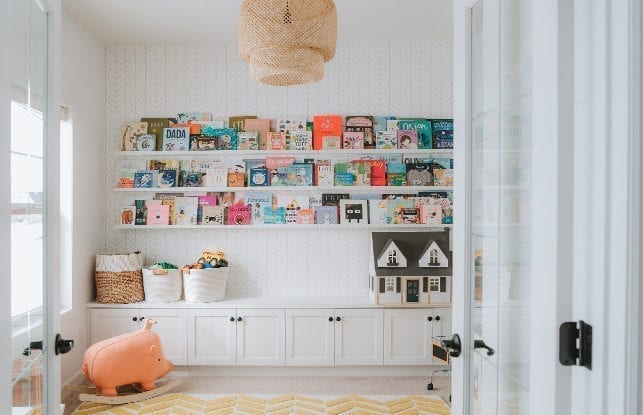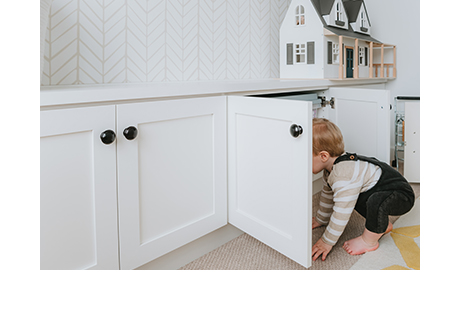 What She Wanted
---
Blogger and photographer Sydney Gerten has her hands full: with two young kids, a brand new house, and a full-time job as a graphic designer, she needed solutions to help streamline her space—particularly the playroom for Sailor, 4, and Brooks, nearly 2. With loads of toys and books between the two children, she envisioned an organized playroom with efficient storage built at kid-level. Additionally, because the playroom is located off the home's entryway, Sydney wanted the space to be practical but pretty, and well-designed to evolve with their needs over the years. Eager to put her ideas in motion, she reached out to
California Closets Southdale.
We had an amazing experience with California Closets! Anna truly brought my vision to life and transformed our space into something not only functional but beautiful as well! We couldn't be happier with the end result!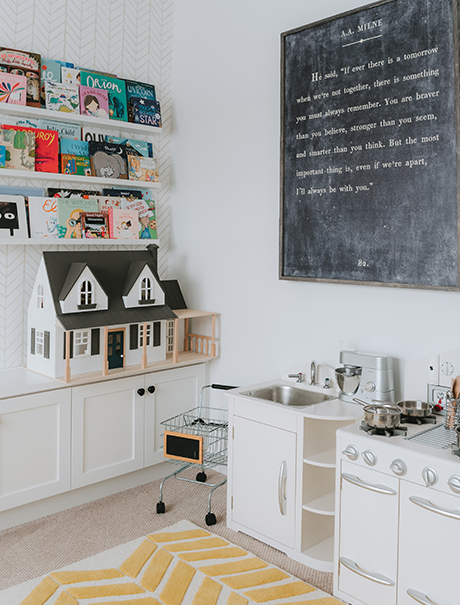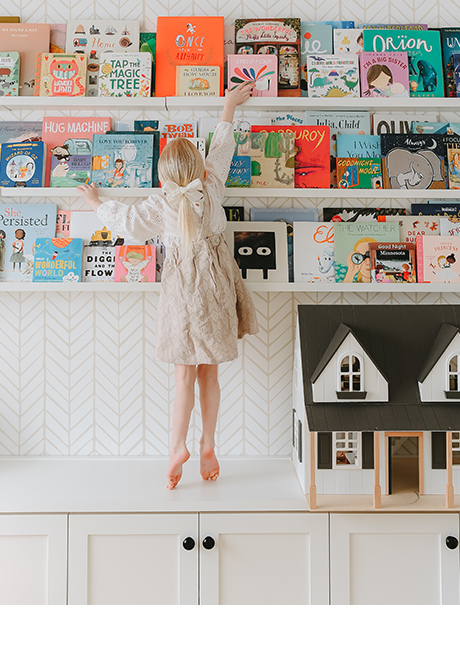 How we did it
---
Off the bat, design consultant Anna Abrams and Sydney shared the same vision for a clean, kid-friendly playroom. To customize its functionality, Anna measured how far each child could reach and took Sydney through a series of questions to understand how her kids would use the space.
To ensure the design flowed with the rest of the home, Anna and Sydney met at the California Closets showroom's Design Studio to select coordinating finishes and hardware. The two were in close collaboration during the entire process—Sydney edited Anna's ideas to fit her kids' needs, and Anna translated Sydney's inspiration photos into tangible solutions to fit the space.
final result
---
Sydney was an absolute blast to work with. She brought a lot of her own ideas to the table and was receptive to mine; we quickly found we were speaking the same language!
This bright and super-functional space is ready for play. Built at the kids' height, white cabinets are easily accessible and equipped with adjustable shelves for toys of all sizes. Even more, the classic design can easily transform to accommodate a 'homework room' or office down the road.
Photo Credits:
Sydney Gerten
---
Design Details
Hardware & Accessories:
Oil -rubbed Bronze pulls and handles
Accents:
5 pc-Shaker doors
*Note: product availability may vary location
---
Why Wait?
Book a free consultation today – and ask about virtual consultations.