Floor to ceiling storage revs up the function of this garage makeover
client: James Welch
location: Cary, NC
design consultant: Amanda Welch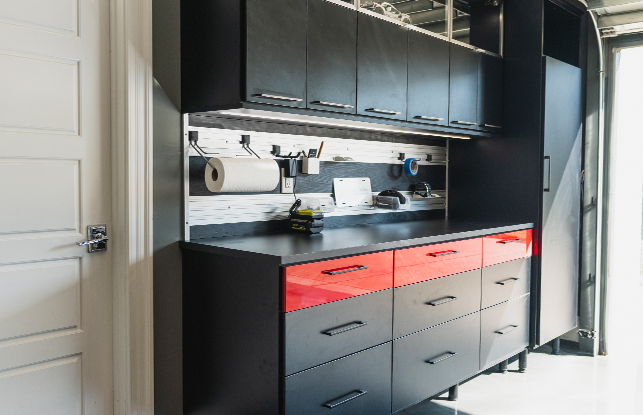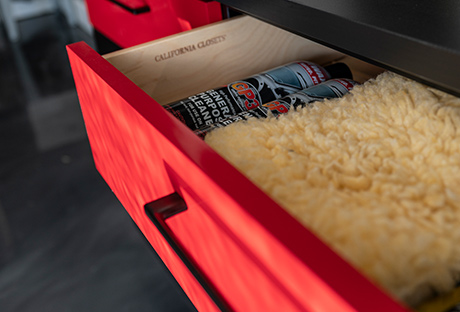 THE GARAGE THEY WANTED
---
Some couples have his and her towels, others have his and her bathroom vanities. Amanda and James Welch have his and her garages. But this is a tale of two garages, with one desperately in need of a custom storage solution to corral the clutter.
Amanda, who happens to be Director of Sales and Design for California Closets Raleigh, lays claim to the family's main garage. It's where they park their cars and store everything from bicycles, holiday lights, and crafting supplies to gardening gear, toys, and frozen meals — everything organized and in its place.However, James' garage, located behind the home, had become a magnet for old paint cans, ladders, tools, a vacuum, and even a ping-pong table.
Getting James' garage organized would have clearly freed up space but it was always last on our to-do-list.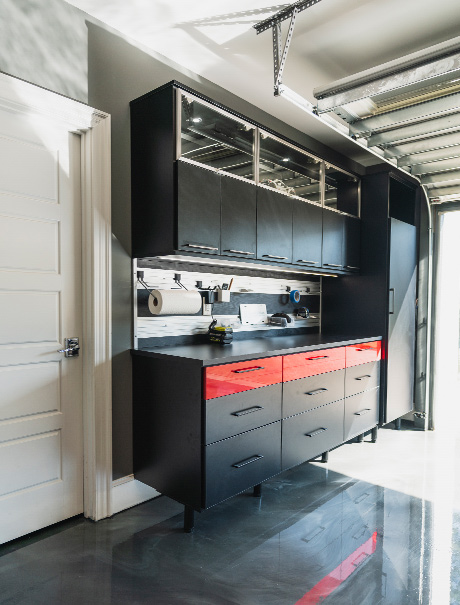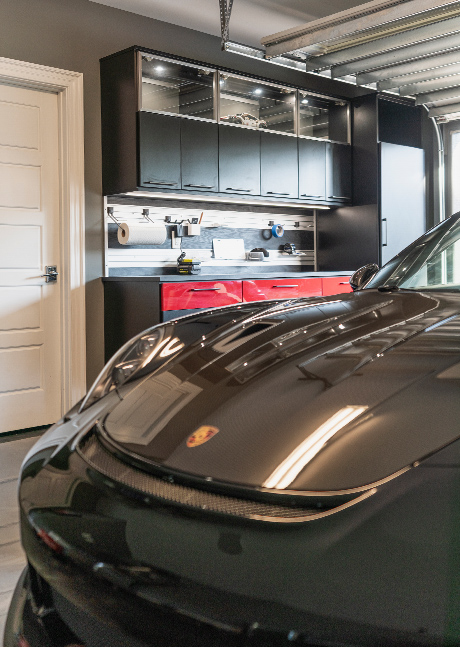 HOW CALIFORNIA CLOSETS DID IT
---
Blending Amanda's experienced design aesthetic with James' practical needs, their vision was instantly clear: standard black cabinets, an adjustable track system along the back wall for smart storage, and a high-gloss red finish on the drawers for dramatic contrast. James, a budding photography enthusiast, also wanted a drop-zone countertop for keys, camera gear, and random odds and ends.
Above the horizontal hanging rail, the couple added built-in glass and aluminum display cases, each one backlit and designed to showcase James' hobbies and prized possessions.
final result
---
It felt like we were on one of those home makeover shows. California Closets came in, did their thing, and presto, it was a new garage.
Over the course of a single installation day, the couple's previously cluttered garage had been transformed. Now a functional extension of their living space, it can multi-task for storage, a gymnastics studio for the couple's two children, and James' own automotive showroom for his new "baby" — a Porsche 911 GT3 RS.
Last on the to-do list no more, James' reimagined garage is as welcoming and organized as the rest of the home.
Photo Credits:
James Welch
---
Design Details
Finish:
Classic Black (disc.)
Red Soho high gloss slab fronts
Natural aluminum frame lift-up doors with clear glass
Metal:
Elite hardware in Black finish
Additional Accessories:
Fusion track wall with Shadow Black backing
Top cap trim above system
Adjustable garage feet
Fusion track wall light duty hooks
*Note: product availability may vary by location
---
---
Why Wait?
Book a free consultation today – and ask about virtual consultations.