An Eclectic, Boutique-Inspired Closet for Fashion Designer Emily Current
client: Emily Current
location: Los Angeles, CA
design consultant: Nicole Caswell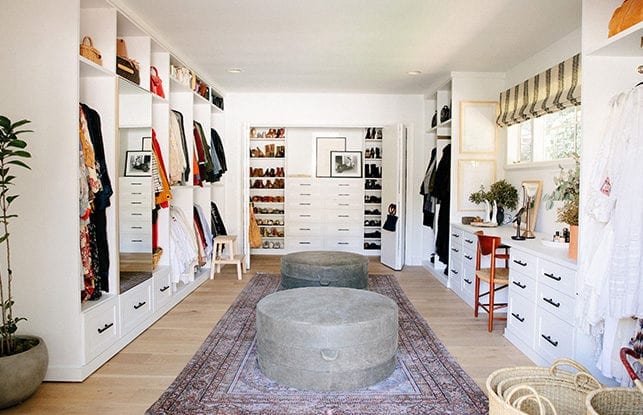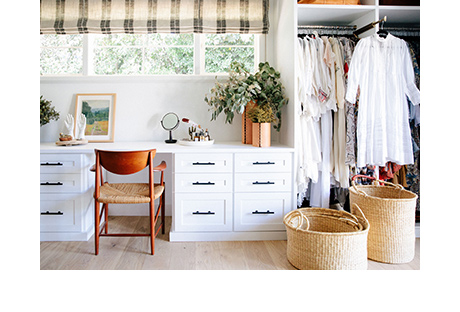 What She Wanted
---
Fashion designer Emily Current, the visionary alongside partner and best friend Meritt Elliott behind clothing lines The Great and Current//Elliott, is known for her American classic, eclectic designs. An avid collector of vintage finds and Victorian dresses, that style carries over to her personal wardrobe—a rapidly growing collection that she desperately needed to store efficiently. Starting fresh in her new home, she decided to transform an extra room into her dream closet, and envisioned a boutique-style space that captured the 1949 ranch house's original charm but with an updated, natural feel. She turned to California Closets Los Angeles to help her convert the room into a clothing showcase where she could dress, relax, and get ready for the day.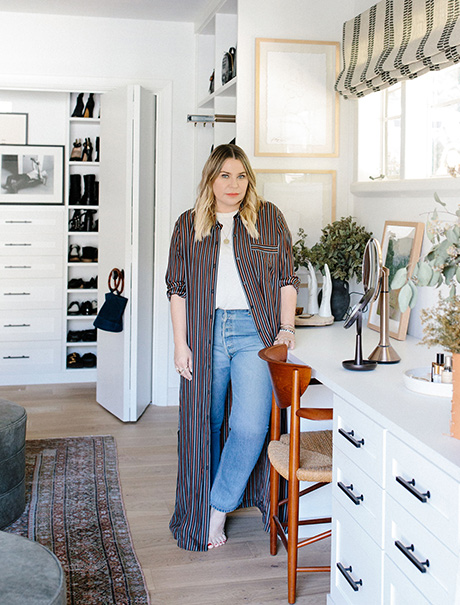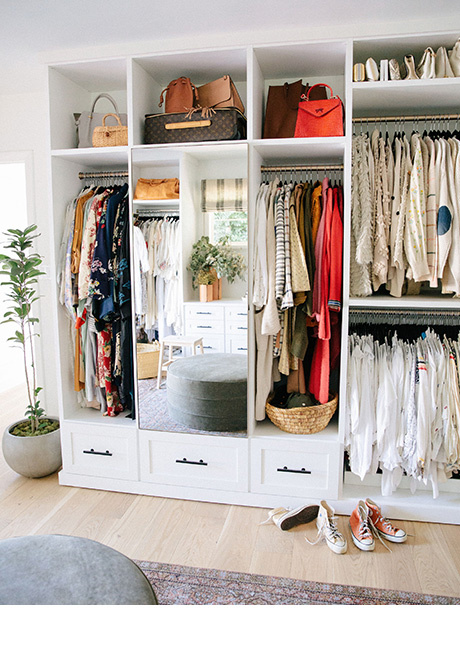 How we did it
---
Design consultant Nicole Caswell knew a hard-working storage solution that reflected Emily's cool, organic style was first and foremost. To capitalize on a calm, natural feel, she first designated a high rectangular window with a beautiful view of trees as the room's focal point. She then designed floor-to-ceiling units with plenty of hanging space for dresses accompanied by shelving and drawers, and added an oversized vanity to sit beneath the window. The room's original reach-in closet presented an opportunity for a storage showcase; Nicole turned it into display shelving for Emily's shoes and handbags with plenty of extra drawers. For the finishing touch, Nicole mixed and matched different hardware finishes to meet Emily's desire for a layered, unique space.
final result
---
The design really demonstrates different uses of space. We could have designed storage on every inch of wall, but we left free space to enhance certain focal points. The result is a closet with lots of storage yet a tranquil feel.
A welcoming, one-of-a-kind closet that's fashionable, tranquil, and completely organized to store and display Emily's enviable wardrobe. By leaving the center of the room open, Nicole gave Emily space for a large area rug  for warmth and oversized poufs to pull on shoes. Plus, the addition of woven baskets corral loose items and reduce clutter while enhancing the room's hip aesthetic.
---
Design Details
Finish:
LuxeMatte™ Dove White
Hardware & Accessories:
Hanging poles in Round Matte Gold
Valet rods / Belt racks in Matte Gold
Aluminum frame in Matte Gold with mirror insert
Customer- supplied hardware
Accents:
Drawer face in 5- piece square miter
Fascia trimmed to ceiling and base molding
Wardrobe depth cabinets
*Note: product availability may vary by location
---
Why Wait?
Book a free consultation today – and ask about virtual consultations.