Interior Designer Dee Murphy's Garage Transformation
client: Dee Murphy
location: Los Angeles, CA
design consultant: Alice Kempton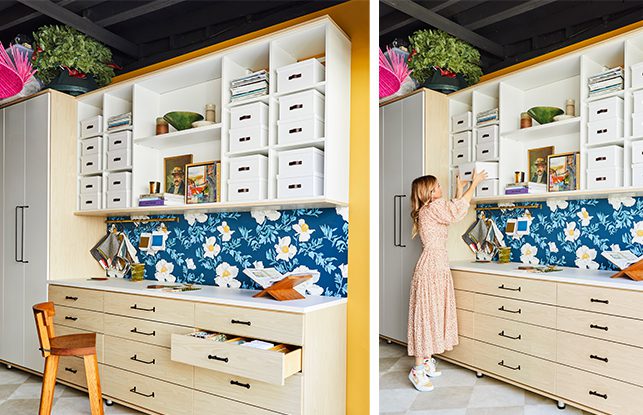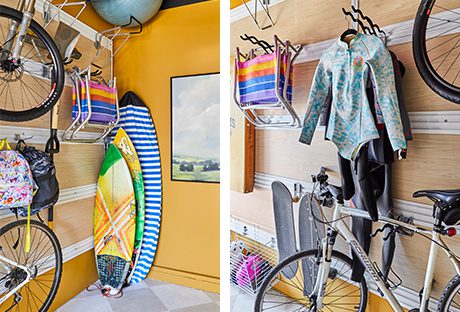 WHAT DEE MURPHY WANTED
---
For interior designer Dee Murphy, her needs were simple: she wanted to take over a narrow garage space and transform it into a combined work studio and storage locker for her family's recreational gear. But space was tight, so she'd need to maximize every square foot.
No stranger to California Closets, Dee had already worked with us on another space in her home. She knew we could solve her space challenges – and then some!
How cute are the boxes with the leather detail handles? The drawer separators make it super easy to file things as you please... and to pull items out with ease.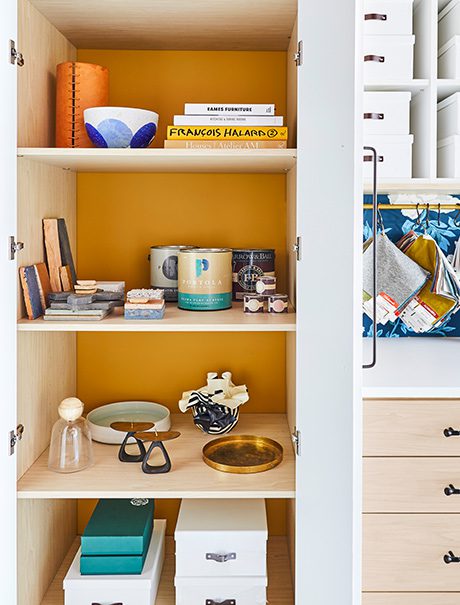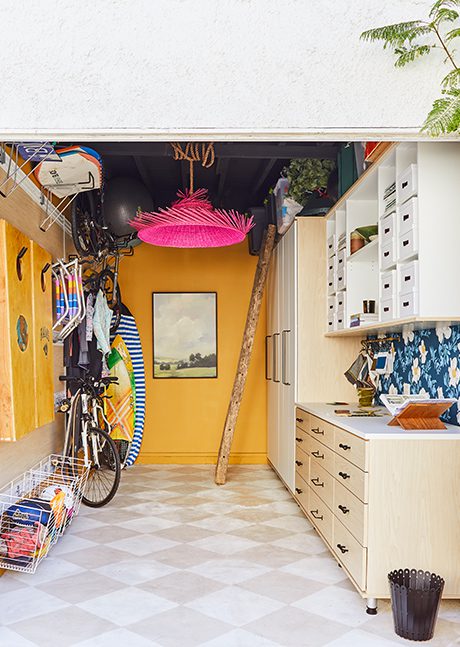 How California Closets Did It
---
To achieve the versatile garage storage she needed, Dee worked with design consultant Alice Kempton and the California Closets Los Angeles team. Together, they collaborated to create a studio space that could support her design business during the week, but also neatly store her family's "toys" at the end of the weekend.
Opposite the workspace, a FusionTrack wall system allows bikes, snowboards, surfboards, and beach chairs to slide in and out of place as needed while keeping floor space freed up.
Dee even sourced some products herself for the custom design, which allowed her signature style to shine and made the final system feel so personal.
final result
---
Thanks again to California Closets, especially my designer Alice, who seemed to access every magical inch of space available (you are actual WIZARDS).
Underutilized garage no more, this reimagined space can now accommodate the needs of the whole family while still giving Dee a dedicated space for her business.
In fact, there's even room to grow thanks to the ample storage and compact design.
---
Design Details
Finish:
Wood Grain finish in Natural with Dove doors, shelving, and countertop
Metal:
Black hardware supplied by customer
Additional Accessories:
Top cap and bottom cap, leveler legs, front-to-back birch drawer inserts, adjustable shelving
*Note: product availability may vary by location
---
Meet the team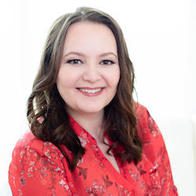 Alice Kempton
Design Consultant
---
Why Wait?
Book a free consultation today – and ask about virtual consultations.