Creating a Wardrobe and Work Space for Fashion Blogger Luanna Perez-Garreaud
client: Luanna Perez-Garreaud
location: New York, NY
design consultant: Megan Garcia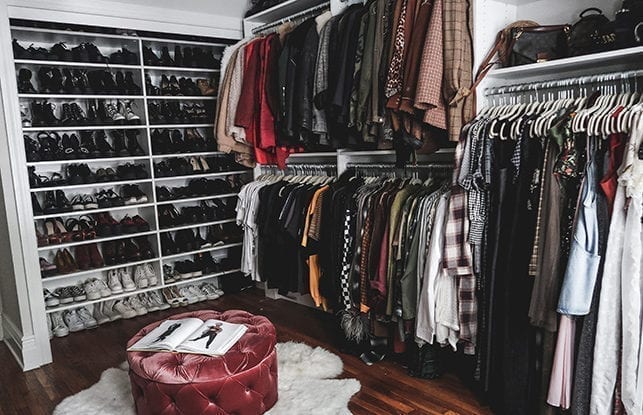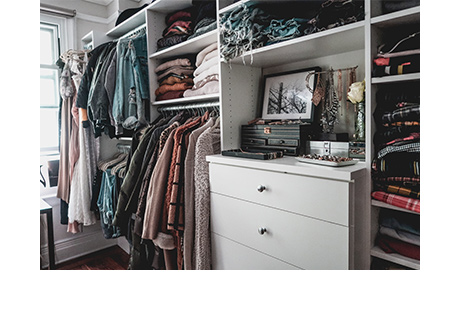 What She Wanted
---
Luanna Perez-Garreaud—a popular fashion blogger of Le Happy with a bold and eclectic flair—knows how to make a style statement. Born in Peru and living in Manhattan, Luanna regularly documents her signature urban looks, but storing and organizing a growing wardrobe in a small city apartment can be challenging. So when Luanna recently moved, she decided to turn one whole room into a walk-in closet/work space and called on California Closets to help her create a custom space that was as eye-catching as her style.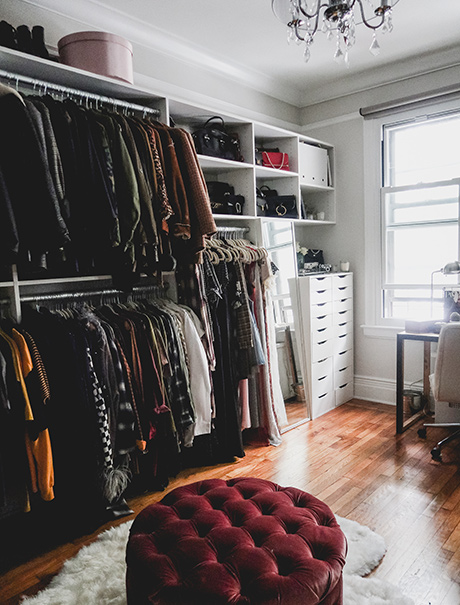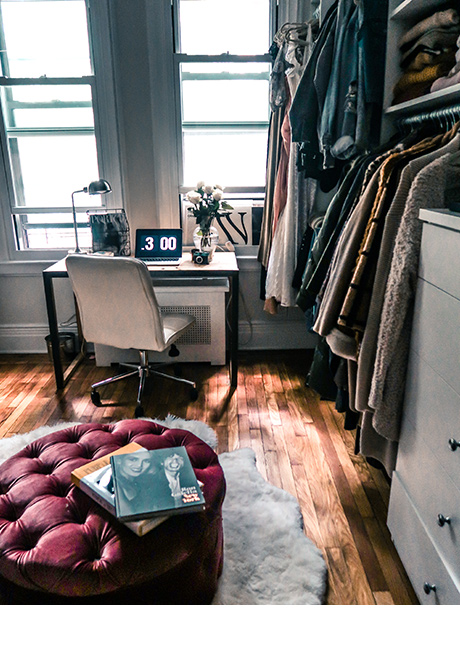 How we did it
---
To bring her vision to life, Luanna worked closely with California Closets New York design consultant Megan Bubalo. Megan optimized the entire room to neatly organize and display Luanna's clothing and large collection of shoes and bags. Ample hanging areas gave Luanna proper space for longer dresses and shorter items such as jackets and pants, while open shelving throughout the room kept all of Launna's folded items, shoes, and bags easily accessible. To personalize her new space, Luanna added a velvet ottoman and a chandelier for a bit of glamour, along with her desk—the one she's used to write her blog from the the start.
Her style is so unique so I kept the design simple and in a classic white finish so that her wardrobe would really pop.
final result
---
Surrounded by curated clothing and accessories that she loves, Luanna now has a spacious dressing room and closet, as well as work area, to keep her inspired.
---
Design Details
Hardware & Accessories:
Brushed Chrome decorative knobs
Matte Aluminum round hanging poles
Accents:
Slab drawer fronts
*Note: product availability may vary by location
---
Meet the team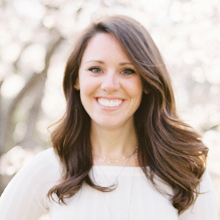 Megan Garcia
Design Consultant
---
Why Wait?
Book a free consultation today – and ask about virtual consultations.