Child's Play with Erin Feher and Daughter Orion
client: Erin Feher
location: San Francisco, CA
design consultant: Corinne Cronin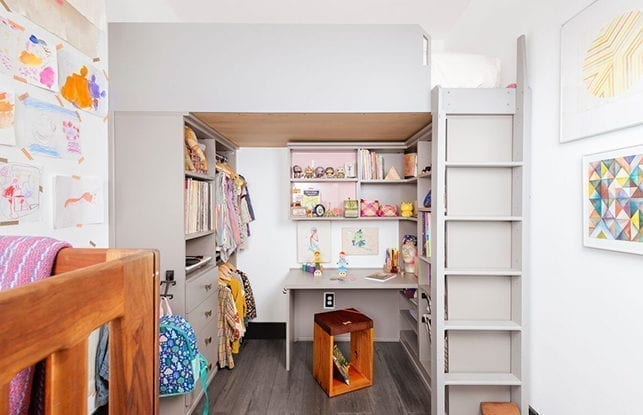 Erin Feher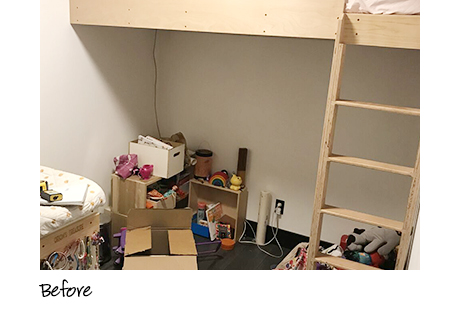 What She Wanted
---
Who says a small space can't be exceptionally functional? When San Francisco design editor Erin Feher and her family moved into their 550-square-foot apartment right above The Butterfly Joint—a kid's woodworking and design studio that she and her husband, Danny, own—they embraced the opportunity to creatively optimize every square-inch of their new home.
For the kids' room—which clocked in at a mere 70 square feet—Danny built the perfect space-saving loft bed for their 4-year-old daughter Orion. But with her baby brother's crib taking up much of the remaining floor space, there wasn't a lot of extra room for playing or storage for toys, books, and Orion's clothes. Erin also dreamed of having a desk area where Orion—and soon, Vega—could draw.
The solution: Erin collaborated with California Closets San Francisco designer Corinne Cronin to reimagine the empty area under the loft bed into a special, ultra-double-duty space Orion could call her own.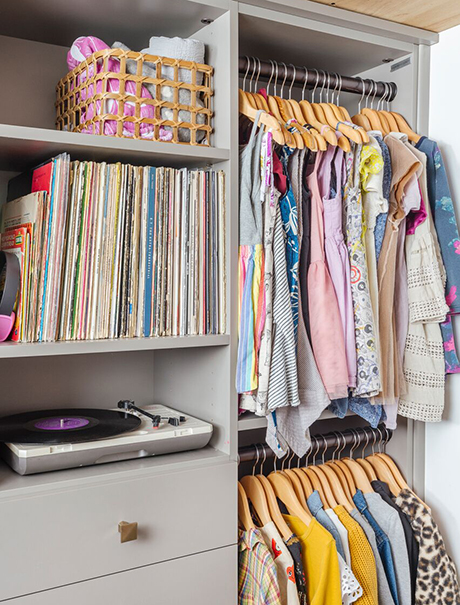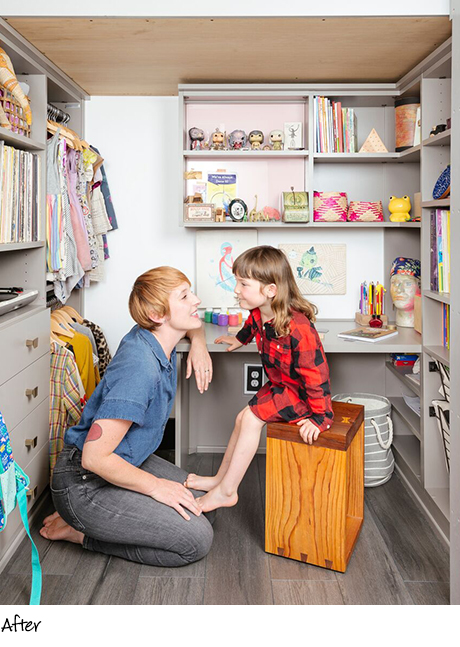 How we did it
---
Corinne wanted to ensure that the custom design provided ample storage, and was easy to navigate and access despite the area's low loft-bed ceiling and ladder.
By incorporating the desk on the back wall, she created a natural break between the 'closet side' for Orion's clothing and the 'art and toy storage side' of the design, as well as clever compartments for books, keepsakes, and even her record player and collection of records. Corinne also added shallow shelves above the desk using a pop of pink back-painted glass to compliment Orion's blush bedding.
Erin was full of great ideas. I love that together we were able to create what I would call Orion's 'personal castle' and optimize this small space in such a clever way.
final result
---
Using the loft bed as a starting footprint, Corinne was able to construct a fun and fully-functional design that Orion can use and enjoy. This project illustrates that even in the tiniest and most unexpected spaces, a little imagination goes a long way.
---
Design Details
Hardware & Accessories:
Modern Bronze knobs
Oil-rubbed Bronze hanging poles and hooks
Oil-rubbed Bronze wire baskets with canvas liners
Accents:
Slab drawer fronts
Glossy custom color backpainted glass accent backing
Decorative top cap
*Note: product availability may vary by location
---
---
Why Wait?
Book your free consultation today.
Schedule My Free
Design Consultation