A Hard-working Home Office for A New York Couple
client: Kathy & Cesar García
location: Manhattan, NY
design consultant: Allegra Pennisi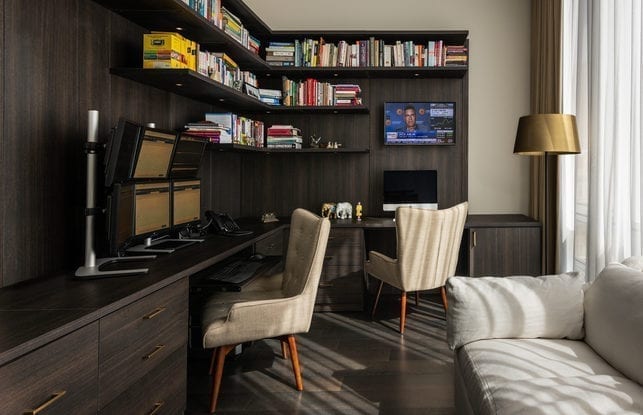 Kathy & Cesar García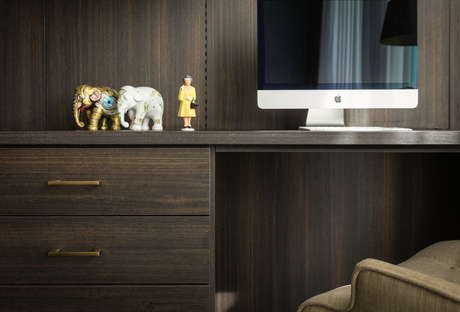 What They Wanted
---
After downsizing from a 10,000-square-foot Los Angeles home to a Manhattan condo, Kathy and Cesar García wanted an office that made a statement despite the smaller quarters. They imagined an L-shaped desk unit to make efficient use of the room's open corner, equipped with storage to hide unsightly office supplies and floating shelves to house books. The unit also needed ample overhead lighting, a spot to mount the couple's TV, and dedicated desk sections for both him and her. With a vision in mind, they contacted California Closets New York City for a custom solution.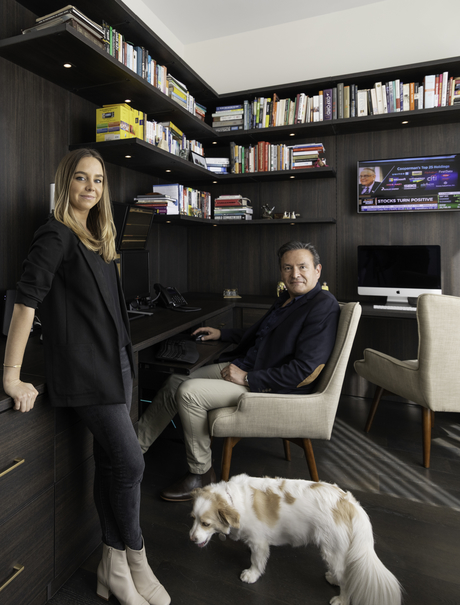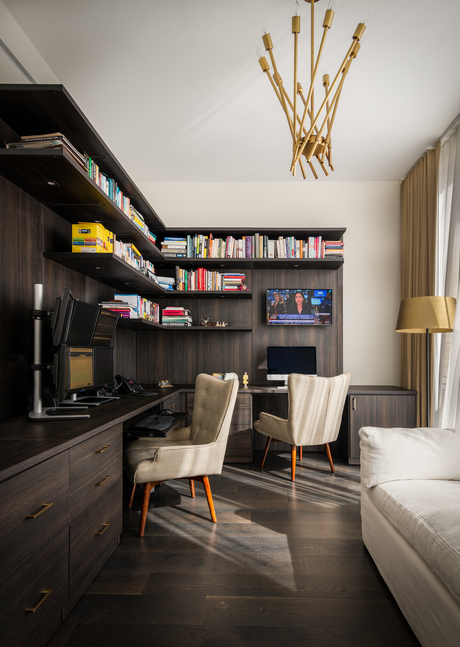 How we did it
---
Designer Allegra Pennisi met the Garcías at their local showroom to help them visualize an end product by seeing finishes and design ideas in person. After reviewing options and carefully discussing their aesthetic and functional wishes, Allegra designed a streamlined system comprised of a desk unit below and floating shelves above. The desk unit includes separate sections for drawers, printer storage, computers, and seating areas, while the floating shelves complete the cohesive look of a custom built-in. Discrete puck lighting installed into the shelving spotlights the books and work spaces, and a rich espresso finish pairs with oil-rubbed bronze hardware for a clean-lined and classic final touch.
I would describe this office as grand and eye-catching, and exactly what the Garcías were hoping for. They were dream clients and now they have their dream office.
final result
---
A striking home office unit high in small-space function and sophisticated style. Not only does it have a spot for everything from monitors to books to printers, but the spacious design provides enough room for the couple to work in tandem. Plus, Allegra worked with the couple's electrician to carefully conceal every stray wire, resulting in a truly streamlined—and statement-making—system.
---
Design Details
Hardware & Accessories:
Oil-rubbed bronze
Accents:
Linen drawer interiors; puck lighting
*Note: product availability may vary by location
---
Why Wait?
Book your free consultation today.