WALK-IN CLOSETS
Large or small, it's a room all its own
A thoughtfully appointed walk-in closet offers the perfect start (and finish) to your busy day.
Maximizes every inch of space while showcasing your personal style
Helps you stay organized while protecting your clothes from wrinkles and dirt
Provides space-saving options for the utmost in efficiency, such as multiple hanging areas, adjustable shelves, baskets, hampers, and specialty racks
Drawers feature dovetail construction, undermount slides, and soft-close mechanisms
I was extremely pleased with California Closets. Our designer, Katie, was professional, flexible and sweet. I adore my new closets! They make me happy every day!
We are repeat customers. We have been impressed with the design, quality and professionalism of everyone we've encountered.
The experience was excellent. Our designer Diane was professional and creative, the installer was quick and very clean, and the result is terrific. I wish we had done this earlier!!
One of the most professional organizations I have ever dealt with - from office personnel to designer to installer. Excellent. Other companies could take lessons in customer service from California Closets.
Quick and painless. The sales consultant was knowledgeable and friendly. Liked being able to see the closet layout on the sales consultant's laptop. The installation was flawless.
California Closets offers the best designs to achieve what we wanted in our home, and the quality and selection of the product is outstanding.
The closets have provided so much "new" space for us by utilizing the heights of our ceilings. The installers were so friendly and they were so good to my pups! Just a great experience!
The courtesy and professionalism throughout the entire process was amazing. We have already recommended California Closets to a friend.
Elizabeth understood what I needed and got it done quickly. Our installer was professional and my closet looks great...the price was right too!
Great design and installed efficiently and cleanly. We are planning on having our pantry done next. It really increased our storage space in an incredibly organized fashion.
---
WALK IN CLOSET DESIGN IDEAS
Why Wait?
Book a free consultation today – and ask about virtual consultations.
Walk In Closets FAQs
A walk in closet is a closet space that occupies its own room. Over the years, walk in closets have advanced from simple storage to luxury rooms and dressing areas. Walk in closets can incorporate center islands, built in workspaces and vanities, benches, shoe storage, and custom lighting.
A walk in closet provides ample storage for clothes, shoes, accessories, and personal items to keep your bedroom clutter-free. A walk in closet can also allow for better function, given the many options for shelving, cabinets, drawers, dressers, island storage, and wall organizers.
At California Closets, we start with the design consultation by assessing the available space, taking measurements and inventory, and getting to know your needs and preferences. During the collaboration process, we'll create a virtual model of your space using our proprietary 3-D software. Once completed, your custom design is sent to one of our local manufacturing centers to create your system components. Finally, your new system is installed by our professional installers leaving you with a beautiful new addition to your home.
By designing a storage solution for your shoe collection, you'll not only declutter but also help protect and preserve the life span of your shoes. Custom shoe racks and shelves can be engineered to accommodate all types of shoes sizes, from tall boots to sneakers. Additionally, California Closets creates all types of specialized storage including pull-out drawers, cubbies, and shoe racks with rails to keep everything neat and organized.
There are several layout options for your walk in closet and creating the design will depend on your storage and organization needs.
A straight layout is the most basic with a single wall of storage along one side of the closet. This is perfect for a narrow space and can be customized with rods, cabinets, shelves, and drawers.
An L-shaped layout has two walls of storage and is ideal for medium to large-sized closets. The open space is perfect for a dressing area.
A U-shaped layout has three walls of storage and provides ample wardrobe and personal items storage. This is ideal for a larger closet or small bedroom that you convert.
An island layout typically has a central storage space with a free-standing dresser or a desk and is perfect for storing accessories like jewelry or intimates.
A boutique layout is a luxurious configuration that mimics the look and feel of an upscale boutique, utilizing open shelving, glass cabinet doors, LED lighting, high end finishes, and details. This is perfect for someone who wants to display their wardrobe and allows for maximum accessibility.
Customize Your Closet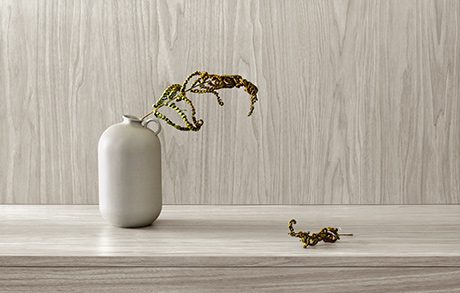 Your designer will help you choose the right closet finish – dark or light, smooth or textured – to accent your décor and refine your style.
View all
Learn More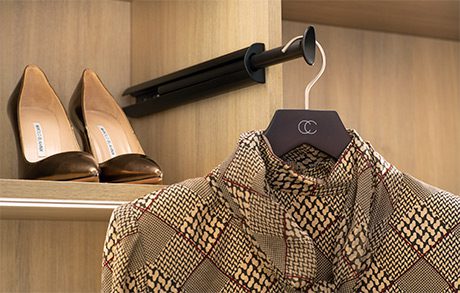 Bring organization to your closet with custom features that create a designated place for every item.
View all
Learn More
---
CUSTOM DESIGNS TO FIT YOUR BUDGET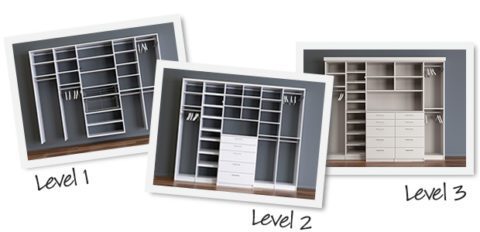 CUSTOM DESIGNS TO FIT YOUR BUDGET
When we customize a design for you, we consider your space, your style, and your budget. We offer a wide range of quality options so we can satisfy each of our customer's needs.
LEARN MORE
---
Custom Storage for the Whole Home