Are you underwhelmed with your closet? Maybe it's time for a refresh. Here in San Diego, we believe having a beautiful custom closet will not only elevate your home, but it will elevate your life.
If you're ready to take the plunge and build a custom closet for yourself, go through this step-by-step process.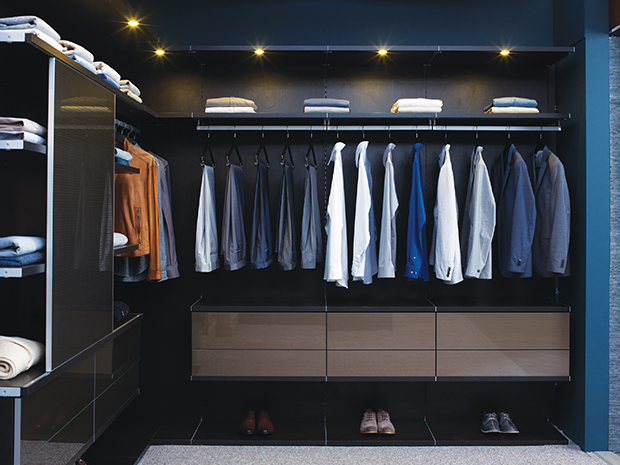 Step 1: Determine Your Wants and Needs
Determine exactly what you want to store in your closet.
Helpful Hint: Get rid of anything you don't wear anymore to create more space.
Measure your space to know exactly what you're working with.
Visualize how you'd like to access things within the closet.
Create a 'rough draft' design of components such as cabinets, drawers, shelves and wall hangings.
Helpful Hint: This is where enlisting the helps of the professionals is a good idea.
Determine the style, color and other features you'd like to have.
Figure out your budget range (minimum to maximum) you can spend on the project.
Make a list of all of your wants and needs with the most important items at the top.
Step 2: Start Thinking About the Organization Aspect
A successful closet will:
Make it easier for you to find and access what you need
Easily fit all of your belongings in one space
Create a look and style that you love
Utilize all of the available space in the most efficient way possible
Achieve all of the goals you've laid out for your storage
Closet accessories such as: baskets and hampers, drawer and shelf dividers, jewelry drawer dividers, shoe storage and adjustable shelving and racks, takes the organization aspect to the next level.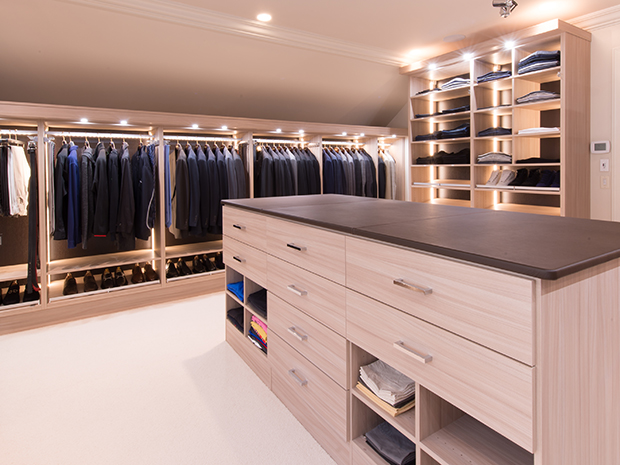 Step 3: Determine the Look and Feel
Once you've gotten your 'need to haves' out of the way, creating a space that reflects your personality, style and home aesthetic will bring the closet to life.
A variety of available styles, from modern to traditional, can be implemented into your closet design.
Sustainable materials that are made with recycled or reclaimed wood fibers provide the utmost in quality, durability and sustainability.
Materials for inserts and back panels, including Ecoresin, acrylic and glass, allow you to tailor your custom closet to your personal aesthetic.
Design accents such as mirrored closet doors and leather shelves provide more customization options to fit your home's unique style.
A range of closet door and drawer options will complement your architectural style
Custom lighting takes your closet design from ordinary to extraordinary, providing functional illumination and stunning displays for your most cherished items.
Decorative hardware, such as Stainless Steel or Oil-Rubbed Bronze drawer handles, gives your system that finishing touch.
Step 4: Enlist the Help of the Professionals
Why put all this on yourself when you can let the pros do it for you? California Closets San Diego has been in the industry for nearly four decades, and have built beautiful, functional and highly organized closets and storage solutions for homes across the country. Featured on Houzz, you'll receive a complimentary design consultation when you give the San Diego team a call or come in to visit our San Diego or La Jolla showrooms.