If you're overwhelmed with all the "stuff" in your home, then it's time to find a permanent home for your "stuff". Storage cabinets are one of the most efficient ways to organize your items while providing a beautiful aesthetic for your home. Whether you need to organize your garage, your bedroom or your kitchen, storage cabinets are your answer to an organized home here in Redwood City, Cupertino, Los Altos or Los Gatos and the greater San Jose area.
Storage Solutions for Every Room in Your Home
Whether in your attic or your garage, there is always a way to find storage (and usually it's in the most unlikely places). Here are some of our most popular rooms to sneak in extra storage (and visitors will never know).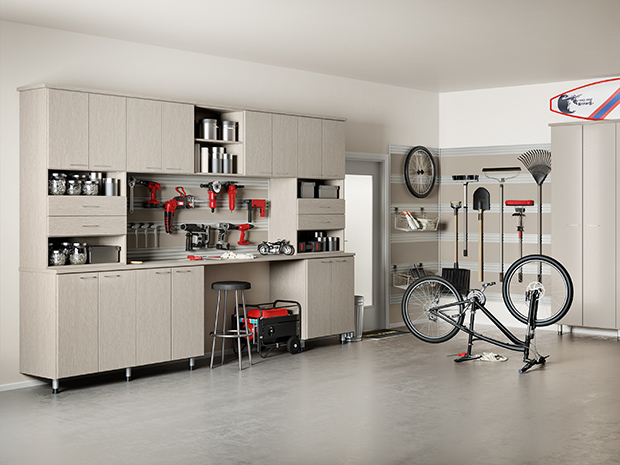 Garage
The garage is a great place for storage, and most people don't even realize how much space they actually have until they clear the clutter. Custom-designed cabinetry, drawers, shelves and specialty racks create a purposeful room for efficiently storing tools, sports equipment, keepsakes or holiday decorations. Deep custom-designed cabinetry stores everything you need, while keeping things away from the center of the garage and against the wall. A Fusion Track Wall System keeps bikes, rakes and more off of the floor and out of the way. You might even have so much space left you can enjoy crafting, too.
Entertainment Center
Have you ever thought about storing items in the same place you relax and watch movies? Installing an entertainment or media center is a great way to provide plenty of storage cabinet space for your home. Designed in a variety of styles and wood finishes to suit the architecture and aesthetic of your living space, media centers will bring style and organization to your home. Doors provide a tasteful decorative element and can also conceal technology, cables, and wires for a clean overall look. Custom built-in cabinetry, as well as decorative moldings and details, create the look and feel of installed furniture. Lighting increases functionality and enhances the overall space, while drawers are handy for additional storage.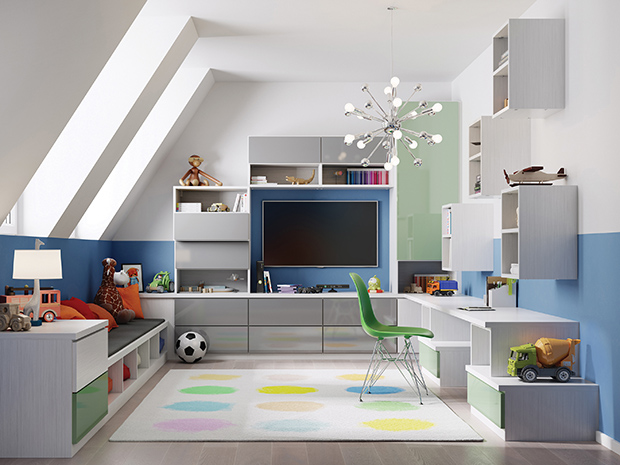 Playroom
Another creative storage space, you kids' playroom , can also double as a crafty storage area. Custom cabinetry, drawers, shelving and baskets store everything from toys to books to other household items. Window-seat shelving creates a perfect reading nooks with storage hidden underneath. Pullout baskets are ideal for storing multiple sizes and shapes of toys as well as clothing for easy visibility. Integrated desks create a space for working on projects or doing homework. Shelving keeps items off the floor and out of the way, and cubbies store shoes, toys and other small items.
Mudroom
A well-designed space right when you walk in your home is a breath of fresh air. What's even better? Having a designated space where you can easily locate your shoes, jackets and outdoor wear without bringing it all the way into the home. A mudroom is a great way to store items, so you can keep your house tidy. Mudrooms have custom built-in cabinetry, as well as decorative moldings and details to create a look of installed furniture that can be designed to match the rest of the home. Open storage offers easy access for items used daily as family members come and go, making transitions seamless and less chaotic. Designated cubbies for shoes and children's small belongings, such as gloves, help minimize clutter and misplaced items alike. Hooks make grabbing coats and backpacks easy. Specialized, out-of-the-way storage areas can be included to house seasonal items, sports equipment and more.
When it comes to storage, there's no one better than the leading experts in the industry, California Closets San Jose. With nearly four decades designing and building custom closets and storage solutions, you'll get a customized storage solution you'll love for your home—no matter what room or what your budget looks like. Schedule your complimentary in-home design consultation today or come and visit our Los Gatos or Los Altos showrooms.