Have you recently redesigned your home to incorporate more storage, or created more space within your home for storage? Now it's time to decorate! The design experts from California Closets have provided smart solutions to elevate any storage area in your home, from the closet to the garage. Whether you live in Thomasville, Lexington, Greensboro, Hickory, Asheville, South Carolina or Virginia, there are numerous solutions for your unique lifestyle and home.
A walk-in closet is a playground when it comes to design: you have ample room and space to play with décor. From LED lighting to bench seating and display shelving, the sky is the limit for what you want to do with your space. Here's an example from our Fashionista Walk-In Design:
With a soft color palette and rich textual details, fashion meets function for a walk-in closet that feels like a personal boutique.
Tesoro™,Linen and Corsican Weave finishes create a soft color palette.
Matte Aluminum doors with clear glass inserts display shoes and accessories.
Matte Aluminum hardware adds a polished finish.
Two built-in chests with drawers, pullout baskets and hampers offer concealed storage.
Glass shelves showcase collectibles and handbags.
Lighted shoe storage, lit closet side panels and overhead ambient lighting offer a boutique-like feel.
LED technology offers energy-efficient lighting.
Waterfall countertop edge detail and modern top cap trim detail create a built-in look.
For those who need a big style impact in a smaller space, there are plenty of options. Our Urban Master design pairs convenience with high style for a high-end hotel look.
By pairing a reach-in wardrobe with a built-in credenza, this elegant mid-century-inspired master closet provides storage and classic style.
Lago® Roman Walnut creates a rich and classic look.
Bronze powder-coated Aluminum sliding doors with Frosted glass inserts add texture and conceal clothing.
Warm white ribbon light illuminates the space.
Push-to-open door hardware offers ease of use.
Oil-rubbed Bronze finger pull drawer hardware adds a minimalistic accent.
Deep texture slab door and drawer fronts bring texture and depth to the space.
Belt, tie and valet accessories ensure organization.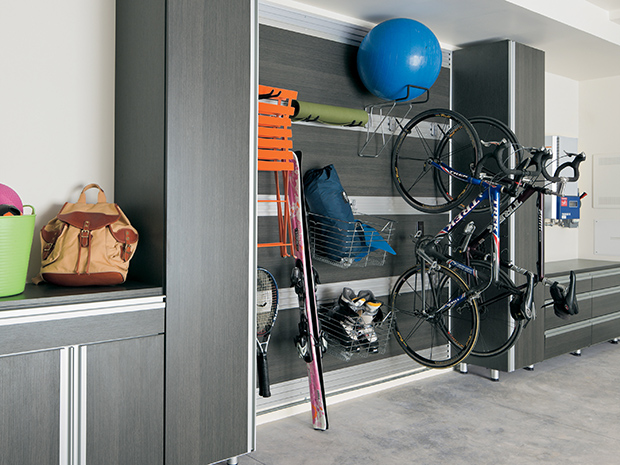 Now that you have more room and space to breathe in your garage, have you thought about installing a workbench for projects? Versatile storage options, including cabinets and Fusion Track Wall System, organize often-used tools and equipment for easy access. A personalized and integrated workspace maximizes efficiency and square footage. One of our popular designs is the Craftsman Garage:
With areas for every kind of tool and a proper space to use them, this storage solution fulfills every craftman's need.
Classic White finish paired with Classic White slab door and drawer fronts creates a seamless, neutral backdrop.
Fusion Track Wall System with accessories provides storage for tools.
Adjustable shelving provides flexibility for changing needs.
Integrated workstation creates a designated space for projects.
Cabinetry and drawers provide concealed storage.
The unofficial entryway closet is a great way to store and hang jackets, shoes, keys and outerwear so you don't need to track the outdoors all the way in. Well-designed hanging space, shelving, hardware and sitting areas create the organization and efficiency needed for a mudroom. Our popular Newport Mudroom creates more ease and tranquility within the home:
A well-designed entry doubles as a unique and stylish storage area with multiple organization options.
Tesoro™ Tuscan Moon coordinates seamlessly with the living space.
High-gloss slab door and drawer fronts in white lend a sleek, minimalistic look.
Cleat mount double hooks and coat hooks provide a home for outerwear.
Flip-up mechanism on doors offers easy accessibility and optimizes available space.
Integrated bench area creates a sitting area for removing footwear.
Brushed Aluminum decorative hardware adds polish.
Locker-style mudroom cubbies provide storage for coats and bags.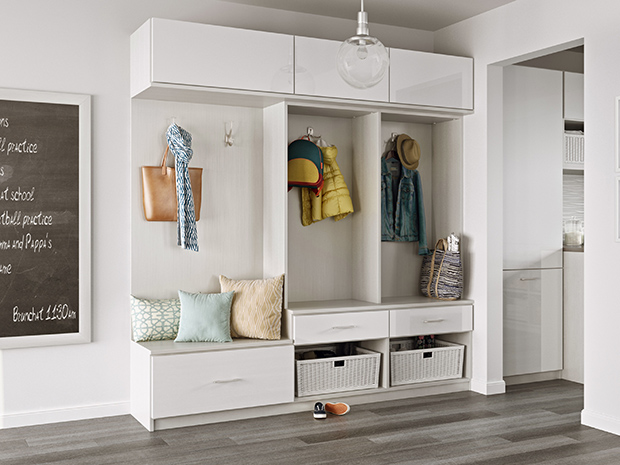 Are you ready to bring more style to your newly organized home? Contact the Greensboro California Closets team. You'll receive an expert design consultation right in your home to discuss your unique budge and style. Visit our Greensboro showroom for more information.