Are you ready for a closet makeover here in Miami? With a fabulous outer life here in the vibrant city, the inside of your home should reflect that as well. Depending on your space, budget and design needs, we've provided five different closet ideas for your space here in Miami, Key West, Layton, Marathon, Medley, Miami Beach, Miami Gardens, Miami Shores Village, Miami Springs, North Bay Village or North Miami.
1. Walk-In Closet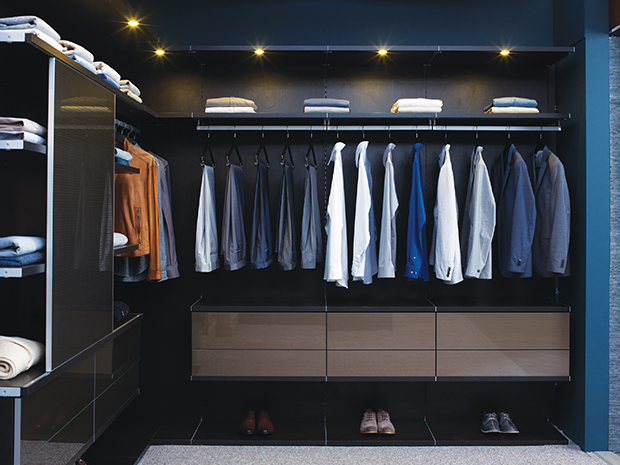 For an elevated closet experience, a walk-in closet gives you everything you can possibly dream up for a closet. The expansive, spacious option can be as simple or as decorated as you want, with multiple shelves, hanging areas, drawers and more. A center island and bench seating gives you additional storage and a place to relax, and shoe storage, custom LED lighting, jewelry drawer dividers and custom doors and drawers, including leather or glass, give you that boutique-like feeling right in your own home.
2. Reach-In Closet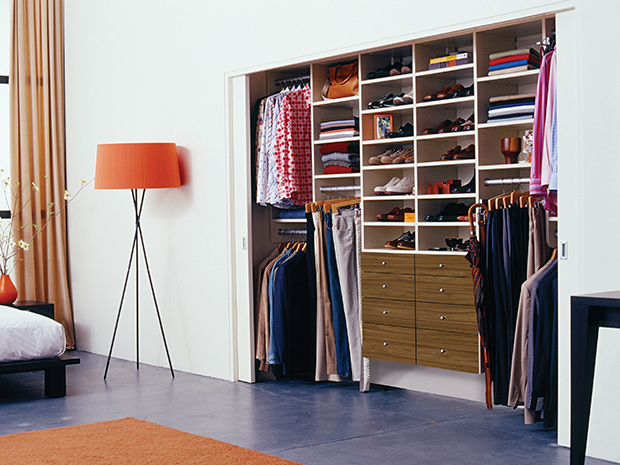 For a genius space-saving solution, a reach-in closet is the best way to help you maximize your storage potential. Take advantage of closet height for even more interior space, and rely on multiple hanging areas, shelving, drawers and more. A Fusion Track Wall System hangs belts, ties, scarves and more on the wall, to keep clutter off of the floor for good.
3. Wardrobe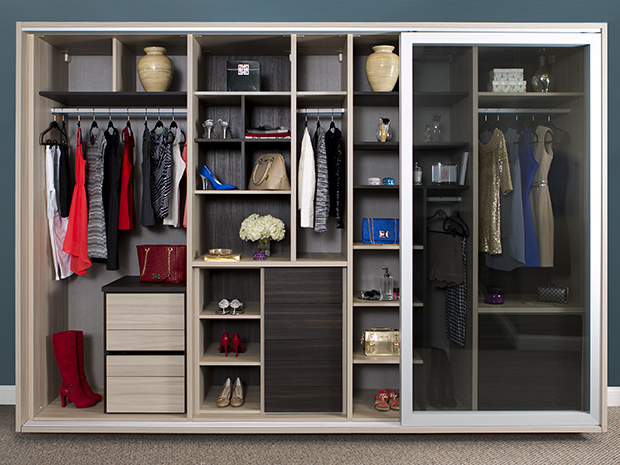 A wardrobe for your wardrobe is a great solution for those who prefer something a bit more mobile. The freestanding closet is like a luxurious, one of a kind piece of furniture itself, and comes with the same functional features as any other closet. Custom doors elevate your piece of furniture so it disguises your clothes.
4. Kids and Teens' Closets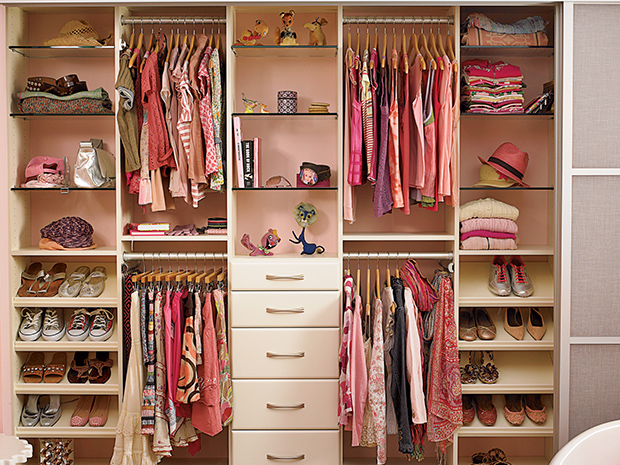 Do you have kids? Then you know that no material item lasts forever – kids outgrow them. So, why have a closet that won't work for them in five years? An adjustable closet is the best way to save money and time in the long run. Adjustable shelving, hanging areas and baskets organize the closet to evolve with your child, allowing for a space that stores clothes when he or she is young to become a place that also houses technology, sports equipment, and books as your child grows older.
5. Closet Combos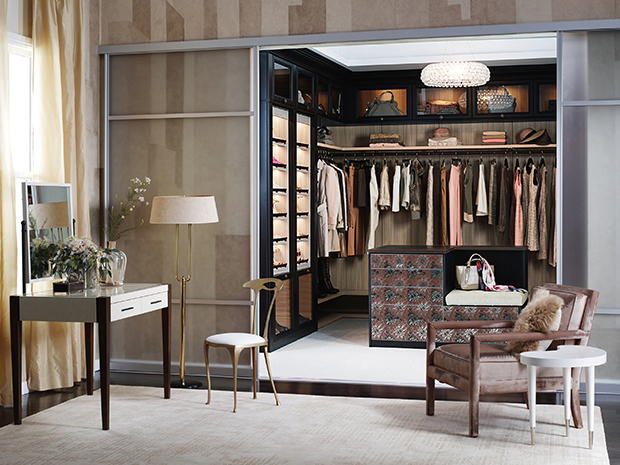 Life isn't always black and white – and neither is your closet. Sometimes, depending on your space and needs, a combination of the above can be the perfect solution for your home. That's why custom closets are crucial – so you can design the best fit for you. The Urban Master design is the perfect example of pairing a reach-in closet with a wardrobe.
By pairing a reach-in wardrobe with a built-in credenza, this elegant mid-century-inspired master closet provides storage and classic style.
Lago® Roman Walnut creates a rich and classic look.
Bronze powder-coated Aluminum sliding doors with Frosted glass inserts add texture and conceal clothing.
Warm white ribbon light illuminates the space.
Push-to-open door hardware offers ease of use.
Oil-rubbed Bronze finger pull drawer hardware adds a minimalistic accent.
Deep texture slab door and drawer fronts bring texture and depth to the space.
Belt, tie and valet accessories ensure organization.
For your very own custom closet design, contact the California Closets Miami team today for your complimentary in-home expert design consultation. Featured on Houzz, California Closets has been helping thousands of families across the country to build beautiful custom closets and storage solutions. Visit the Miami showroom today to see for yourself