The kitchen is the heart of the home. Make it reflect that with beautiful, organized space-saving shelving, cabinetry and accessories so that you can stay stress-free and inspired in your kitchen. Homeowners living in Greater Harrisburg, New Jersey, Maryland, Eastern PA, Shrewsbury, Dallastown, Hummelstown and New Cumberland will appreciate this for better nights cooking and entertaining at home.
What an Organized Pantry Looks Like
Perhaps you have a pantry but it's not organized the right way. Here are a few adjustments you can make to ensure all of your ingredients and dishware are organized.
Sliding storage shelves allow for easy access to canned goods, while vertical shelf dividers organize everything beautifully.
Pantry drawers are specially designed to be spaced further apart, providing a better view of their contents. Our drawers feature dovetail construction, undermount slides, and quiet soft close mechanisms to ensure superior quality and a lifetime of use.
Drawers conceal utensils and cooking equipment, as well as snacks to make provisions easily accessible for children.
Wine racks and stemware holders cleverly store bottles and glassware.
Counter area creates a space for food preparation.
Pullout racks for linens and vertical shelf dividers for mops, brooms, and cleaning supplies organize often-used items.
If you're trying to downsize or you have a tight space, you can still stay organized. Here are some of our popular smaller nook pantries that will create an inviting, organized space in your home.
Retro Pantry
Reminiscent of the classic butler's pantry, this smart storage system provides organization for cooking essentials just off the kitchen.
Bellissima White Lago® finish blends seamlessly into the space.
Slab doors and drawers create a seamless, modern look.
Brushed Aluminum decorative hardware adds polish.
Cassini Beach countertop provides a designated work space.
Adjustable shelving creates flexibility for changing needs.
Pullout Chrome baskets create flexible and accessible storage for linens and food items.
Cubbies offer storage for dishes and provisions.
Hostess Pantry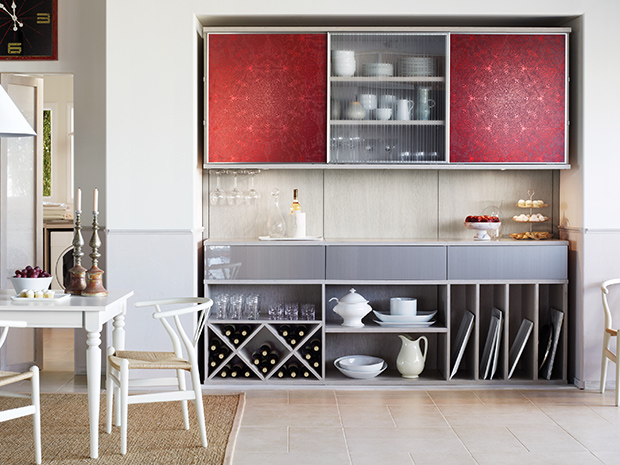 Ideal for storing necessities, hosting a buffet and displaying desserts, this multifunctional space encourages entertaining.
European-inspired Virtuoso lends a contemporary, minimalistic aesthetic.
Lago® Adriatic Mist finish sets the tone for the soft color palette.
Sliding doors with aluminum stainless steel frames and Italian glass decorative inserts provide a bold accent.
Linear Etch glass provides subtle covered storage.
Wired Mercury high-gloss slab drawer fronts contribute to the sleek look.
Push-to-open hardware offers ease of use.
Vertical shelving maximizes available space.
Wine storage and stemware rack holders keep wine and accessories in a designated space.
Bistro Pantry
This rich, elegant storage solution provides refined organization – and the perfect place for making a morning cup of coffee.
Lago® Siena finish lends a warm aesthetic.
Slab door and drawer fronts create a modern aesthetic.
Open shelving displays collectibles.
Black decorative hardware complements the warm wood tones.
Lago® Siena slab drawer faces contribute to the seamless look.
Farmers Market Pantry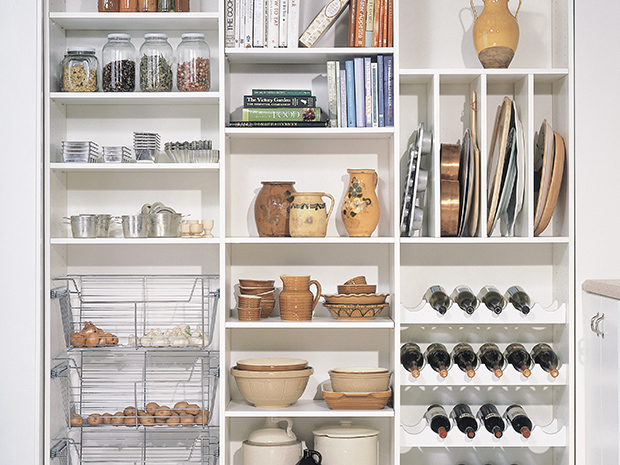 This simple storage solution includes adjustable shelves and specialized organization in a clean, white palette.
Classic White system blends seamlessly into the space.
Chrome pullout baskets provide flexible and accessible storage for food items.
Vertical shelves create designated storage for serving trays.
Wine rack properly stores wine collection.
Adjustable shelving creates flexibility for changing needs.
Get started today by scheduling your complimentary in-home expert design consultation. Featured on Houzz, California Closets has been transforming homes into beautiful, organized works of art for nearly four decades. Visit our Mechanicsburg showroom to learn more.