Are you looking for more organization in your home here in Columbus? Whether you have tight space or you simply need a redesign, the designers from California Closets can help you. With nearly four decades in the storage and closet design industry, the team knows a thing or two about how to best organize your home – no matter what shape it's in here in Columbus, Dublin, Grove City, Lancaster, Newark, Hilliard, Powell, Upper Arlington, Worthington or Canal Winchester.
A Better Closet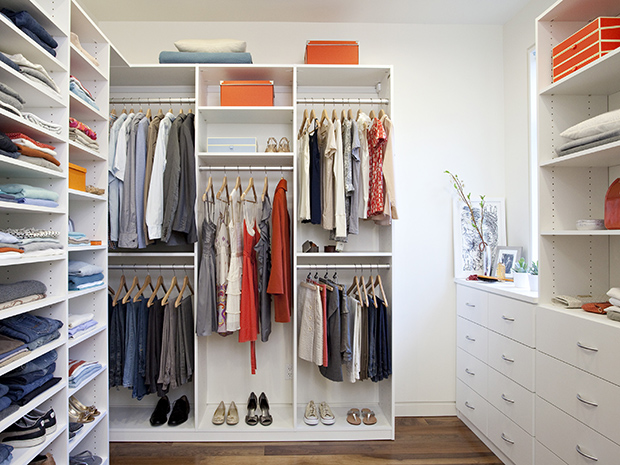 What better way to organize and showcase all of your beloved possessions by transforming your extra room into a walk-in closet? Having a walk-in closet is one of the most effective ways to organize your space while adding luxury to your home. Installing designated shelves, jewelry drawer inserts, decorative hardware and glass shelves add a hint of glam, and a center island or bench seating area creates a welcoming atmosphere.  If you're limited on space, a reach-in closet or wardrobe solution is just as great. With multiple hanging areas, slat wall systems, drawers, shelves and more, you'll never have to pick up those lingering socks or belts lying on the floor, as everything will have a specific place.
Entertainment Centers
Whether for the big game, family movie night, or a cozy evening at home, the entertainment center is a major part of relaxation and enjoyment. Built-in entertainment centers provide more space, and TV entertainment centers provide the ultimate media center for your family. Ideally, an entertainment center will give you an easy way to keep your devices untangled and uncluttered, and details such as custom cabinetry, shelving and lighting offer beautiful décor that will match the rest of your home. (Plus extra drawers will discreetly store toys and miscellaneous items). Here are some entertainment center design ideas:
Floor to ceiling white slab doors make the entertainment center feel clean and sophisticated
Open shelving to display collectibles
Cubbies for extra storage
Push-to-open hardware for easy use
LED light doors for a modern touch
Laundry Room Ideas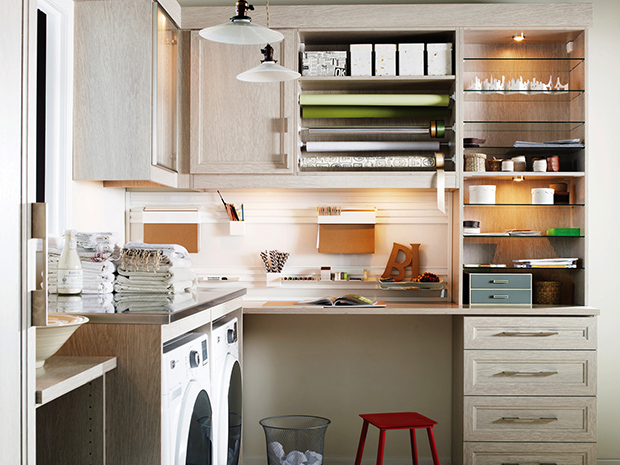 Ah, the laundry room: the oft-neglected area to shove your washer/dryer away so no one will see it. But before shunning away your poor appliances, have you ever thought about doubling your laundry room as a craft room? With so many ways to organize and beautify your space, you should be proud to show it off. Here are some ideas:
Create a counter area to fold laundry and linens
Implement baskets and bins to make sorting laundry easy
Install cabinetry and shelves to store laundry detergents, cleaning supplies and towels
Add pullout racks for linens and vertical shelf dividers for mops and brooms
Add a pullout ironing board that's hidden
Install drawers and doors to provide concealed storage
Home Office
Feeling distracted while trying to work from home? Or so overwhelmed by the clutter you just can't concentrate? Your home office should be an area to focus, get inspired and relax. And most importantly, it should be clutter-free. Here are a few ideas to get in the working mode with smart office design:
Custom-designed bookshelves that store large or small collections
Counter surface that provides a workspace for collaboration
Lower desk cabinets to conceal office supplies and tech accessories
Upper storage cabinets allows easy access to supplies
A keyboard tray or sliding drawer that's tucked away when not in use
Floating shelves to display collectibles
A Murphy bed solution to double the room as a guest room when friends and family are in town
Mudroom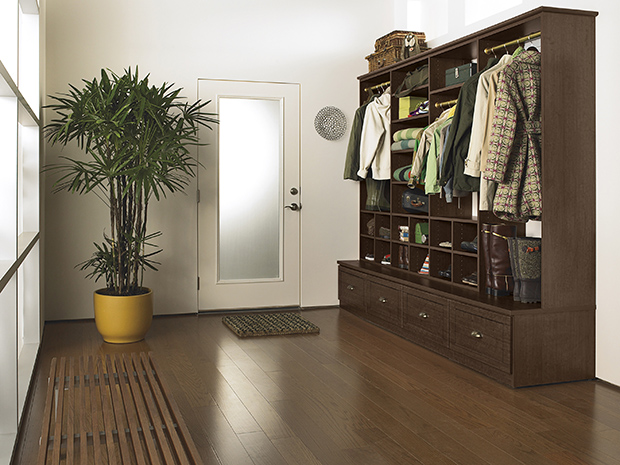 For instant organization as soon as you walk in the door, a mudroom is essentially an open closet where you can keep your shoes, jackets, bags, keys and more. This also prevents extra dirt or miscellaneous items from coming into your home. Cubbies, drawers, open and closed shelving, hooks and racks all work together to create an organized and beautiful entrance area.
And lastly, our no. 1 tip: enlist the help from the professionals who have been organizing and designing closets and homes for nearly four decades at California Closets. Schedule your complimentary in-home expert design consultation with the Columbus team today to start your redesign. Stop by our Columbus showroom to learn more.